Share with others. Thanks!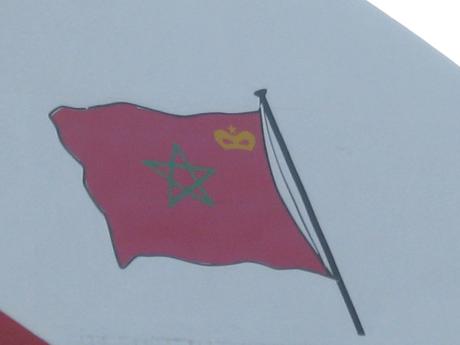 Morocco! A flag painted on a ship.
"Have you ever been to Africa" they ask? Technically yes, if you count that over night stay in Tangier. Some seasoned tourists say that's not really Africa, but my passport has a Moroccan stamp nonetheless. Probably the easiest way to get to Africa from Europe is on the ferry from Algeciras or Tarifa in Spain, to reach Tangier, Morocco or from Algeciras to Ceuta, which is owned by Spain and is but a sliver of land on the Moroccan coast.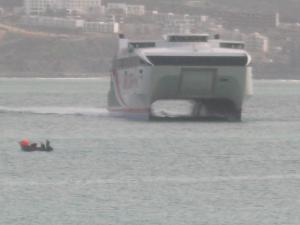 Leaving Tarifa, Spain.
It takes but an hour to cross the Straits of Gibraltar between the continents. This is an extremely busy shipping passage linking the Atlantic Ocean and the world to the Mediterranean Sea, and to ports further east. After getting a passport stamp off you go to explore the Dark Continent. Realistically Tangier isn't much different from some cities in southern Spain, like Alhambra that had a huge Arab influence at one time.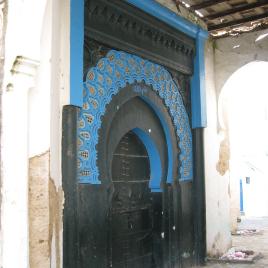 Arabic style arched door in Tangier.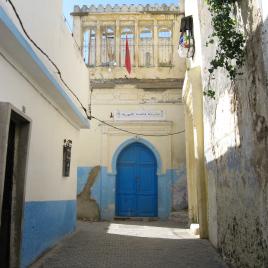 Arabic style arched door, Tangier.
Arabic and French are the main languages in Morocco but English is widely used in Tangier and the other tourist gateways. On exiting the ferry terminal, the first thing is the swarm of local men who offer to be a tour guide in Tangier. It's a judgment you'll feel you have to make, whether to accept one of them to show you around or to do your own thing. I was with an American friend Matthew, and being cautious and skeptical we decided we'd be cool and just ignore them. Wrong! Our efforts were in vain. The one guy who latched on to us, Ahmed, we couldn't shake. He walked along beside us no matter what we did or said, and we tried everything. We had a general idea where the hotel was from the ferry port and went that way. Ahmed just keep chatting and welcoming us to Morocco.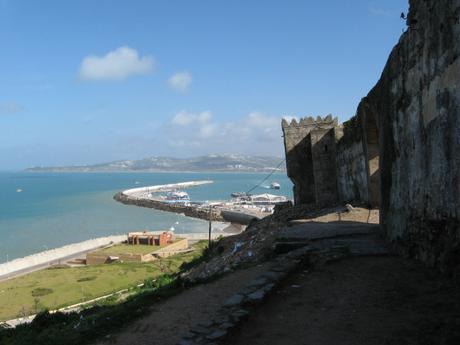 Part of the old Medina walls in Tangier. Yes, the wall is leaning that much!
But as we got into the ancient medina and encountered some tiny streets and lane-ways, we were actually glad he was there. We never would have found the hotel. We went inside, Ahmed said he'd wait outside to show us around. We checked in, unpacked and tried to kill some time thinking he would give up on us but when we went back out into the medina, there was Ahmed waiting patiently. Me and Matthew realised there was no point trying to fight the system so Ahmed took us through the medina; past shop owners who try to sell you all kinds of stuff you don't need, and there happens to be a special that day, and restaurant owners who almost lift you off your feet and into a chair. As is fairly typical in tourist cities, when it was time to eat we couldn't pick a place because Ahmed knew the best place! Probably his cousin's place. Granted, the local food was excellent, inexpensive and with great service. We got the feeling though that some passers-by were keeping an eye on us, maybe to make sure we didn't try to bail on Ahmed. When we did walk out of the restaurant, Ahmed was down the street waiting for us.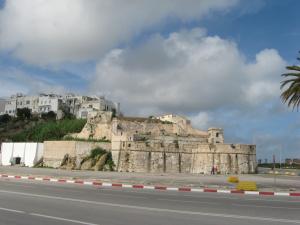 Tangier old city walls.
All in all it made sense to have someone show us around because so much is packed into the old city and fortress in Tangier, but inevitably in North African and Middle Eastern countries all paths lead to a carpet shop. Ahmed wished to show us a local craft workshop and that we were under no obligation to buy anything! The owner began by taking us to the roof for a panoramic view of Tangier. Once back inside the men started bringing out carpets and laying them on the floor with immense pride and enthusiasm. I have to admit I don't have much interest in that type of carpet but the brilliance of the craftsmanship is undeniable. The owner asked me where I'm from and I said Ireland. He said "We have your colour". Sure enough they brought out a green carpet which was stunning! The colours appeared to change when looked at from different angles. I had made my point that I wasn't there to buy carpets and I don't like being pressured. Matthew the American was playing along with the whole game. He decided to dress up in Arabic clothes that were for sale in the shop and had me take photos of him posing with scimitars and other items. Eventually we managed to get out.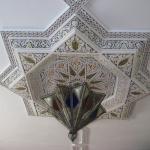 Some internal decorative moulding.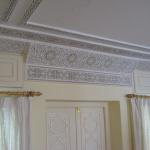 Some internal decorative moulding.
Walking further along through the maze of streets we saw people spinning silk of many astonishing colours. They had it stretched down the street and hung from the front of buildings, and used electric hand drills to spin great lengths of it at a time. It's refreshing to see women involved in this work also. In public most young and teenaged females wear casual clothes, but it seems that adult women generally wear the traditional Muslim burqa or abaya, usually in black. While walking on the streets, women do appear to avoid any eye contact with males, and definitely physical contact. A lot of the men wear long shirts which cover their trousers, and are generally white, which makes sense in the hot climate. The men's garments are nicknamed 'smart shirts' as they protect the wearer from pickpockets. If you need any further reminding that you're in an Islamic environment, then 'Call to Prayer' chants from the mosques five times a day will ensure that. In a crowded city like Tangier there will always be a mosque fairly close, so early in the morning there won't be any need for an alarm clock.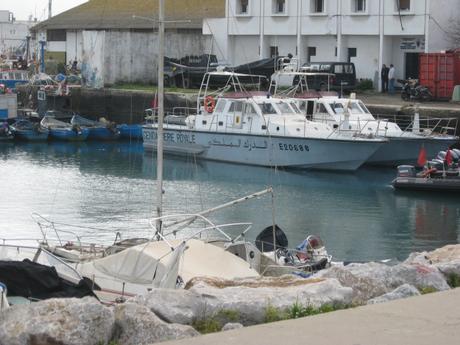 Keepers of law and order in the Port of Tangier.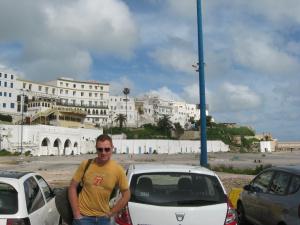 An Irish tourist in Tangier.
At the end of the day we said goodbye to Ahmed and he asked us for five Euros each, which seriously wasn't very much, but to him it probably was. There was no sneakiness, just a man trying to make an honest bit of cash. Even though I only got a tint taste of life in Morocco, it was enough to generate the urge for another longer trip there. Not knowing much about a place before going there unfortunately causes inhibitions, which after all are unnecessary. But I do know now, I will return to Morocco.
NOTE; When you get to the ferry terminal when leaving Tangier, get a customs/immigration form at the small office/hut outside the building. If any officials offer to fill it in for you, they are just out for a tip! It's easy to fill it by yourself.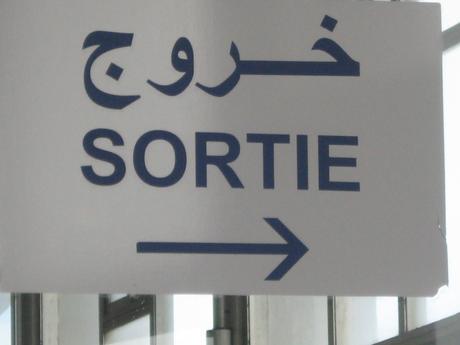 Exit! Goodbye Morocco.