Last weekend, busy with the pastels.
I tried to draw and paint, experimenting a new surface : a primed canvas cardboard on which I applied pumice gesso. nothing to draw on apart from photographs I can get online, but I was quite happy with the painting experiment. I could work, rework, correct on the surface at will, it was taking the pigments really well. 
The only part I found difficult was... to draw from a photograph taken by someone else. The light contrasts are very strong - too much to my taste - and it was very difficult to assess the colors for the visage mid-tones. As well, from this specific view, the face features were quite hard to capture. I then decided not to focus too much on the likeness, but draw and dream away, enjoying playing with the pastels, exercising on studying the visage color variations and their relation with the blue background.
Here it is :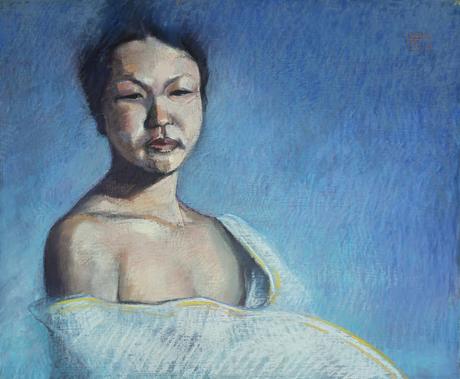 Visage Study in Blue

Time for the Christmas break - I will surely take the time to do more drawing... continuing to explore Humanity, or resting on contemplating the winter light, and its crisp delicacy warming north of France coastal roofs. 
See you next year.