(for my work and contact details - visit my site : 
https://pierremeuriceart.com
)    
   A very nice morning in the Studio... A bit of a gray day - waking up fairly early and, using the smell of coffee, starting to work on some autumnal landscape idea. 
I didn't have a rough paper on hand so started on a very simple Canson mi-teinte paper... the aim was to keep things simple and working through few colors. 
The idea I had was the one of a rain shower, progressing slowly through a small grass land :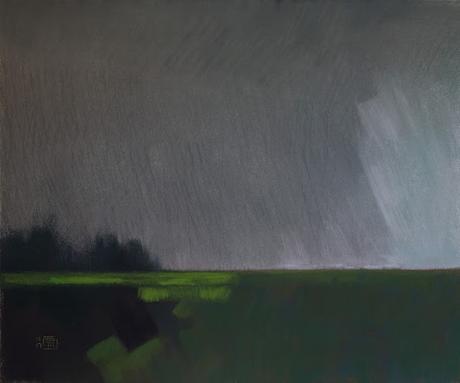 Une Averse - Pastel on paper
46X58cm
   Somehow, green and gray can be a very calm and soft association - this painting is a bit dark, but isn't it a bit of what I like in autumnal scenes? We love the time needed to let the gray pass, go away, as it's somehow bringing quieter and fresher moments. These moments invite us to reflect on ourselves, the time for an inner contemplation, before coming back to the world, with a sparkle of green.