Facebook has it's perks for many reasons, but perhaps most importantly, for reconnecting you with people you last track of over the years.  In this case, it's connecting you to new ones!  My old friend, Becky, posted a link to the website she designed for her cousin, Karen Parker O'Brien, and I loved what I read about Karen's business.  She provides VIP access private shopping tours (sample sales included!)  As many of these are accessory driven, some of the tours can be totally vegan (for those of you new to the vegan scene, that means no fur, no leather...)  Seriously, could you imagine a private shopping tour at a vegan-friendly fabulous outfit like Stella McCartney?  For more information about Style Room, enjoy this article by
Accessories Magazine
, and if you decide to book a tour, invite me!
Style Room Private Shopping Tours Give an Inside Scoop
March 15, 2012
 by 
Accessories Staff
Be the first to comment!
Tags: Industry News, What's New, Karen Parker O'Brien, Shopping, Style Room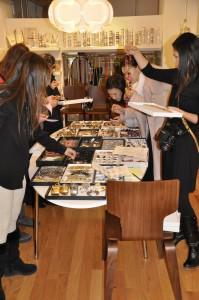 An exclusive Style Room shopping tour at a leading jewelry showroomNew York–A new company has found a win-win solution for accessories manufacturers and apparel and accessories lovers.Style Room runs private shopping tour experiences of New York accessories and fashion showrooms. These customized tours offer visiting international and American tourists, plus suburbanites and local fashionistas, a way to purchase directly from the designers at deep discounts while having fun doing it.The company was founded by Karen Parker O'Brien, a fashion industry expert with more than 20 years' experience, who recently ran a multi-line fashion showroom.The tours also offer a way for manufacturers to clear out some stock without resorting to a massive, chaotic, public sample sale, or unloading merchandise at a loss to off-price retailers and flash sales. "Brands can preserve their integrity by not dumping their product, which helps them as well as their retail accounts," says Parker O'Brien, who notes the tours are  private, controlled and exclusive.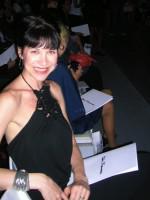 Karen Parker O'Brien of Style Room gets a peek at upcoming trends at Fashion Week
Personalized Tours Available
"I bring clients into the most amazing showrooms and design studios and help them find exactly what they're looking for, be it something for themselves, as gifts, or something like jewelry and accessories for an entire bridal party," she adds. "I am their private shopping connection!"Parker O'Brien personally conducts the tours, which feature around eight to 10 people, introducing the clients to the designers and offering style advice. "Shopping should be fun, not stressful, and most importantly, an amazing experience. Plus, people who don't work in the fashion industry are always so excited to meet the designers, see their showrooms and get the behind-the-scenes experience."Tours are personalized and organized by client interest. A partial list includes: VIP – Private One-On-One Shopping; Girls' Day Out Group (or Guys'); For the Wife / Husband (or Girlfriend / Boyfriend); Corporate Events; Shop For the Kids; Bridal Shower / Bachelorette Shopping Party (champagne and cupcakes can be arranged); Sweet 16 Shopping Party (cupcakes can be arranged); Mother/Daughter Day Out Together; Birthdays/Anniversaries and more.For updates on designers added to the tours, "Like" Style Room on Facebook by clicking 
here
.For more information, whether as a manufacturer or client, call 646-245-5316 or go to
www.styleroom.com