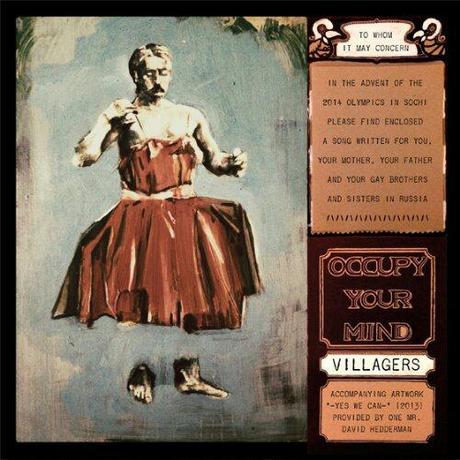 To whom it may concern,
In the advent of the 2014 Olympics in Sochi, please find enclosed a song written for you, your Mother, your Father and your gay brothers and sisters in Russia.
In light of Russian laws prohibiting gay 'propaganda', Villagers has dedicated their new single 'Occupy Your Mind', offering a message of support to all those affected by the Government's neglegance and ignorance.
'Occupy Your Mind' was produced by James Ford (Simian Mobile Disco).The single debuted as Zane Lowe's Hottest Record on BBC Radio 1, where Connor O'Brien spoke about working with James, trying new things and absorbing input from others:
I'm more open to working with others and it's worked. All my fears about that are gone.
'Occupy Your Mind' is a departure from previous singles and serves up a synth driven bass line (bringing Muse 'Uprising' to mind). Connors vocals deliver a sense of immediacy to the song with its poignant lyrics and subject matter:
Cos this place called home is no longer mine …. And there's a Government warning, they don't like our kind.
With the success of their mercury nominated album 'Awayland', the Irish band are nominated for a Meteor Choice Music Prize for Irish album of the year.
'Occupy Your Mind' serves as the follow up to 'Nothing Arrived' and is available now.