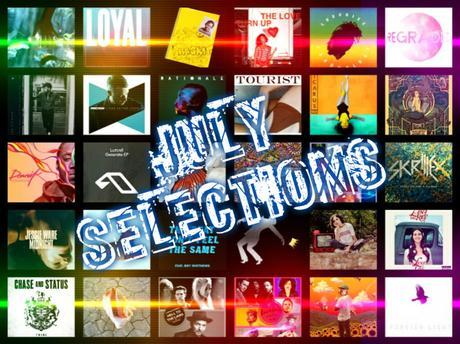 1) Four Tet – Two Thousand and Seventeen
If ever there's a track to completely unwind to, look no further than Four Tet's mellow new single 'Two Thousand and Seventeen'. The UK producer, AKA Kieran Hebden returns to a more relaxed vibe with a simple backbeat, while delicately plucked strings deliver a captivating and exotic style melody, perfectly capturing the elegiac beauty throughout. It's quite a meditative piece of music to completely get lost in. The single serves as the follow up to a handful of remixes including the xx's 'A Violent Noise' and Mura Masa & A$AP Rocky's 'Love$ick'. Having been busy working on new material the past year, hopefully we can expect a new album soon and follow up to 2015's Morning/Evening. Upcoming dates for Four Tet include Analog Bkny in Brooklyn (Aug 18) and Love Rave 2017 in Spain (Sept 9)
Two Thousand and Seventeen
iTunes
Google Play
Beatport
Tour
2) LOYAL – Reset In colour
UK Collective LOYAL, made up of Beth Molly Moore, Alex Cowan, Jimmy Day and Laurence Allen, unveiled their new single 'Reset In Colour'. The quartet last featured in my January Selections with their single 'Moving As One' and now they're back with their latest single 'Reset In Colour'. The single serves up an anthemic response to events such as the Orlando shooting and closer to home with the effects of the Brexit vote, and serves as an uplifting reminder that "You won't find us hiding, and you will find us rising". With its tasteful mix of defined beats, soft vocals and big pop choruses, Loyal know how to deliver a rousing and full-bodied hook.
Reset In Colour
iTunes
Google Play
Tour
3) Dizzee Rascal – Wot  U Gonna Do?
Dizzee Rascal is back with his new single 'Wot U Gonna Do'. This is the second single to be taken from Dizzee's sixth album Raskit and serves as the follow up to the previously released single 'Space'. 'Wot U Gonna Do' serves up a self-reflection track of sorts, where Dizzee comments on his own state of being:  "Wot u gonna do when your name ain't strong?" and 'Sitting there trying to write the same old song, trying to work out where it all went wrong". Produced by OWSLA signee Valentino Khan, 'Wot U Gonna Do' delivers a grimy beat, but with a hip-hop twist, building to some hefty bass and sinister synths. 14 years since his debut album Boy In Da Corner, Dizzee's latest album Raskit is available now via Dirtee Stank/Island Records. Upcoming dates for Dizzee Rascal include V Festival (Aug 18-20) and O2 Academy Brixton (Oct 12).
Raskit
iTunes
Google Play
Tour
4) AlunaGeorge – Turn Up The Love
With the release of their sophomore album I Remember last year, electro-pop duo AlunaGeorge are back with their latest offering 'Turn Up The Love'. Aluna Francis and George Reid deliver a playful track filled with springy synths and eclectic percussion. Mix that with Aluna's unique, airy vocals and George's slick production and you have a fresh summer track bursting with tropical vibes and serving as a and nice re-introduction for what will hopefully me more music from the duo later this year. Currently supporting Coldplay on their North American tour this August, hopefully we'll get some UK and Ireland dates soon.
Turn Up The Love
iTunes
Google Play
Tour
5) Chronixx – I Can
Chronixx, (aka Jamar McNaughton) unveiled his new album Chronology, serving up a delightful mix of reggae, hip-hop and pop gems. One such gem is 'I Can', serving up an uplifting slice of tropical house from the new Golden Boy of Reeage. Produced by Picard Brothers, who previously worked with Diplo, 'I Can' offers up mellow track filled with rousing hand claps and all around carefree reggae vibes. The 24-year-old Rastafarian singer-songwriter recently completed his Chronology tour in the US, and is now set to join Nas and Ms. Lauryn Hill for their 'If I Ruled The World' tour.
Chronology
iTunes
Google Play
Tour
6) Gerd Janson & Shan – Surrender
With the success of his own imprint Running Back, highlighting artists such as Tornado Wallace, Fort Romeau and Leon Vynehall, Gerd Janson has been such an asset to house music over the years. His latest single 'Surrender' sees him team up with German producer Shan for a disco-fueled body of work, bursting with high energy, infectious vocal samples and vibrant disco textures. Released via ReGraded label, a label created when founder Midlands was so inspired after seeing Gerd Janson play at Panorama Bar, 'Surrender' is available now.  Upcoming dates for Gerd include Loveland Festival in Amsterdam (Aug 12)
Surrender
iTunes
Google Play
Beatport
Tour
7) Tom Grennan  – Found What I've Been Looking For
Beford-born Tom Grennan unveiled his new single 'Found What I've Been Looking For', which premiered as Annie Mac's Hottest Record on Radio 1. Grennan delivers a unique form of Gritty soul with his husky vocals and soulful melodies. With the release of his Something In The Water EP in 2016, as well as featuring as lead vocalist on the Chase & Status single 'All Goes Wrong', Grennan has gone from strength to strength, and even secured himself a place on the the BBC Sound Of 2017 Longlist. The singer/songwriter stormed into 2017 with his Release The Brakes EP and recently supported Kings Of Leon at BST. Upcoming dates for Grennan include Reading Festival (Aug 27) and a headline gig at London's Koko (Sept 27). Be sure to check out the video too, which sees Grennan team up with Director Matt Walker, who previously worked with the liked of Skepta, Stormzy and JME.
Found What I've Been Looking For (EP)
iTunes
Google Play
Tour
8) Friction – Mad In The Jungle ft Doctor
Brighton born drum 'n' bass producer Friction, AKA Ed Keeley, unveiled his new single 'Mad In The Jungle' featuring Doctor. 'Mad In The Jungle' serves as the follow up to 'Galactic' and delivers an explosive drum 'n 'bass banger, perfect for festival season this summer. Mix that with Doctor's infectious vocal soaring above Friction's slick production to create a fresh and modern jungle smash. Upcoming dates for the drum 'n' bass pioneer include Creamfields (Aug 25), SW4 (Aug 26) and Outlook Festival (Sept 6-7) as well as his weekly show on Radio 1.
Mad In The Jungle
iTunes
Google Play
Beatport
Tour
9) Rationale – Loving Life
There's something completely captivating about Rationale's voice, and his new single 'Loving Life' is no exception. The Zimbabwe-born British singer-songwriter has had an impressive career since relaunching as Rationale in 2015. Since then, he's consistently delivered with tracks such as 'Fuel To The Fire', 'Fastlane', and most recently 'Reciprocate', 'Tethered', and 'Deliverance'. His latest single 'Loving Life' is taken from his forthcoming debut album (due October 6th) and serves up some soulful R&B with stylistic influences, slick self-production. Currently signed to Dan Smith of Bastille's label, Best Laid Plans, upcoming dates for Rationale include The Haunt in Brighton (Oct 25) and London's Electric Ballroom (Oct 26)
Loving Life
iTunes
Google Play
Tour
10) Tourist – We Stayed Up All Night ft Ardyn
Ok, so this one came out at the very end of June, but I'm sneaking it into my July picks. Grammy award winning producer Tourist, aka William Phillips, has returned with a new single 'We Stayed Up All Night' ft Gloucestershire-based brother and sister duo, Ardyn. The single delivers a joyous, summery vibe with Ardyn's delicate vocals shimmering over some twinkling synths and laidback melodies. 'We Stayed Up All Night' is the first material to surface since his 2016 debut album U, featuring the single 'Run'. While Tourist has an impressive back catalogue, including various EP's, remixes and co-writing the Grammy winning 'Stay With Me' alongside James Napier and Sam Smith, 'We Stayed Up All Night' is a progression for Tourist, who advances sonically with each exciting new release.  Upcoming dates for Tourist include Boardmaster Festival (Aug 9-13) and Corsica Studios in London (Nov 22-23).
We Stayed Up All Night
iTunes
Google Play
Beatport
Tour
11) Icarus – Trouble ft Talay Riley
Ok, this tune has summer-time party vibes written all over it. Bristolian producer duo Icarus (aka Tom & Ian Griffiths) are back with yet another smash single. 'Trouble' serves as the follow up to the infectious 'King Kong', 'Home' and 'Hiding' and sees them enlist the vocals of Talay Riley for a flirty mix of smooth old school house and funky soul. Mix that with some sassy horns and some disco grooves, and you've got yet another floor-filler to add to their already impressive back catalog. 'Trouble' is available now via FFTT Records (Pete Tong's Label). Upcoming dates for the duo include Creamfields (Aug 24-27) and The Warehouse Project (Oct 14).
Trouble 
iTunes
Google Play
Beatport
Tour
12) Skott – Mermaid
Get ready for some ethereal vocals courtesy of Scandinavian singer-songwriter, Skott (Aka Pauline Skött) whose new single 'Mermaid' offers up an enchanting electro ballad. Skott's magical vocals float effortlessly over delicate keys, dream-like synths, stirring strings and skittering beats. With a string of captivating tracks under her belt, including 'Glitter & Gloss', 'Wolf' and her debut single 'Porcelain', 'Mermaid' was actually the first song she ever wrote under the moniker Skott. Be sure to check out the cinematic video too. Upcoming dates for Skott include Pickle Factory (Sept 13) and London's O2 Academy Brixton (October 27)
Mermaid
iTunes
Google Play
Tour
13) Dornik – God Knows
South London singer/songwriter and producer Dornik Leigh, unveiled his new single 'God Knows'. Produced by the West London collective Jungle ('Busy Earnin'' and 'Time') 'God Knows' serves up some infectious melodies while Dornik's smooth, future-soul vocals ooze effortlessly throughout. As a former member of Jessie Ware's live band, Dornik took his rightful spot center stage with the release of his debut solo single 'Something About You' followed by debut self-titled LP and collaborations with the likes of Syd and SG Lewis.  'God Knows' is available now via PMR. Upcoming dates for Dornik include Scotch of St James in London (Oct 12) and Beacons Metro in Leeds (Nov 2)
God Knows
iTunes
Google Play
Tour
14) Luttrell – Generate
San Francisco-based producer Luttrell (aka Eric Luttrell), dropped his latest single 'Generate'. Having being inspired to write the song after attending Burning man Festival, 'Generate' delivers a shimmering slice of progressive house & techno all the while conjuring up an image of the desert at night with his lush sonic soundscapes and airy synths. Luttrell has an impressive back catalog under his belt including tracks such as 'Like It Is' and 'Need You, as well as making up one half of the bass duo The M Machine. 'Generate' is taken from his 4-track EP of the same now, and is available via Anjunadeep. Upcoming dates for Luttrell include Lane 8: TNH – Summer Gatherings in New York (Sept 9).
Generate (EP)
iTunes
Google Play
Beatport
Tour
15) Purity Ring – Asido
How has it been five years since the release of Purity Ring's debut album Shrines, bringing us tracks such as 'Fineshrine' and 'Lofticries'? Well, to commemorate the release, Canadian synth-pop duo (Megan James and Corin Roddick) unveiled their new single 'Asido'. With its moody, futuristic pop vibes, skittering 808-like beats, atmospheric production and Megan's haunting vocals intertwined throughout, 'Asido' certainly bridges the gap as we patiently wait for new music. Upcoming dates for the duo include MainFest in the US (sept 9) and Bestival Bali (Sept 30)
Asido
iTunes
Google Play
Tour
16) Nick Mulvey – Mountain To Move
Indie-folk singer Nick Mulvey last appeared in my May Selections with 'Unconditional'. Now, the Cambridge-born artist returns with his latest single 'Mountain To Move', taken from his forthcoming album Wake Me Up. Produced by Rodaidh McDonald (Sampha, Kanye West, The xx), 'Mountain To Move' delivers a carefree acoustic vibe, with playful rhythmic strumming and rousing vocals gaining momentum throughout. With the success of his 2014 Mercury nominated debut album First Mind, Mulvey has had a string of impressive releases including singles 'Cucurucu', 'Fever To The Form' and 'Meet Me There'. 'Mountain To Move' is available Sept 8 via Fiction Records.  Upcoming dates for Nick include Give A Home for Human Rights in association with Amnesty (Sept 20), The Button Factory in Dublin (Sept 28) and London's Shepherds Bush Empire (Oct 17).
Wake Up Now
iTunes
Google Play
Tour
17) Nina Nesbitt – The Moment's I'm Missing ft Goody Grace
Nina Nesbitt dropped her new single 'The Moment's I'm Missing' ft Goody Grace and it's a far cry from from the Nina we're used to hearing.  For a start, it's probably Nina's most personal song to date, as she recollects moments in her past. Nina has such a talent for songwriting and her storytelling ability is thoroughly captivating throughout. Having taught herself to produce music over the years, Nina showcases a more mature sound, highlighting her impressive vocal range and beautiful tone, with elements of trap and hip hop infused throughout. Nina has come a long way since her 2014 album Peroxide and various EP releases including Live Take, Stay Out and Life In Colour. Currently working on new material, expect a new album early next year – hopefully following the same path as this fresh, new sound.  In the meantime, be sure to catch Nina perform at the Camden Assembly (Aug 15)
The Moment's I'm Missing
iTunes
Google Play
Tour
18) Skrillex & Poo Bear – Would You Ever
Well this is a nice surprise – Skrillex is back with his new single 'Would You Ever', after dropping his previous single 'Chicken' with Habstrakt back in May.  With a list of previous collaborators ranging from Justin Bieber to Diplo and Chance The Rapper to Incubus, the OWSLA boss has now teamed up with  producer & songwriter Jason 'Poo Bear' Boyd for his latest collaboration. Pooh Bear is known for co-writing some of Bieber's biggest smash hits from Purpose including 'Where Are Ü Now' and 'What Do You Mean'. Now it's Poo Bear's turn in the spotlight, specifically his vocals, as his soulful vocals are chopped up throughout an upbeat electro banger filled with infectious house beats. Hopefully we'll get a new album soon from Skrillex. In the meantime, keep the tunes coming.
Would You Ever
iTunes
Google Play
19) Jessie Ware – Midnight
I think we can safely say – thank God Jessie Ware is back in our lives with new music.  Her latest single 'Midnight' premiered as Annie Mac's Hottest Record and serves as the first track to be taken from her forthcoming third album, due later this year.  While we briefly heard Jessie back in 2016 when she featured on the soundtrack for the 2016 film Me Without You, 'Midnight' is the first taste of what we can expect from her new album – and It was definitely worth the wait.  With an intro you wouldn't find out of place from a Bond theme, Jessie Ware delivers a stunning vocal masterclass as she weaves effortlessly throughout defined drum pulses and whirring synths, showcasing her impressive vocal range. After taking some time away to start a family, expect an album later this year, featuring collaborations with the likes of Ed Sheeran, Ryan Tedder, Benny Blanco and Julia Michaels. Upcoming dates… handful
Midnight
iTunes
Google Play
Tour
20) The Killers – Run For Cover
After the success of their comeback single 'The Man', The Killers are back with yet another cut from their forthcoming album, Wonderful Wonderful. Having debuted 'Run For Cover' earlier this year while performing in Atlantic City, the single serves up Brandon's trademark glam-rock vocals, upbeat grooves and infectious stadium ready hooks, bringing some of their vintage material to mind, such as 2006's 'Sam's Town' or 2008's 'Spaceman'. While 'Run For Cover' was originally written for the 2008 album Day & Age, the song was put aside until now. Perhaps the lyrics were more relevant to what's going on in America today, especially with the lyrics: "He got a big smile, he's fake news". Wonderful Wonderful is set for release September 22nd. Upcoming dates for the group include London's O2 Arena (November 27-28) and Dublin's 3Arena (November 16)
Wonderful Wonderful
iTunes
Google Play
Tour
ICYMI: Previous July Posts
Toddla T – Magnet Ft Andrea Martin

Bonzai – I Feel Alright
Lovebox '17 – Friday Picks
Lovebox '17 – Saturday Picks
London Grammar – Hell To The Liars (Kölsch Remix)
High Contrast – The Beat Don't Feel The Same Ft Boy Matthews
DJ Shadow – Horror Story Ft Danny Brown
Tyler the Creator – 'Boredom' & 'I Ain't Got Time'
Lana Del Rey – Summer Bummer ft A$AP Rocky & Playboi Carti
Chase & Status – Love Me More ft Emeli Sande
Check out the full playlist below and here's to another exciting month of music ahead!
Advertisements