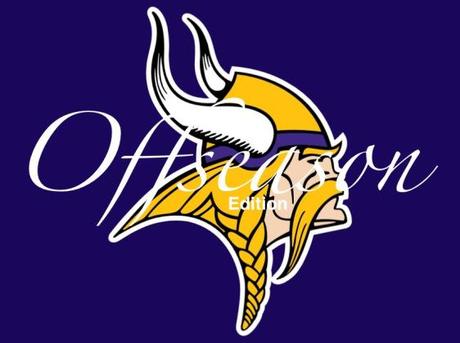 Well hello everyone! It has been truly a longtime since I have written an article. To start off, I would like to formally apologize for my unannounced leave. I have been bogged down with work and have not found the time to follow my passion of writing. I will now try to finally have sometime to endeavor in writing and hope to bring you guys at least one weekly article from here on out. So let's just dive right in.
This free agency period, which is not over yet, has been truly exciting. Every team has either had a heartbreaking loss over a player or a superstar bringing in a sense of intrigue to their new club. In some cases, both. The Minnesota Vikings happen to be one of the teams to have both. They let go of one of their most versatile and key players known as, Percy Harvin. To some, this came as a huge shock, leaving many in tears and anger. And to others it came as a relief. I personally saw this coming, but I will get into that later on. On the other side, the Vikings brought in a huge superstar by the name of, Greg Jennings. A former division rival player, Jennings will be a huge boost to the Vikes' weak offense. Here is the complete list of Vikings offseason moves to date.
Re-signed-
Offense:
Jerome Simpson, WR
Jerome Felton, FB
Joe Berger, OG
Phil Loadholt, OT
Defense:
Erin Henderson, OLB
Jamarca Sanford, SS
Marvin Mitchell, MLB
Signed-
Offense:
Chase Ford, TE
Chris Summers, WR
Greg Jennings, WR
Joe Banyard, RB
Kevin Murphy, OT
LaMark Brown, TE
Matt Cassel, QB
Seth Olsen, OG
Tyler Holmes, OG
T.J. Conley, P
 Defense:
Bobby Felder, CB
Chase Baker, DT
Greg McCoy, CB
Roderick Williams, CB
Released/ Non-Resigned UFAs-
Offense:
Devin Aromashodu, WR
Geoff Schwartz, OG signed by Kansas City Chiefs
Michael Jenkins, WR signed by New England Patriots
 Defense:
Antoine Winfield, CB
Jasper Brinkley, MLB signed by Arizona Cardinals
Traded-
Offense:
Percy Harvin, WR to Seattle Seahawks
I am going to do this a bit differently than before. Since I'm sure you guys do not want to read every little detail about each player and the pros and cons with whatever move was made with them, I will try to just summarize the different categories to the best of my ability.
So starting out with the resigned category, I think Mr. Speilman and the rest of the front office did a great job getting back the players they need. As Speilman said on an interview on Vikings.com,
"The philosophy going forward is, get your players back and then build through the draft."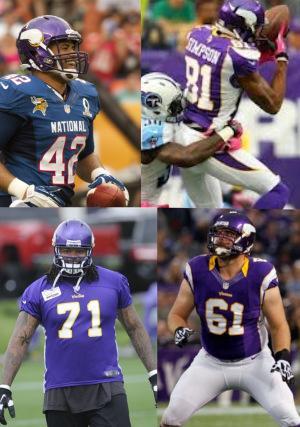 I will leave the link to the video where he says this and also talks about the Harvin trade at the bottom. Out of the ten unrestricted free agents the Vikings had, they resigned seven. A good amount. Out of those seven, we got back our Pro Bowl fullback, Jerome Felton, who constantly opened up holes for Peterson. This is a great resign for making sure the pieces of our strong running game remain intact. On offense, the Vikes also resigned Jerome Simpson and Joe Berger. Simpson had a subpar season catching only 26 passes for 274 yards and no touchdowns. Though I still believe he will do much better this upcoming season. With Jenkins and Harvin gone, and Aromashodu still a free agent, the Vikings have a weak receiving core. Resigning Simpson gives us more depth and I believe he will break through his slump and come out big for us. Joe Berger also helps the line keep depth and is a very good rotation player. The biggest resign on offense has to be Phil Loadholt. A 4 year 25 million contract can only be worth for a player who has played all 63 games since being drafted out of the second round of the 2009 draft. Loadholt was a vital part of an offensive line that helped make the Vikings second in rushing yards per game in the league and only allowed 32 sacks on the quarterback. Not a bad amount for a team that allowed 49 the year before.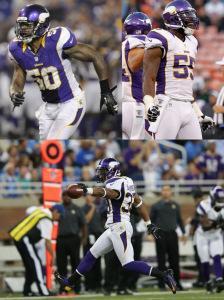 On defense Erin Henderson, Jamarca Sanford, and Marvin Mitchell were resigned. Henderson played 14 games last year with 80 tackles and will be looking to be a full-time starter next year. Marvin Mitchell was one of the players I was really looking forward to see going into last season. He did not have much of an impact, but I am confident he will give the others a push in training camp, maybe even start! He will still have to compete with Audie Cole, someone we draft in April, or maybe the likes of Brian Urlacher?  Jamarca Sanford is also a great resign. He played backup to Mistral Raymond, who got the starting call, but soon had to take over when Raymond went down with an injury. He did well throughout the season and will be a good backup or potential starter if he beats out the other candidates.
Moving on to the signings, I think the front office has done well so far in the free agency with the mentality of building through the draft. They brought it some starters, some backups, and many players to compete. On offense, the most significant signing has to be 2 time Pro Bowler, Greg Jennings. After signing a 5 year $47.5 million dollar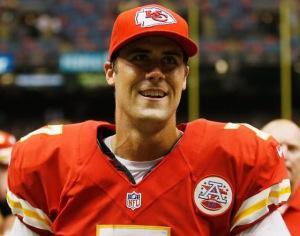 contract he instantly becomes the Vikes number one receiver. Known as a deadly pass catcher, Jennings has had a prosperous career at the division rival Green Bay Packers and will be a great addition to the already weak and depleted receiving core. Coming off a less than stellar season cursed with injuries, Jennings will have a fresh start to get back into Pro Bowl shape and guide the Vikings young, struggling offense. I truly love this pickup. Another interesting addition is ex-Kansas City Chief quarterback, Matt Cassel. Although Frazier has already stated that Christian Ponder is going to be the starter, which is in a video I will also leave at the bottom, Cassel is a great backup who will push Ponder to become better. Cassel has played as a backup for Tom Brady with the New England Patriots and as a starter for the Chiefs and will bring some experience to the young quarterback crew. On the other side of the ball, cornerback Roderick Williams really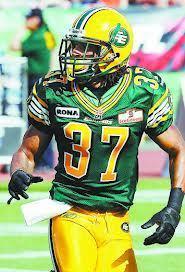 stands out for me. Playing all three seasons of his professional career for the Edmonton Eskimos in the CFL, Williams has much to prove in the NFL. I feel he has the potential to start. Under his three seasons he accumulated 111 tackles with 11 interceptions being also named a CFL West Division All-Star in 2011. You cannot argue with numbers. Although coming from a different system I think he will do really well for the Vikings and if not as a starter then as a very useful backup. I will  leave an obscure highlights video at the bottom, so you guys can check out what he has to offer. Yes I know I am leaving a lot of links to videos, but I just want you guys to be informed and have hard facts for reference.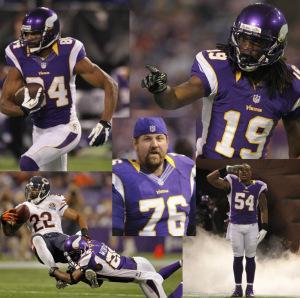 In addition to acquiring many players, the Norsemen have offloaded many too, including a superstar. On offense, Geoff Schwartz and Devin Aromashodu were not resigned while Michael Jenkins was released. Schwartz played right guard half the time for the Vikings, but did not really have such a great impact on the squad. He later signed with the Chiefs. Devin Aromashodu is another player not resigned. Although he has never been a starter and impacted the offense greatly, when called upon he has delivered. No team has signed him so I am really hoping the front office will get him back on an inexpensive contract. One receiver we do not have a chance of getting back this offseason is Michael Jenkins.  Never really finding his place with the Vikings' franchise, he was released for cap space and shortly after signed by the New England Patriots. On behalf of the Vikings' fans throughout the world, I wish him and Geoff the best at their new respective clubs. On the defensive side, Jasper Brinkley was not resigned and Antoine Winfield was released. Brinkley is another of those players who disappointed and did not really impact the squad. I was hoping he would come up big, but sadly he did not. I still wish him the best with the Arizona Cardinals who picked him up. Antoine Winfield is really one player who will be missed by the Vikings' franchise. Speilman said that he was cut for business proposes, but his presence will be missed on the field. A 3 time Pro Bowler, Winfield has been a veteran leader for the Vikings accounting for 100 tackles and 3 interceptions last season. He has been the Vikings best corner. Although he was released to get away from the $7.25 million due to him next season. Leslie Frazier has left the door open for Antoine's return. The Washington Redskins are interested in him, but hopefully his loyalty to the Vikings will bring him back.
In the last category is Trading. Right before the start of the free agency, the Minnesota Vikings made a big move in trading superstar wide receiver, Percy Harvin, to the Seattle Seahawks for 1st and 7th round picks and a possible future selection. Most likely a third rounder. Now I know that some of you are upset including Adrian Peterson who had this to say about the move,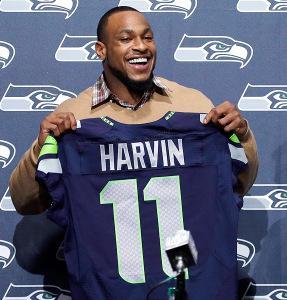 But rest assured, this is a great deal for the team. As I said before I wasn't too surprised with this transaction. This trading nonsense has been around since last offseason when Harvin declared he wanted to be traded but later retracted his statement. Then it came up again this season prompting for his departure. Percy has been unhappy in Minnesota. He has been injured and hasn't been playing often. Just to point out, the Vikings surprisingly did statically better when he wasn't playing. This is not to say though his presence won't be missed. He is an explosive and versatile player able to play multiple positions. The Seahawks got a great player from us just how they got Sidney Rice. But as I said before this is a good deal for us. Harvin didn't want to play and by letting him go for a trade, we get something good out of it. With a first pick we can get a much needed player. A player that could vary from linebacker to extra linemen to defensive back or a receiver to replace Harvin. Tavon Austin anybody? With this trade we also get a 7th rounder and a potential future pick. This is a great deal and we should be all happy.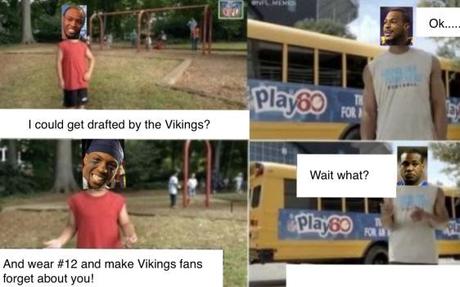 In Conclusion, I'd have to say I'm happy with the moves the front office has made so far and am excitedly looking forward to more moves like these and the draft of course. Since the free agency is not over yet I'd love for us to pick up one or two more big time players. Brian Urlacher immediately comes to mind who could nicely fill up that MLB need. Also the likes of another receiver for cheap sound interesting. Brandon Lloyd, Audie Cole, and Brandon Stokley are still available among others. With the mentality of building through the draft we will see what will happen. In the upcoming weeks look forward to hopefully weekly updates, I'll try to keep my word, a draft article, and just some others with my random thoughts on the team going forward or just discussing topics and questions. As always have a wonderful day/night, depending on where you are and Skol!
Speilman on Offseason Mentality and Percy Harvin Trade
Christian Ponder announced as starter
Roderick Williams highlights (the sound quality is horrible so I'd recommend you watch it listening to "I'm Ill")
Remember to follow me on Twitter!: @kkovesdy
Like us on Facebook!: Bear Bottom Productions
Like, Rate, Share, and Comment!