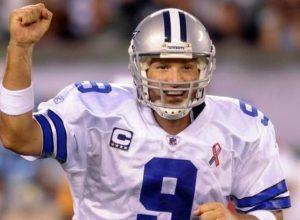 Ever since Tony Romo got injured in the Preseason, it has been rumored many times that he will play again this year, he is sidelined for the year and he will not be back with the Dallas Cowboys. Lets not forget this is his, umm, well another injury to his injury filled career.
Jerry Jones has stated that Romo will start again this season. With three games left, the question is when. And why? The Cowboys are doing great without Romo. They are 11-2, with both losses coming to the New York Giants. Dan Prescott is having a great Rookie year which could lead to a Rookie of the Year award.
Of course, if the Cowboys play the Giants in the playoffs, it might not be a bad idea to bring in Romo. He is currently 0-0 on the season against them while Prescott is 0-2. Though I wouldn't mess with something that is already working. Prescott should remain the starter for the remainder of the season even if Romo is cleared to play.
Then of course comes the question, if Romo doesn't snap the ball this season for the Cowboys, will he be back? He could be as a Backup to Dak Prescott, though he will probably want to be a starter somewhere. Recently there was a report about Romo could sign with the Chicago Bears. I laughed.
The Chicago Bears are without their starting quarterback Jay Cutler who, when healthy this season, has had a year to forget. Cutler was first replaced by Brian Hoyer. Hoyer had strung together several 300+ yard passing games before breaking his arm again the Green Bay Packers. Hoyer looked confident and well poised at quarterback unlike Cutler. After Hoyer went down, Matt Barkley, third string, was called in. Barkley has had some solid games, nothing over the top or to Wowing, but he is getting the job done. The Bears even won a game with him, something I have been rooting against as it only hurts our draft pick (Though I think the Browns pretty much are going to lock that in).
Cutler has been reported as being done as a Starting quarterback with the Chicago Bears. The draft shows little promise in quality quarterbacks. Romo, injury prone, would currently be the best pickup who has currently started in the NFL outside of the current Bears roster.
I just pray that the Chicago Bears stay with Hoyer and Barkley and develop a quarterback and possibly draft some help. The Bears should not go after Romo in any way and should stay far away. Romo hasn't helped the Cowboys in any way, why would you think he can help anyone else?
Take Our Poll
Comment the Team you think Romo will join and whether he will be a Starter or Backup!!!