MASTERS EDITION! • THE LAST 10 YEARS • EXCITEMENT BUILDING
This week we have a special Masters edition of the Golf Videos of the Week. It's been about 10 years since Augusta National made significant changes to the course. As you will see from the crescendo of great finishes, they seem to have figured out the course set-up to make for amazing Sunday afternoons.
We put together the most memorable shots and videos available for these past 10 champions as well as some of the incredible things that happened for some of the contenders. With a few breaks and bounces, the results could have differed and they could have been the shots we associate with that year.
Don't forget to go shopping this week for your ingredients for pimento sandwiches. Visit the Clubhouse Kitchen and the definitive, exhaustive and most complete analysis of the Masters pimento cheese sandwich ever. 
2012 BUBBA BREAKS OUT
A couple great things stand out. First, he hooked a 52-degree gap-wedge 40 yards. Second, he couldn't be bothered to shave for the interview. 
Had Louis Oosthuizen won, this would have been the shot of the year.
2011 CRAZY EIGHTS AND CHARL EMERGES
Charl Schwartzel wins with the four consecutive birdies to win an incredible Sunday in which 8 different players held the lead. It all started with this bomb on the first hole.
What makes me confidant Rory will have a strong year despite his club change (I've said from the beginning it is no big deal) is that he has often had ups and downs - even in his young career. We can't expect anyone to have the consistency of Tiger at his prime. In 2011, McIlroy had that horrible triple bogey at 10 on Sunday which many thought would crush him. He's been pretty good since.
It's hard to emphasize how bad that tee shot was and ended-up after hitting the trees. To give you a real idea, take a look at a satellite map of the 10th hole. He wasn't really even on the course!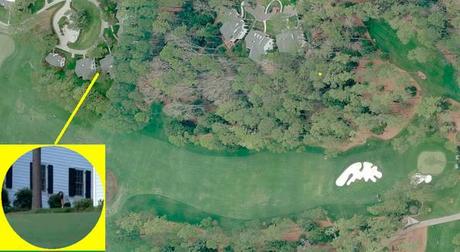 McIlroy won the next major (U.S. Open) and than another in 2012 (PGA Championship).  
2010 PHIL BEING PHIL
Phil has always faced criticism for his asgressive play and it probably cost him the 2006 U.S. Open. But, that aggression also gave us this.
A bit of a forgotten shot was Tiger's hole-out at 7 on Sunday that year. In context, there was still a feeling that Woods was still coming back from his personal and health issues. A little Tiger Sunday magic lost steam on the back nine with a couple of bogeys. It turned out no one was catching Phil ... although he had not won a major since the Winged Foot debacle in 2006.
2009 PERRY TRIPS FOR ANGEL'S REDEMPTION
This is the first of four years going back (2006-2009) which kind of get lost in the memory because of the lack of big names or dull finishes. Only one playing video is needed here and appropriately in Spanish to see Angel Cabrera prevail over Kenny Perry and Chad Campbell in a playoff. 
The video reminds us of the often forgotten fact that Cabrera was rattling around in the trees in the first playoff hole; but was equally matched by the horrible shots by Perry and Campbell. It must be hardest for Perry, who sadly bogeyed the last two holes in regulation. He essentially had one arm in the green jacket standing on the 17th tee.
As for Cabrera, it was redemption and no more crying for Argentina after the sad ending in 1968.
2008 TREVOR HANGS ON
Trevor Immelman went wire to wire for the win despite a somewhat spotty resume of only one PGA Tour win (in 2006). He has actually not won one since.
Only Miguel Angel Jimenez of the top 10 finishers broke par on Sunday. Whether it was the setup or the weather, the Masters has since returned to roars and excitement Sunday afternoons.
This is probably the second most remembered gravity defying moment of the Masters. Everyone remembers Fred Couples' ball holding up on the bank in 1992 on route to the green jacket.
Alas, there is not much video out there to show Couples ball hold up on the bank at the 12th in 1992. Alas, even the Golf Channel cannot get the video as it appears to have used a Mac (with Ken Burns effect), still pictures, and the voice of Don Cheadle for some reason to try to give you the feeling of the shot. There is this video of his next shot which reminds us how close the ball was to rolling into Ray's Creek.
In the words of Cheadle's own Basher, had that ball not stayed up for Freddy, he would have been in Barney.
Of course, Couples' most famous Masters moment may have been in 1998 when he didn't even win. Saturday with be the 15th Anniversary of this (the Japanese game-show-esque commentary adds a certain flair)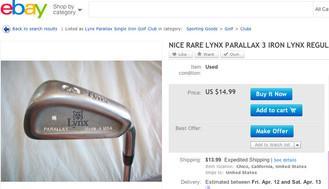 In fact, if you are feeling a little nostalgic about Freddy's Lynx irons, you can pick up a 3-iron on eBay for $15 and have it to your house by Saturday.
Cradle that along with some pimento cheese sandwiches and you're set.
2007: ZACH-DOES-NOT-ATTACK
In the midst of our run of relatively dull Masters, we had Zach Johnson win with a +1 final score. In contrast to Couples' towering irons, Johnson went about his business laying up on every par 5 that week. This may have been when the Masters started thinking about making the back nine available for scoring. Johnson is a nice guy and I like him ... but who is kidding who, he is a bit boring. The heartwarming part is his little baby at the end.
More interestingly in 2007 was when we perhaps sensed more vulnerability in Tiger. For the first time, he had the lead in a Major in the final round and did not win. And little did we know that about 18 months later, Elin would try to do to him and his Escalade what he did to this 4-iron.
2006 PHIL GETS NUMBER 2
For some reason, this was a somewhat forgettable Masters. It may explain the lack of good video or dramatic memories. If runner-up Tim Clark had won with this long putter, maybe the governing bodies or even Augusta acted faster to get rid of those things. If the incongruous dance-ish music in this video can't even get the blood flowing, it may be better just to move on to 2005.
2005 - IN YOUR LIFE ...!
There's one thing we all remember: "In your life have you seen anything like that!"
How would Chris DiMarco's life have been different without that hole-out by Tiger? Alas, he is likely in a watering hole sharing a drink with Bob May, Woody Austin and Rocco Mediate. Make it a double.
2004 - AIR PHIL
There was a time Phil had the title BPNTWAM (Best Player Not To Have Won A Major). That title seems like less of a thing now but it was a big thing at the time. At the time, there was lots of discussion of how Phil would have to change his game to win majors. Whether he did, didn't or did a little, he has won 3 more Majors and could very well be in contention this week. The spike marks on the green are also noticeable only because they are a lot more rare nowadays.
A great winning putt ... but that jump has even less hangtime than I remember.  
2003 - TAKE OFF EH
Of course for Canadians, this is the 10th Anniversary of Mike Weir's Masters win and probably one of the blueprints for Zach Johnson. 
Feherty's call of "Oh Canada!" does make you wonder if it sent Jim Nantz reeling in the booth wondering what his call would now be if and when Weir won. I actually don't recall Nantz's call so it must not rank up there with his best, such as: "The Bear had come out of Hibernation!", "A win for the ages!" or even "Y.E -- S! Y.E. Yang wins the PGA Championship!"
For Canadians and Ralph Macchio fans, this compilation of Weir winning the Masters is worth it just because of the great Karate Kid inspired music.  After all, all Canadian knew at the time that Len Mattiace was a Cobra Kai.
Side note: 2013 also represents the 9th anniversary of the Masters Champions dinner consisting of donuts, backbacon cooked on a Colemans and some beer (with no mice):
Good day.
Douglas Han