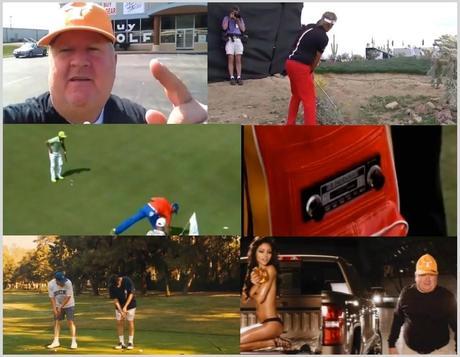 We're back and thrilled. Hope you're looking forward to another great year of Golf Videos of the Week.
Now, before you settle in, this is one of the great television ads of all time and was originally posted last fall (Mike claims it ran on Golf Channel which is certainly possible for the local ads).
Let that sink in and there is a payoff (if the ad itself was not enough) at the end as Mike gets a Tosh.0 web-redemption.
THE GREAT ESCAPES
Most amazing this past weekend was Victor Dubuisson's crazy recoveries from the cacti in his match with Jason Day. In case you missed them, here they are.
No doubt these are amazing shots but people may have been going a bit far saying these are the greatest shots of all time. First of all, they are a bit lucky and anyone who has played a match against an 18 handicap with lunch on the line has seen them pull off these kind of crazy shots. I'm not saying Dubuisson is not good (in fact I love his demeanor and think he will be very good - or at the very least be able to book gigs as a French chubby Brad Pitt). They we're terrific shots and he simply got luck with both his strikes through the cacti and the bounces in the rough.
Not sure I can recall anything like this in 60 years as a pro. Great for Match Play. Good for golf. Too close to call & I love both of them.

— Gary Player (@garyplayer) February 24, 2014
Two of the greatest up-and/downs I have ever seen Victor!!!

— Tom Watson (@TomWatsonPGA) February 24, 2014
Everybody calm down. These reactions were a bit much.
Incredible things and coincidences happen all the time. Consider what David J. Hand, the author of the new book The Improbability Principle: Why Coincidences, Miracles, and Rare Events Happen Every Day has to say about rare events just last week. In other words, not to be a downer for Gary and Tom, but David Hand might suggest it was bound to happen.
GREATEST GOOD-GOOD OF ALL TIME

Sure social media has turned every event or story into the greatest or worst of all time (see above). But, in the case of big-time pro golf with the match still in doubt, this had to be the biggest good-good of all time. It took so long for Rickie to accept you can see he was not sure Sergio was serious. 
It turns out it may not have simply been a case of Sergio trying to get to the clubhouse for a Michelob light. The latest suggest it may have been some nearby African bees that got Sergio antsy to move on. There is part of me that likes that Sergio is using the ol' Tommy Boy bee trick to get out of a bad situation. 
GOLF AND THE MOVIES
Of course if there was ever a time for a good-good in the movies, it was probably this scene in Swingers. 
Granted there is nothing special about this particular scene but Swingers really is a great movie of that particular generation. There is a great oral history of the movie in Grantland that is definitely worth a read if you are a fan.
Of course the saddest news of the week is the passing of Harold Ramis, the director of Caddyshack. Here's a nice little clip of Ramis talking about Caddyshack. (h/t @KylePorterCBS).
You have to love the quote, "I don't have a perticular fascination with rodents, it is just that gophers are relevant on golf courses."
There are too many scenes from Caddyshack to select a greatest. One comes to mind because of Rory's recent very-lame video (no fault of his own) introducing his Bose bag. It turns out Ramis thought of this years ago.
HONESTY AND TRICK SHOTS
We've seend an endless number of trick shots on YouTube. The plate shot is good for its brevity and we'll give "Chip Hoch" credit for posting his outtakes too. The same guy also hit the shot through the jug of milk calling the vidoe "Got Milk?" ... which may have cause the milk advertisors to abandon the entire "Got Milk?" campaign. Happy Chip? 
DO NOT WATCH IF YOU HAVE A PROBLEM WITH GIRLS IN BIKINIS
As pormised, here is the Web-Redemption for Mike on Tosh.0: 
Tosh.0
Get More: Tosh.0 Videos,Daniel Tosh,Web Redemption
Happy to be back. Cheers and see you next week. 
Douglas Han