Video Tutorial:  Free Crochet Dangling Circle Earrings Pattern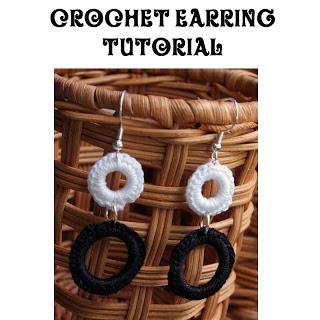 For sometime now I have wanted to start making video crochet video tutorials.  However, my camcorder was about ten years old and it wasn't compatible with the version of windows on my computer.  My birthday was this past Sunday and my parents bought me the greatest little camcorder that takes both photos and HD videos!  The coolest part is that the camcorder is waterproof so I can take underwater video the next time I go snorkeling!   
I have been on a non-stop crochet earring making spree lately and I decided to use my new camcorder to record a tutorial for one of my favorite pairs of crochet earrings.  I am still learning how to use the camcorder, so unfortunately the video is a little blurry.  Hopefully, my instructions are clear enough for everyone to understand.  I promise I will learn how to use my camcorder properly and my future tutorials will be much better quality.
About the Pattern:
I was at Walmart last week shopping for crochet thread when I saw a package of cabone rings for $1.99.  The package contained two sizes, 1/2" and 13mm.  I wasn't sure what cabone rings are typically used for but they were really lightweight and I thought I could crochet around them to make some earrings.  After playing around with the rings at home, I came up with the dangling circle earrings pattern in the tutorial below.  I absolutely love how the earrings look and they are so easy and quick to make!  I hope you like the tutorial and I would love to see pics of your finished earrings.
Crochet Dangling Circle Earrings
Materials:
Cabone Rings size 1/2" and 13mm
Size 5/1.90 mm crochet hook
Crochet thread in black and white (I used Red Heart Cotton Crochet Thread)
Two Jump Rings
Two Fishhook Earrings
Needle Nose Pliers
Needle (for weaving in loose ends)