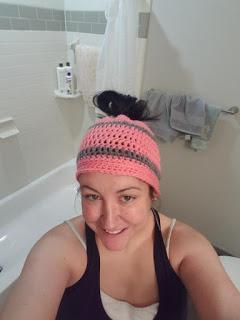 Find the pattern on Craftsy by clicking:  HERE
While I am still working on my next free crochet pattern, I thought I would share a trendy new pattern designed by one of my friends, Ashley Kneram. Ashley always amazes me with her talents. Not only is she an excellent crocheter, she can sew and come up with the most creative crafts.
The pattern uses worsted weight yarn and a ponytail holder.  It works up in an hour tops and you can change the colors to make it your own.
Plus, these beanies are a God send for those of us who need to run to the store for something but don't want to have to shower or do our hair before leaving the house. Just toss on this beanie and go!
Ashley also has a blog where you can see more of her wonderful work: 
Ashley's Blog