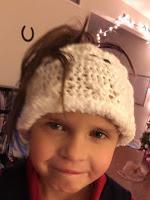 Pattern by: Ashley Kneram
 Click Here for Pattern
 *This pattern requires worsted weight yarn and a fluffy white yarn for the trim.
 This is one of my favorite messy bun/ponytail hats available. If you are like me, the idea of crocheting cabled owls might make you want to drop your crochet hooks and run.  However, this is one of the simplest crochet cables pattern I've worked. 
The instructions were very clear and easy to follow. The pattern has also been tested by myself and a few others to insure there are no errors. The fluffy white trim adds a nice winter snow texture to the beanie.
I highly  recommend this pattern.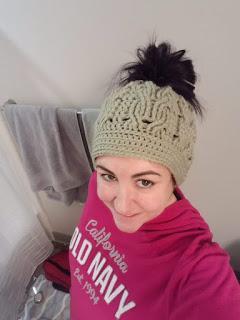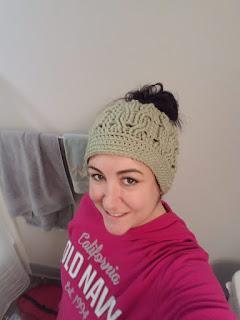 Bonus Tip:  I went up a hook size and replaced the fuzzy trim with rows of single crochets. By increasing the number of rows and hook size, the hat fit me perfectly!