A review of Vichy's Dermablend Corrective Foundation, a product I've been wanting to try for ages!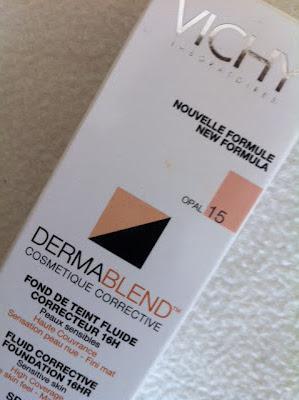 Vichy Dermablend Corrective Foundation
Hmmm I think I may have a little issue with the Vichy Dermablend Foundation. Basically I started this blog because I love beauty products and I want to track down the best affordable beauty and makeup products on the market. Recently I discovered
Asda's Volume Lash Mascara
and I'm pretty sure it's my favorite mascara ever. It's £2.50 and it's amazing, seriously just go and try it! Now with Vichy Dermablend's Corrective Foundation I've found my favorite foundation ever!! This is a problem because basically I don't want to spend money on another foundatuion when I have one as amazing as this one!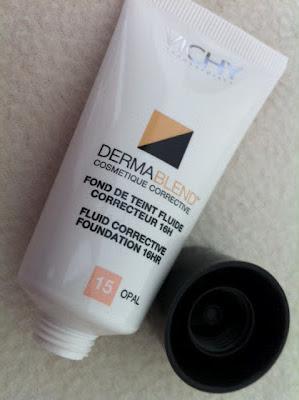 Vichy Dermablend Corrective Foundation
The main reason I was drawn to the Vichy Dermablend Corrective Foundation was that it is designed to cover and cameflague skin irregularities including irregular skin tones, large circles and acne scars. The main issue with my skin is that I have problem areas that are prone to spots and some light scarring from when I had very bad skin as a teenager. Dermablend Foundaion is a full coverage foundation that defineitely disguises my problem areas and leaves my skin looking amazing.
It is suprisingly mositurising for a full coverage foundation and doesn't give the cakey effect you might expect from this kind of coverage. It actually applies easily and gives a smooth finish, howver it does settle a little in areas that are very dry so I apply a moisturiser first and a primer if my skin is very dehydrated.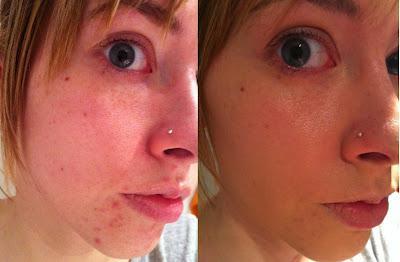 Left: Very spotty without Dermablend  Right: With Dermablend
Another  major plus point is that it is long wearing, seriously long wearing. It claims to give 16 hours of wear, I'm not sure if this is true but I often work 12 hour days and half way through my usual foundation has slid off my face leaving the horrors of my bare skin for everyone to see. Vichy Dermablend holds for ages and after 12 hours I still feel confidnet the worst bits are covered. Obviously it doesn't look as good as when I applied it in the morning but that would really be amazing.
I really can't speak higly enough of th Vichy Dermablend Corrective  foundation, I feel like it's the answer to a lot of my skin related problems and I feel super confident when I'm wearing it. My only issue with it is that the shade isn't quite pale enough for me, I picked up Opal which was the palest one available in Boots but its a shade too dark for me. I've tried to do a little research to see if they do offer a paler shade but haven't found one for this foundation. At £15.50  it isn't the cheapest on the market but you really do get a quality product that does what it claims to. Vichy Dermablend Corrective Foundation is my new favorite foundation and probably the only one that I'll be using for the forseeable future.