The little blue pill that could is about to get a whole lot cheaper, but not in the United States.
The European patent on Viagra has expired and generic versions of the drug will begin flooding the European market. Americans will have to wait until 2020 for a generic alternative to hit their shores.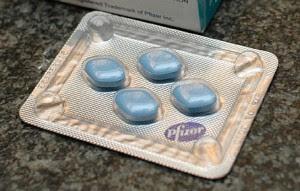 Viagra is the brand name Pfizer (NYSE: PFE) uses for the drug sildenafil citrate, which is used to treat erectile dysfunction. Viagra is the company's 6th bestselling drug, with more than 30 million men prescribed the drug in almost 120 countries.
Last year it generated $2 billion dollars in sales worldwide for the New York based pharmaceutical company.
Pfizer held the exclusive worldwide rights to market the drug when it was introduce in 1998. In 2011, it successfully defended its U.S. patent, holding domestic competition from generic versions at bay for another seven years.
But in Europe, more than 20 generic drug manufacturers are expected to start selling the erectile dysfunction drug in the days ahead. Teva Pharmaceuticals (NYSE: TEVA) is already selling the drug in Spain, Canada, and a few other countries.
The head of Teva's European generics business, Dipankar Bhattacharjee, noted that the firm "has a proud track record of bringing high-quality generics to the market on day one of patent expiry, and we have been able to launch sildenafil immediately…in all the major markets of Europe".
He added that the launch will "bring choice to the pharmacy to help them serve the patient, and to help ensure that high-quality healthcare in Europe is affordable."
The generic drugs will be sold for a little more than a dollar, while Viagra sells at almost $15 in the U.K.
The effect that will have on Pfizer's bottom line remains to be seen, but the company may have already launched a pre-emptive strike by selling the drug on its website. Patients will still need a prescription, and the orders will be handled by CVS Caremark's (NYSE:CVS) mail order pharmacy.
Viagra is the most copied drug in the world with counterfeit drug sales topping $75 billion worldwide. Consequently, some people may be wary of using generic versions, fearing they may not contain the same ingredients.
Analysts also point out that because Viagra is a household name which is easily recognizable, that will help the brand maintain some of its market share.
Nonetheless, with the anticipated flood of online sales expected from generics, some experts expect that Pfizer will be forced to lower its price on the drug.
The introduction of a generic pill for erectile dysfunction looks to hurt both the brand-name versions of Eli Lilly's (NYSE: LLY) Cialis, along with BayerandGlaxoSmithKline's (NYSE:GSK) Levitra. With the availability of generic alternatives, some patients may be interested in switching to a cheaper alternative.
The active ingredient in Viagra was designed to treat high blood pressure and angina. Researchers found that it was not effective for either condition, but that it did lead to sustained erections, as a result of temporarily increasing blood flow to the penis.