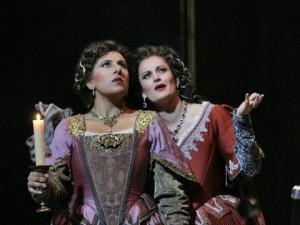 Priti Gandhi as Inez (left) and Paoletta Marrocu as Leonora in the San Diego Opera production of Verdi's 'Il Trovatore'. Photo © 2007 Ken Howard
Verdi lore has it that A Great Critic visited Verdi as he was finishing Il Trovatore. (We all know and LOVE the Great Critics.)
Verdi played him the Anvil Chorus: "What do you think?"
"Garbage," said the Great Critic, which he had to say because he only had an ear for the finest music.
"How about this?" Verdi said, playing the Miserere just for his fine ears.
"Uh! That is foul," the Great Critic said for he could only accept the most refined art.
"One last test," said Verdi, playing the tenor's signature aria, "Di quella pira."
"Awful," said the Great Critic, scoffing.
Verdi rose from the piano, took the Critic  in his arms and hugged him out of sheer joy.
"What did you do that for?" asked the Great Critic.
Verdi told him, "I have been writing an opera for the people. Not for purists and classicists like you. In fact, if you liked this music, no one else would. Now I know that in three months, Il Trovatore will be sung, whistled and played all over Italy."
– adapted from Opera Anecdotes, 1985