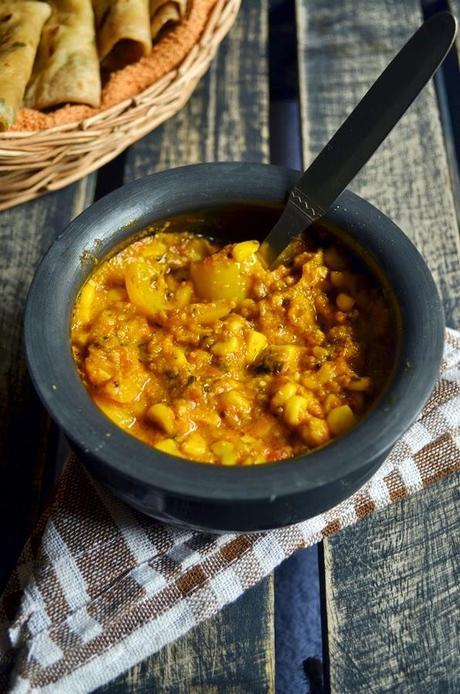 Restaurant style sweet corn masala curry is a finger licking good semi- gravy dish that goes absolutely well with any India flat bread or even freshly baked pav. When ever I buy sweet corn I either make a pulao or just use it in fried rice varieties. This is the first time I tried making it shine as a star ingredient in a dish and it was so tasty and I am glad I tried this. This restaurant style sweet corn masala curry is my sister's recipe,she tried it sometime back and gave me the recipe to try.I prepared it the same way she said with only a small additional ingredient-capsicum.I had a small piece of yellow capsicum sitting in fridge and I just threw that in this gravy. I paired this with coriander chapathi and it was super hit combo. The onion spice paste is what makes this gravy extremely flavorful and tasty and addition of cashews is optional but I recommend you use them.They make this humble gravy so rich!.
 
More sweet corn recipes from the blog includes sweet corn pulao,  sweet corn fritters,  corn peas pulao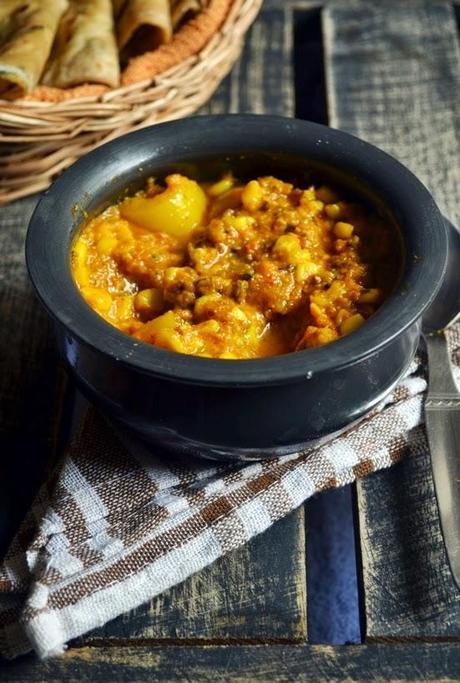 Restaurant  style sweet corn masala curry recipe
Star ingredients: Sweet corn kernels
Time:30 minutes
Serves:3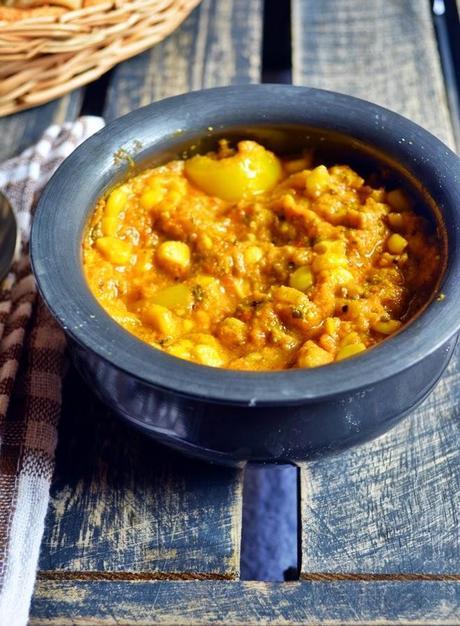 Ingredients:
1 1/2 cup sweet corn kernels
1/2 yellow or green bell pepper,cubed
2 large tomatoes
5-6 cashews
Salt
Water
1 tablespoon butter/oil
Kasuri methi
Masala paste:
1 large onion,chopped roughly
1/4 cup packed cilantro leaves
2 green chillies
1 teaspoon cumin
1" piece of ginger
1/4 teaspoon methi seeds
Method:
1.bring a large pot of water to boil and add a pinch of salt and 1/4 teaspoon sugar to it.Cook the sweet corn kernels in boiling water for 3-4 minutes,drain and set aside
2.Grind the tomatoes into a smooth paste along with cashews
3.Grind all the ingredients mentioned under "masala paste" without adding any water.
4.Heat a kadai and add butter to it.Once the butter melts,add the ground onion masala and saute well till the raw smell goes off.Add the cubed bell pepper and saute.
5.Add the tomato paste and saute for 5-7 minutes.Add 3/4 water and cook for 5 minutes.
6.Add the boiled sweet corn jernels,salt and cook till the gravy thickens,for around 15 minutes.
7.Add crushed kasuri methi,remove from flame and serve hot.
Notes:
1.Addition of bell pepper is optional.
2.You can use for vegan option.
3.If you prefer you can dissolve 1 teaspoon corn flour in 1/4 cup water and add it to the gravy towards the end,to thicken the gravy.