What makes Indian cuisine so interesting?Of course as most of things in India its versatility and the difference in cooking method of same ingredient is what makes Indian cuisine so appealing and interesting.Name any vegetable or spice and I can bet every state has a dish with it to add to the Indian food palate.Its an added advantage for us we can choose a dish from any state/community to sneak in any vegetable/spice in order to make our family eat it.For instance if we take okra I have already blogged about okra stir fry with peanuts-an Andra specialty, here I am posting the recipe for simple but awesome tasting stew with okra-a gem of Tam-brahm cuisine.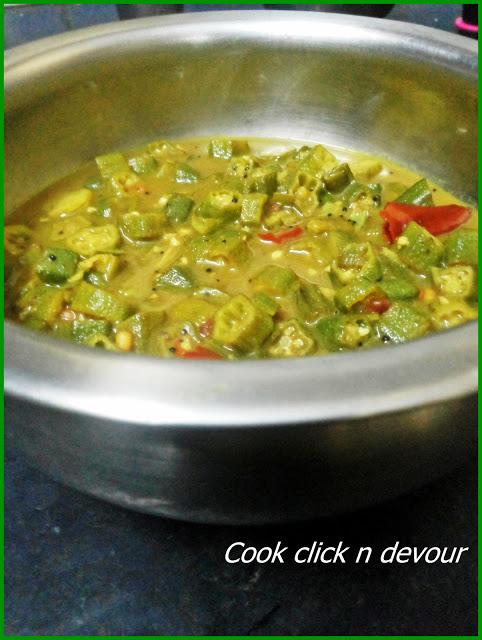 Vendaikai thalir kootu- the literal translation is vendaikai-okra, thalir-loose in consistency,kootu-stew. As the name goes this stew is quite watery and perfect when eaten mixed with rice.There are of course variations with this recipe also from home to home.Here is the simple recipe I follow.
How to make vendakai thalir kootu-Recipe
Ingredients:
1 1/5 cups cut okra
3 dried rec chillies
4 teaspoons thick tamrind extract
1 small piece of jaggery
1/2 teaspoon urad dal,channa dal,mustard seeds
1/2 teaspoon asafoetida
10-12 curry leaves
Salt
Method:
1.Heat little oil in a kadai,temper with mustard,urad and channa dal.Add curry leaves,asafoetida and dried chilles.Saute well for 2 minutes.
2.Add the washed and cut okra and saute thoroughly till okra is well cooked.Add the tamrind juice and about 2 cups of water.Cover and cook for 5 minutes.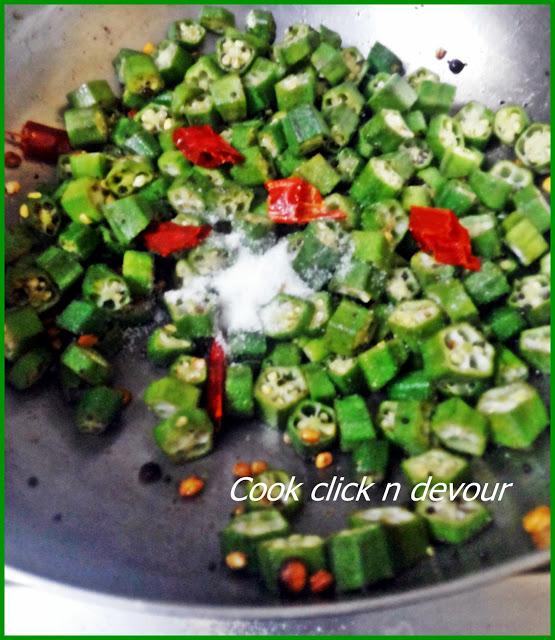 3.Add jaggery and salt and let it boil for 10 minutes.Remove from heat,serve hot with rice,ghee and stir fry/papad.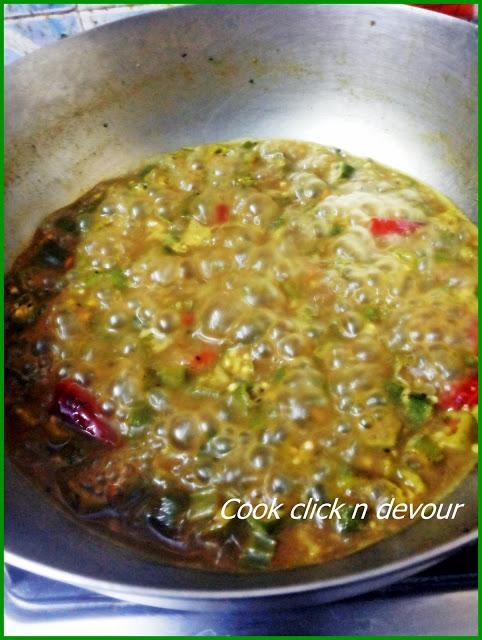 Time:20 minutes
Serves:4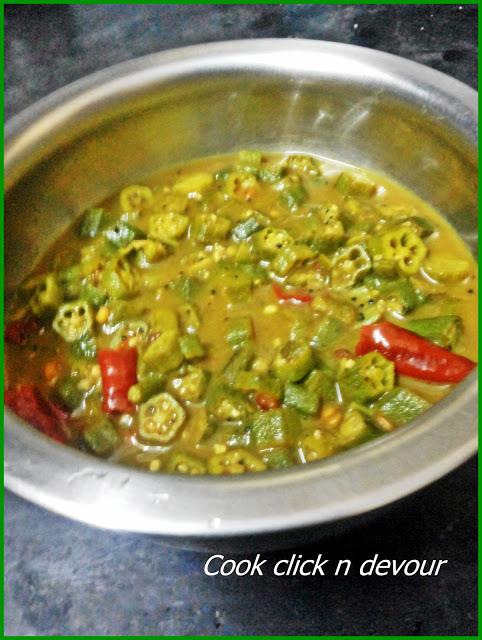 Notes:
1.The preparation may sound very simple but this gives an entierly new sweet and sour taste
2.In some places this is called vendaika vella pachadi,where in the amount of jaggery is increased.