Bored of the regular old potato patty? This recipe has a no potatoes and is served with an easy to make sauce that you will fall in love with. Can you guess what the patty is made of? I bet you won't be able to!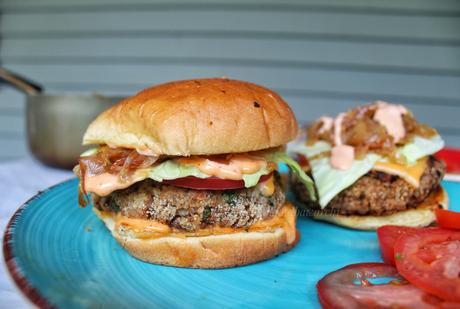 The patty is daal and chawal, yes you read it right! Patty is made with rice, green gram and spices. Caramelised onions give this burger that natural sweetness and smoky flavour, the sauce is rich, spicy and tangy at the same time and the veggies give it the crunch! It definitely tastes better than the regular potato.
This is a no potato and no flour patty and trust me, no one with be able to guess that! You are definitely going to love it. Do not forget to leave a comment if you like it!!
Things to remember/Tips:
You can replace the sauce in the recipe with any other sauces or chutneys
Add as many raw veggies/greens as you like
Do not skip making caramelised onions, it adds natural sweetness and also a little bit of smoky flavour
You may use a grill pan to cook the patty and the buns
This recipe is great if you have leftover rice and cooked green gram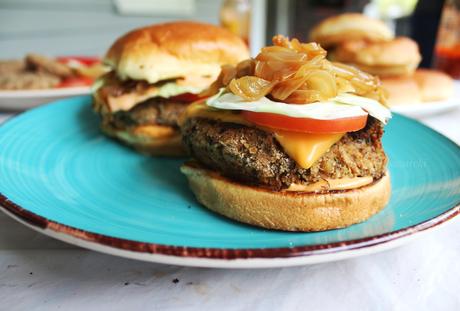 Ingredients
10 burger buns
10 cheese slices (optional)
3 tomatoes, sliced
Bread crumbs for coating patty
Oil for brushing patty
1 tbsp. butter (for buns)
For caramelised onions
4 big onions, thinly sliced
1 tbsp. butter
A pinch of salt
For sauce
1 cup mayonnaise
2 tbsp. red chili sauce
1 tsp. lemon juice
For the patty
2.5 cups cooked green gram
1 cup cooked rice
1 tsp. turmeric powder
1 tsp. coriander powder
2 tsp. red chilli powder
2 tbsp. garlic ginger chili paste/chopped
1 tbsp. chopped coriander leaves
2 tsp. salt (or as per taste)
2 tsp. lemon juice
Method
Caramelised Onions – In a pan, melt butter over medium heat. Add onions and cook the over high heat for five minutes or until they turn soft. Turn the heat to medium low and cook for another 15 – 20 minutes. Keep scraping from the sides and the bottom of the pan if they stick and turn the heat a little lower.  You may add a splash of water to it if they stick too much to the bottom of the pan. Turn off the heat as soon as they are dark brown in color and let it cool.
Sauce – Mix mayo, red chili sauce and lemon juice and the sauce is ready.
Patty – In a bowl, mix all the ingredients for the patty. Mash the rice and lentil while you mix to form dough like consistency. Divide it into 10 equal parts and form patties. Heat a flat pan and lightly brush it with oil. Coat the patties with bread crumbs and cook them on the pan for around 5 minutes each side over medium heat. Keep them aside.
Making the burgers – On the same pan, warm the burger buns with a little butter (you may brown them as per your liking). Now, assemble – lather the bottom burger slice with chili mayo sauce and place the patty over it. Add some caramelised onions, sliced tomatoes and a cheese slice and cover with the top slice of the patty. As soon as the cheese melts, serve!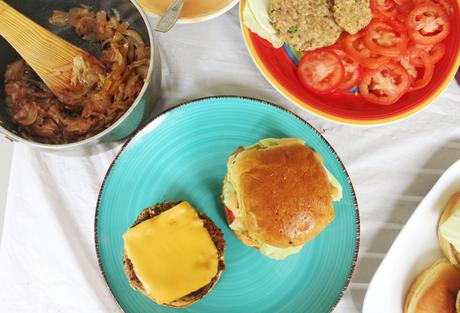 Advertisements