We do have a number of vegetarians in the office, therefore each time I make lunch for any of our parties I have to come up with interesting and diverse dishes for them, too. This Christmas, besides the stuffed grapevine leaves and other things, I made this nice gratin, which requires a bit of attention, but the result is excellent.
Ingredients:
- 1 head cauliflower (about 6 lbs)
- 4 eggs - 1 large yellow onion, thinly sliced
- 1 tbsp all-purpose flour
- 1 3/4 cup heavy cream
- 4 tbsp Parmesan cheese
- 1/4 stick butter   - salt and pepper to taste  - olive oil, about 4 tbsp
Preheat the oven to 450F. Clean the cauliflower, wash it and separate into small florets. Fill a large pot with water, add salt and bring to a boil. When the water is boiling, add the cauliflower and allow to cook for 5 minutes, until slightly softened. Drain and set aside.
Heat the olive oil in a large pan, add the thinly sliced onion, salt and pepper and some crushed red pepper flakes. Saute the onions on medium heat until softened and lightly browned, about 15-20 minutes, stirring frequently. Set aside.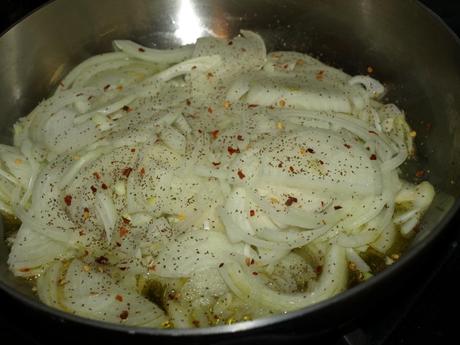 Melt the butter in a small saucepan. Incorporate the flour and cook for 1-2 minutes, but don't let it brown. Add the heavy cream little by little, stirring continuously with a small whisk. When all the heavy cream is incorporated the sauce should be of the right consistency, not too thin or thick. 
Remove from the heat, add a little bit of freshly ground black pepper and 3 tbsp Parmesan cheese. Let the sauce cool a little bit, then incorporate the egg yolks one at a time.
Lay the cauliflower florets uniformly in a well-buttered dish. Spread over the sauteed onions.
Whisk the egg whites with a bit of salt until forming stiff peaks. Using a spatula, gently fold in 1/3 of the cheese and yolks sauce. When combined, add another 1/3 of the cheese-yolks sauce, incorporate, then finish with the last of the cheese sauce.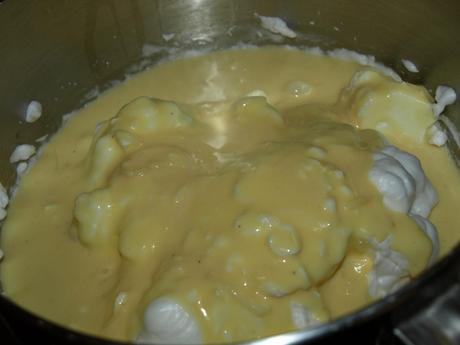 Pour the mixture over the cauliflower florets and the sauteed onion. Shake the dish a little bit, so the sauce trickles down between the cauliflower florets.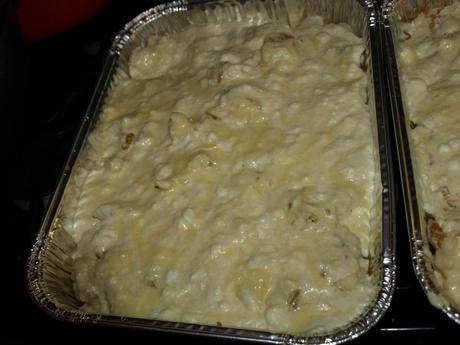 Sprinkle the rest of the Parmesan cheese and some freshly ground black pepper over it, then place in the oven for 40-50 minutes, until the gratin is nicely browned. Allow the dish to sit a couple of minutes, then serve. The gratin can also be served at room temperature.   Note: if you wish, you can make this dish non-vegetarian by first frying 1/2 lb bacon and sauteeing the onion in the same pan, then follow the steps described above.  

Enjoy!