Winters.Pasta.The ultimate carbohydrate rich comfort food. Wholesome,healthy and quick.You don't need to be a Cordon Bleu chef to put this on the table.Bring out some toasted garlic bread ,butter and soup.Or not.
Then tell me...Does this happen to you too?You make the pasta and place it on the table for taking pictures, and it's gone...even before you hung up from FaceTime -ing your best friend.It does, invariably,in my house.When boys are around.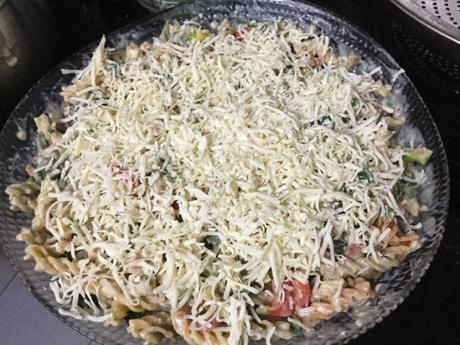 So I topped the the bowl with cheese and baked and gratinated the pasta... Only was unable to take any pics.The bowl was empty.Happiness quotient?There was no chicken.Only veggies.So along with my love was a little Maggi Love.Vegetarian Masala Maggi Magic Cubes.If you haven't, try them today.And no ,this is not a sponsored post.
For the 
Vegetable Pasta in Cheesy White Sauce - ultimate comfort food with Vegetarian Masala Maggi Magic Cubes.
You need
2 tsp chopped garlic2 -3 cups chopped veggies (I used bell pepper,zucchini,broccoli,French beans, carrots,sliced onions)2 tsp olive or canola oil2 cups pasta -we used the tri colore pasta in spirals2 tsp butter2 tbsp maida or all purpose  flour2 cups milk1 cup cheddar cheese1 egg -optional 2-3 

Vegetarian Masala Maggi Magic Cubes. 

Salt, red chilli flakes, dried or fresh basil, oregano etc to taste

Start by doing the most cumbersome task. Chopping veggies. Slice onions. Dice carrots. Slant cut French beans and   florets of broccoli. Dice zucchini. Roughly tear basil.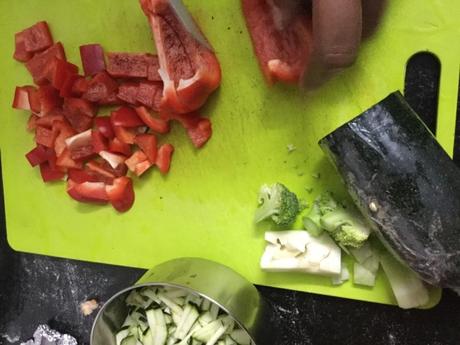 Steam broccoli for a minute over boiling water in a sieve without popping into the water. Place them in ice cold water to keep the color. Into the same water pop in the pasta to boil.In a large PAN, place oil and heat.Add garlic and sauté.Start with onions,then beans, then carrots. Toss well.In the end ,add in pepper, broccoli and zucchini.Toss again and turn of the heat.Season lightly.More salt to follow.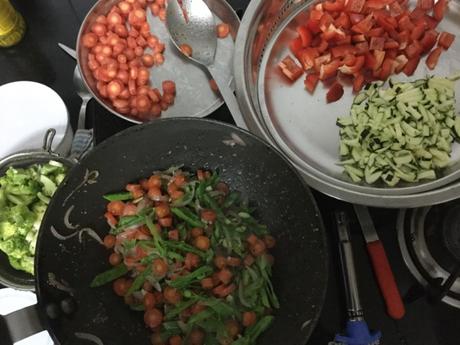 Boil pasta till al dente. Drain in colander.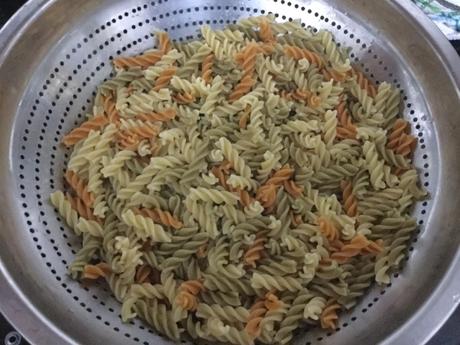 Make the roux. Heat the butter and add flour keep stirring till the raw flour smell goes.The roux mix should be a golden brown shade . Continuing to stir add the milk and whisk vigorously over medium heat till all lumps disappear and the sauce thickens and comes to a boil. Cook further two minutes and turn off the heat.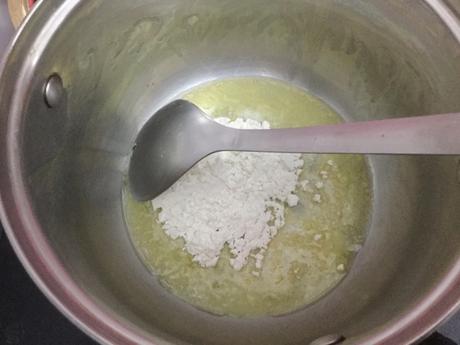 These are really magic. Tiny cubes of flavor.Crush and add to the White bechamel sauce.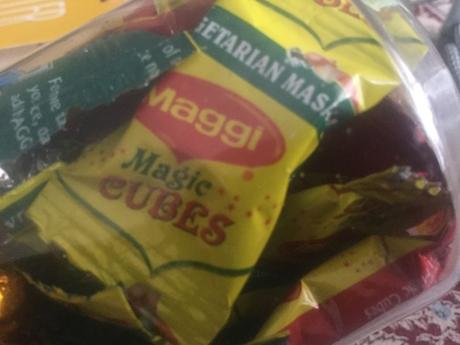 Add in the dried herbs and red chilli flakes.
Whisk in.
The sauce would be a little cooler.
Crack an egg in and whisk well to amalgamate all.
Again that egg is optional. You can also add a half cup of breadcrumbs instead. But I like egg.
Preheat your oven to 200C. 
If you have a microwave ,you'll need to bake at 60%power . For example, my microwave has a 900w output. I need to set it to 540w to bake just like I would in an oven.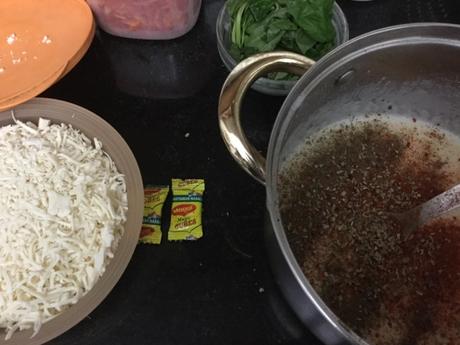 So you have uniform color and flavor.Taste.Add in the pasta, veggies and half of the cheese.Lightly mix.The sauce is thick like a cheese spread , thick consistency. Definitely not pouring.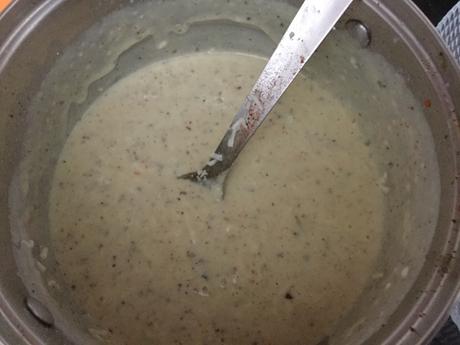 Place in baking dish, or a Pyrex dish.Sprinkle with remaining cheese.Place in the oven to bake for at least 10 -15 minutes.You'll see the cheese melt a bit and bubble and turn a pretty golden brown.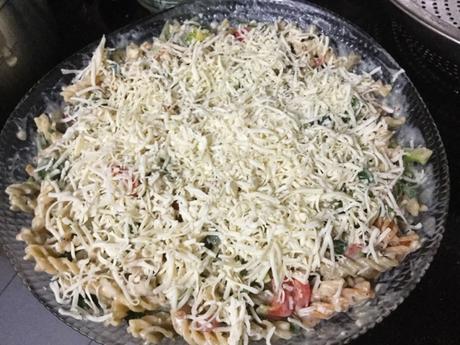 Take pictures before you allow the pasta hungry children to chew into your handiwork.Serve with toasted garlic bread , butter and soup. Ultimate comfort food in the winters.So bring out the dishes...And watch with glee as they leave nothing for you in the dish.So you can munch on leftover vegetable peels and save a few hundred calories. 
PS if you aren't always watching the calories, maybe take a few bites before you serve the dish.Remember,it's healthy.
So what are you baking today???