It's a little bite of fusion.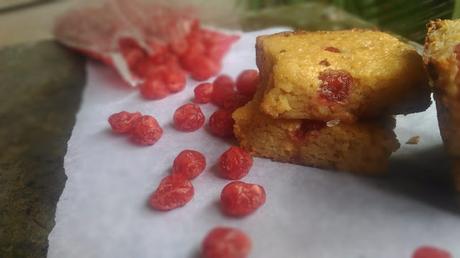 Some flavors from across the seas... and then it hits you. That's a familiar flavor..
desi ghee
...(brown butter/clarified butter) just like
mithai
from a local
halwai
.
But how does that blend into an American Dessert?
And then a chunk of Caramalised white chocolate comes between your teeth. It's an overload.
Too sweet!
But that soft red thing is next... awesomeness. Its tart!
As in sour, tart!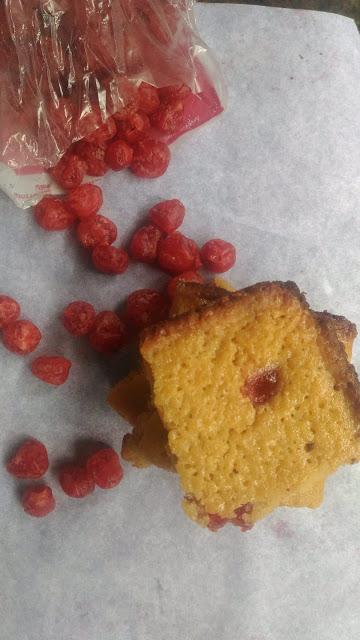 But its that sultriness of all these flavors combined that help that Blondie into overdrive.
And when you alternate a bite of this with some vanilla ice cream or salted caramel sauce... it is another story altogether.
Tell me you crave a bite!
A teensy weensy bite!
Me too... especially the crust. And I'm now using dumbbells to try and take off some of that back fat. But all I can think off is that golden gumminess.
Maybe I should use a 2 inch square of my Blondie in each hand itself. Considering 1 square will be responsible for atleast 1 kg weight gain.
So I'll double the reps. And squats. And planks. :-(
Oddly enough, that doesn't sound too  exciting.
So the best way to just have a teensy bite.... Share the Calories!
So I shared these calories with three more ladies . And we shared some more Calories and gossip and chit chat too. That's coming up.
In the meanwhile, the directions to drown in some chocolate ecstasy are under.
I used sour cherries. Cranberries will taste amazing too. Maybe some salted ,toasted , crushed peanut...if you can handle the protein. These blondies are inspired by Rachel Allen's Peanut butter and white chocolate blondies. But my poor cavity ridden teeth couldn't handle the strain. So I since have made these changes.
I've mentioned many times...it's wise to invest in a small scale if you intend baking regularly.
For the
Blondies with white chocolate and Sour  Cherries
You need
100 gms butter-I used Amul salted butter
100 gms white chocolate
100 gms white chocolate chips
180 gms brown or raw sugar
2 eggs
110 gms flour or 1 cup maida
50 gms peanuts or toasted hazelnuts or dehydrated cherries or cranberries
Line a 9*5 tin with paper and grease sides.
Preheat oven to 180°C/350°F.
Melt chocolate and butter over a double boiler and Cool.
Separately , beat eggs and sugar. Add in chocolate mix.
Sift flour over and fold in . Add the white chocolate chips or roughly chopped white chocolate chunks.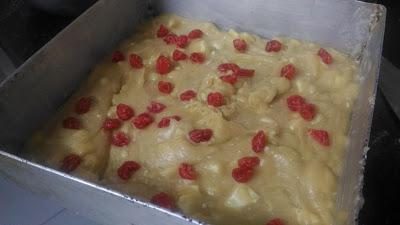 You may add a little less or more.
Pour into tin and scatter cherries/ cranberries. They'll sink on their own.
Bake for 35-40 minutes till toothpick inserted in the center is clean...  just sticky crumbs maybe .
Dont wait for the toothpick to be squeaky clean . A little fudgy blondie is yumm.
Cool and cut into squares.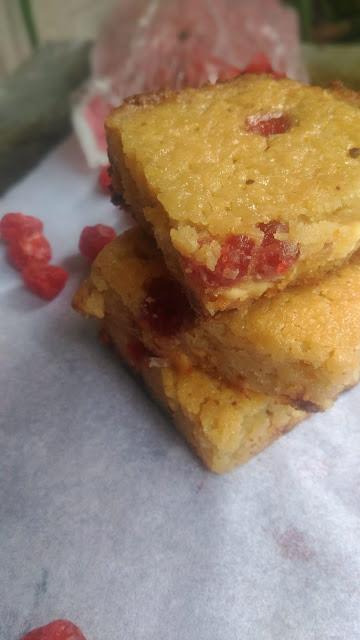 If you're in too much of a hurry...the blondies will break. The baking process is still going on till the blondies are cool.
You can also sprinkle some sea salt before you put them to bake.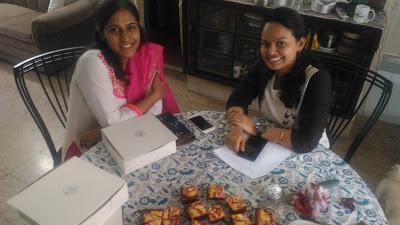 Sharing Calories with Amrita and Namrata
Try and use raw or brown sugar. If you can't find them, be sure to add some caramel sauce...there will be a different taste otherwise.
Just a small note.
A brownie and blondie has a high fat to flour ratio and almost no baking powder or baking soda. It's meant to just rise enough and not be spongy. Tastes best after a few hours and will almost always have eggs.
The fudgy brownies will have more butter and less flour and cakey ,soft brownies will have less butter and more flour.
So you can adjust to taste.
Go on. Get all that stuff together and turn on the oven.
So what are you baking today???