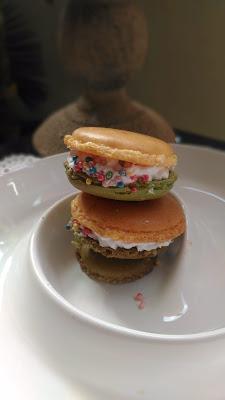 Frustrating ,isn't it?
When you buy the best of books and watch the videos even more avidly than you care to acknowledge.
And try again and again.
And then they don't have feet.
I'm going on and on about them dainty little macarons.
That pleasure , when I saw those crinkly feet...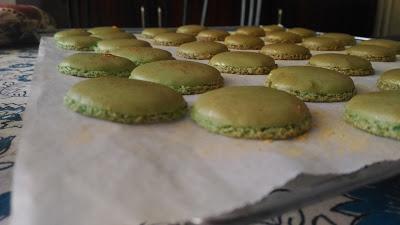 Oh yes, that happened to me at home. I finally managed to get them feet.
I've tried macarons before and they were iffy.
Once the entire lot burnt out, then once they just did'nt get off the parchment...
Then once they ran off and became unrecognizable shapes....
I have never known so much frustration.
And have never stomped my feet on taking something out off the oven.
Oh, and sweet dog Romeo...he left them untouched a few times...
And every time I had one from a patisserie ,I almost cried.
I just had to get them right.
So finally , I gave in and took instructions from the two chefs at Wisk by Cakesmiths  at Kalaghoda, Mumbai.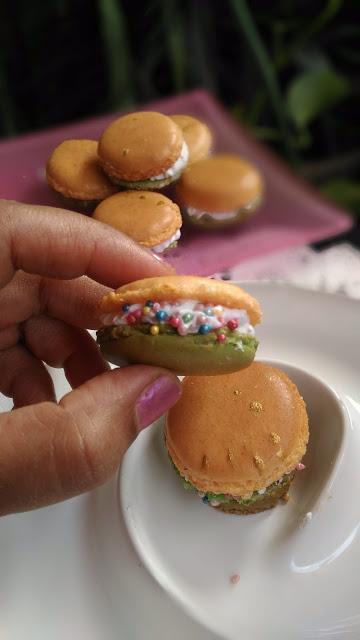 And get them right. Filling and all. So despite all the books I read, or youtube videos I watched (I attended a demo once too) , I needed that nudge in the right direction. And now they are so easy.
So I'll put all the instructions in, but just in case you don't get it right the first time...you know practice is the answer.
And these are French Macarons.
Italian Macarons are made with a sugar syrup. And we'll do those too.
And before you consider making macarons, you need to invest in a weighing scale and a box of parchment paper or silipat sheet. And an electric whisk.
This recipe will make about 50 macarons of 1 1/2 inch. You may halve the recipe the first time to try it out.
for the
French Macarons

you need
110 gms almond flour
110 gms icing or confectioners sugar
2 gms cream of tartare
78 gms egg whites left at room temperature at least an hour
100 gms caster sugar
2 pinches salt
food color of your choice, pearl / luster dust optional

Start by weighing out the ingredients. Absolutely accurately.
Place the egg whites in a squeaky clean bowl covered for atleast an ourto age them.
Place the almond meal and icing sugar in a mixie jar and run to grind out as fine as possible.
Then sift out onto a sheet of paper. Whatever the dregs are left of almond meal, if they areless than a spoon full, throw them out or eat them. if its more, grind it again. Almonds are expensive...
Start beating the egg whites on low speed. Once they become frothy, start adding the caster sugar a spoon at a time. Increasethe speed of the mixer to medium.
Once only a spoon of the sugar is left, add in the cream of tartare and salt too.
Now turn the speed of your mixer to high and beat , scraping the sides for approximately 10 minutes. You'll know when its done when you turn the bowl upside down and the egg whites stay in the bowl.
Now put two drops of GEL food color in the egg whites and whisk 15 seconds.
Remove the whisk and pop in half the almond mix in. Use a spatula and mix it in counting strokes. Move the bowl and cut and fold the almonds into the egg whites.
The max number of strokes must be 45.
When you lift the spatula, your batter must fall in ribbons by now and disappear into the batter in 10 seconds. This process is called Macaronnage.
Check out the post on my experience in Wisk for more detailed pictures. I was making these alone, so I couldnt take pictures.
Now fill a disposable  piping bag with a third of the batter. Snip off the end to bet a hole 1/3 inch wide.
Line your baking sheets with parchment paper.
Now with the bag at 90degrees to the parchment paper, push some batter out to form a circle an inch wide.
Next macaron atleast two inches away and repeat.
Fill the bag again and repeat.
Lift the cookie sheet 6 inches above the shelf and drop gently onto the shelf to let the air bubbles escape. do this three times.
You can try out whatever rapping way you want.
Sprinkle dust over right now.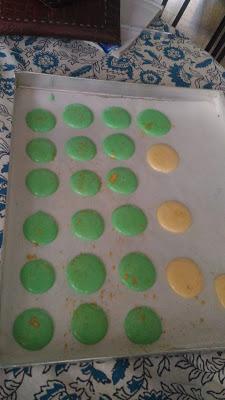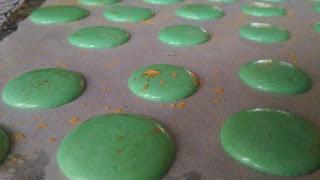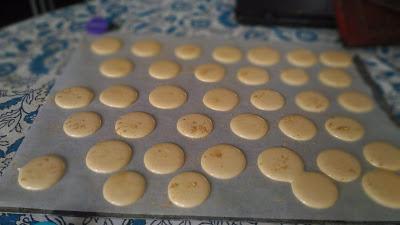 And forget about them for two three hours. Leave under the fan , or in an air conditioned room so that a film forms. When you touch them, the batter must stay on the macaron.
Now turn the oven and preheat to 150C.
Place  tray in the center of the oven... 8- 10 minutes ...maybe 12 minutes. The macaron will not be sticky to the touch and will come off the paper.
Cool and fill with buttercream.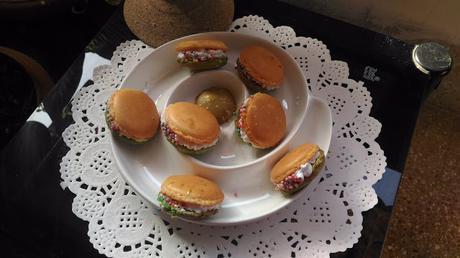 This was plain buttercream frosting and some sprinkles in honor of the 70th Indian Independence day.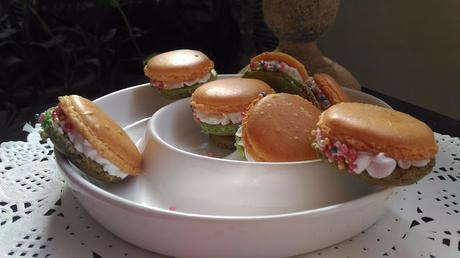 Layered and served with a cup of coffee,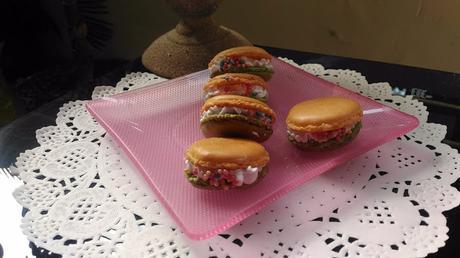 Pretty??The thrill of seeing the feet was awesome. And remember ,I made them in superbly high humidity. So when you make these... dont bother about storing them. Macaronnage, pipe , bake , fill ,eat repeat.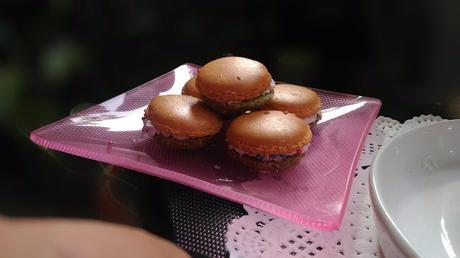 Like this .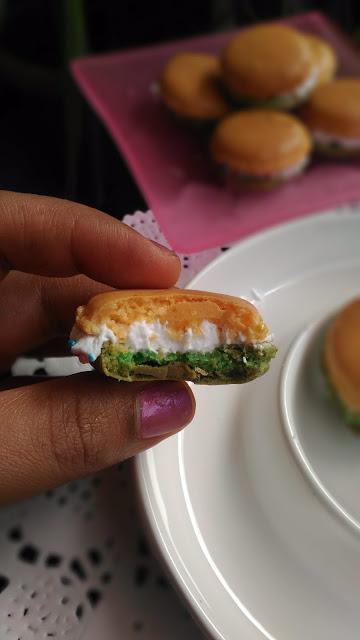 Try these out. And if youre in 
Mumbai, check out the websites.
So what are you baking today???