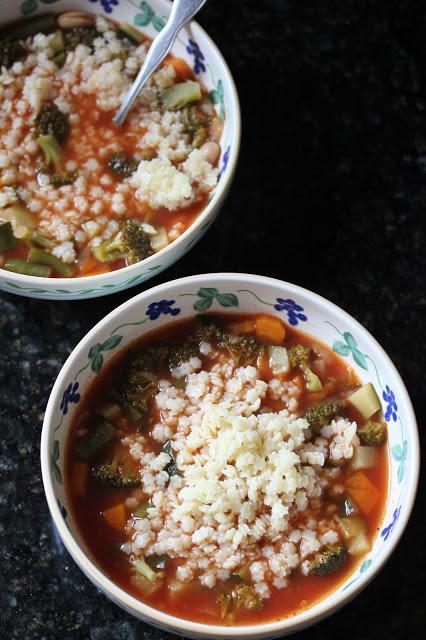 We love soup all year round but especially during the winter months. It makes us feel warm and healthy. We've had a big dumping of snow today and some really cold temperatures, so soup is the perfect remedy. And soup is a great way to clear out your fridge when those vegetables gotta go fast.
We can't help but add pasta to our soups, especially cute baby pasta like these stars.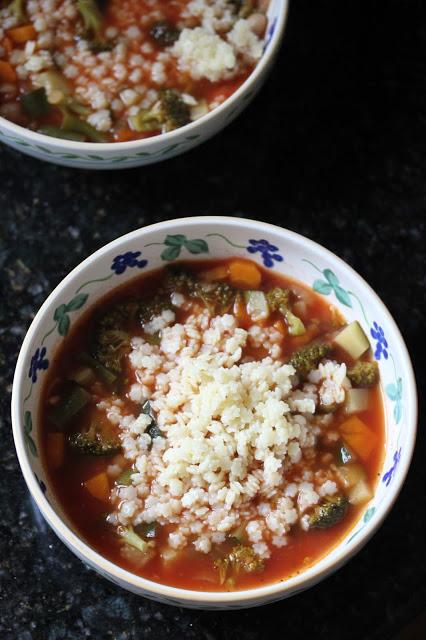 I wish we could buy local, seasonal produce throughout the year but our climate just doesn't allow it. So, this might not be a typical winter soup but it will sure make you feel healthy and warm.


Veggie Soup with Pastini


Ingredients1 tbsp olive oil1 small onion, finely diced3 cloves of garlic, minced2 carrots, chopped into bite-size piecessmall broccoli, cut into florets2 medium zucchini, diced150 g of green beans, cut into bite-size pieces 1 can diced tomatoes4-6 cups of vegetable broth115 g cooked pasta
DirectionsHeat olive oil in a large soup pot over medium heat. 
Add the onion and cook for about 3 minutes or until softened, followed by the garlic. Cook until fragrant.
Toss in the carrots and cook until slightly softened, about 5 minutes. Add the rest of the veg, tomatoes, and vegetable broth. Bring to a boil and reduce to a simmer. Cook for 20 minutes.
While the soup is simmering cook your pasta. Once it's ready, strain it and add it to the whole pot or to each individual bowl before serving.