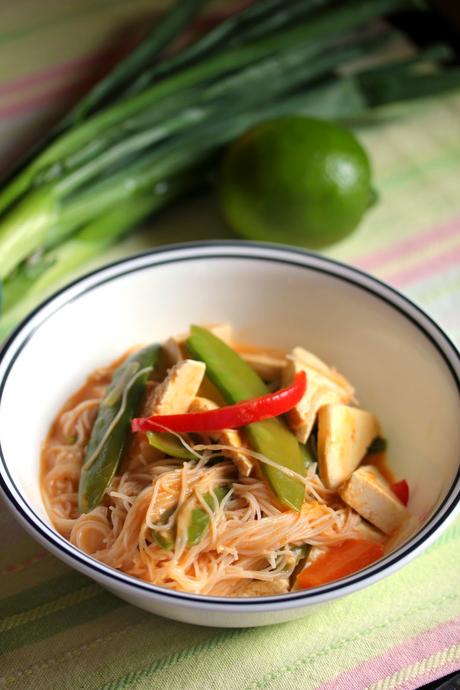 There is something magical about noodles and tofu together. Thai dishes are where I get my fix when I'm looking for some tofu-noodle love. Sometimes I find pad thai too heavy and starchy so this soup is the perfect alternative. The fresh, crunchy snow peas, carrots and pepper in a coconut milk broth finished off with a squirt of lime make my heart and belly happy. You can put in more or less noodles to your taste. I put in a lot... like the whole package because I just felt like it. This soup comes together so quickly so it makes for the perfect weeknight dinner but it's delicious enough to serve at anytime.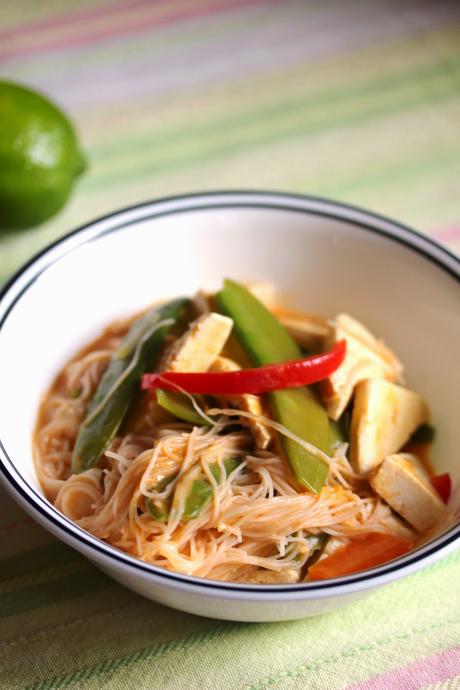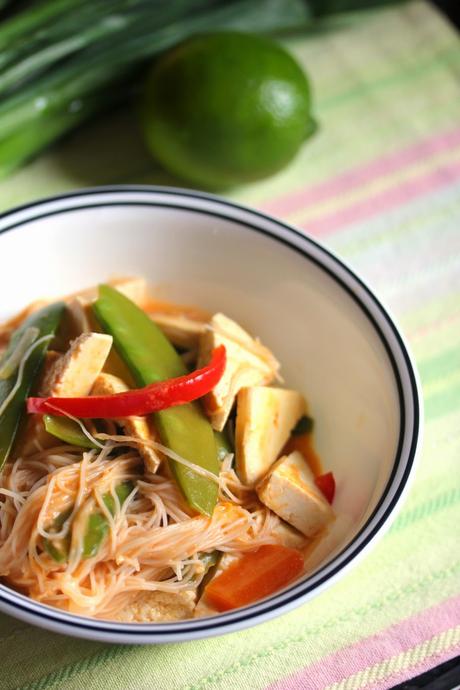 Thai Tofu Noodle Soup
Ingredients:
block of tofu, cut into triangles
2 tbsp coconut oil
1 sweet onion, roughly chopped
1 cup carrots, chopped into bite sized pieces
1 red bell pepper, thinly sliced
1
 cup snow peas
4 tbsp red curry paste (we used Thai Kitchen brand)
1 can coconut milk
4 cups low-sodium vegetable broth
thin brown rice noodles
1 tbsp red pepper flakes
squeeze of half a lime
Directions:
In a non-stick frying pan, fry tofu triangles until golden on both sides. Approximately 5 minutes per side will do the trick. Once done, set aside.
Pour 2 tbsp of coconut oil in a large pot, then sautee yellow onion until golden. Add carrots, red bell pepper, and snow peas. Stir 4 tbsp of red curry paste and let it cook with the vegetables for a minute. Pour in coconut milk, vegetable broth and bring to boil. 
Once boiling, add noodles and turn down to a simmer. Let the noodles cook in the soup until softened, usually about 4-6 minutes. 
Garnish with red pepper flakes and fresh lime juice and serve hot!