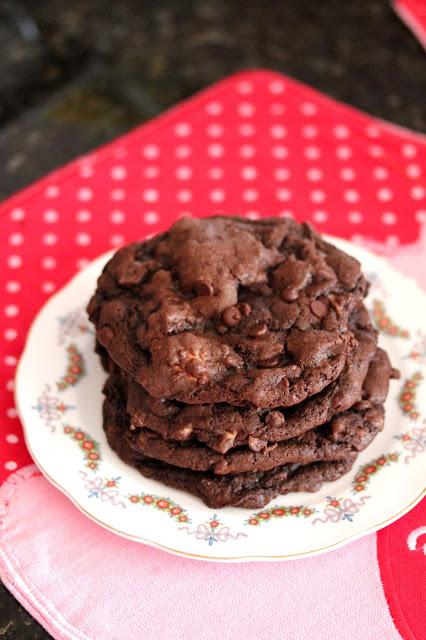 February has come and gone and so has the Valentine's chocolate.
While February might be the month of love and chocolate. That applies to all months in my opinion. Anytime, all time, I want chocolate.
Love is important, too.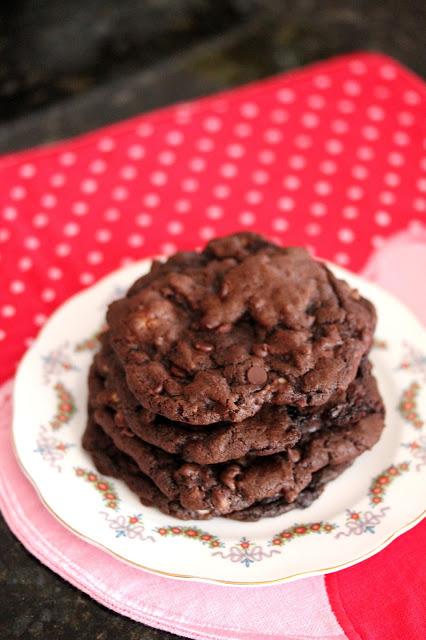 These cookies are perfectly chocolate-y! They're also crispy, chewy, and basically the perfect cookie. This is kind of embarrassing to admit, but we've never really successfully baked a cookie that's crispy and chewy and spreads when baking. Usually our cookies just sit there on the baking sheet and don't do anything. How we plop the dough on the baking sheet is exactly how they come out. It's frustrating. It boggles the mind, haha. But, alas! We've finally done it!
Unfortunately, white chocolate chips are near impossible to find around town without paying through the teeth, so we added marshmallows instead and no complaints from me! These seem more rocky road-like with marshmallows to me.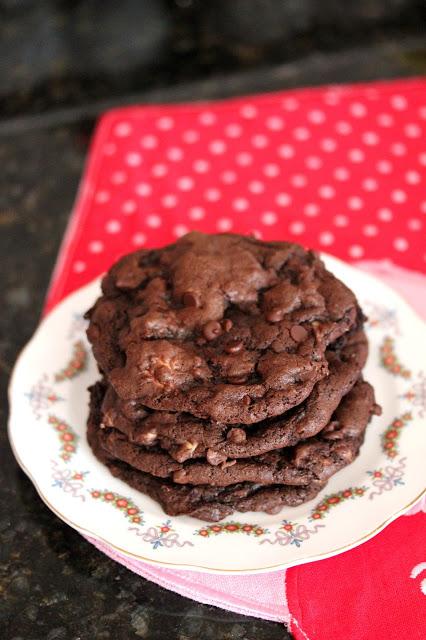 I love me a rocky road bar, so how could I resist a rocky road cookie? These are just scrumptious I tell ya! Do yourself a favour and bake these babies up for friends, loves, and yourself!
Vegan Rocky Road Cookiesadapted from Vegan Cookies Invade Your Cookie Jar


Ingredients

1/2 cup unsweetened original almond milk2 tbsp ground chia seeds1/2 cup canola oil1 1/4 cups sugar2 tsp vanilla extract1/2 tsp almond extract1 1/2 cups all-purpose flour1/2 cup cocoa powder1/2 tsp baking soda1/4 baking powder1/4 tsp salt1/2 cup chocolate chips, mini or not1/2 cup slivered almonds1/2 - 3/4 cup vegan marshmallows, mini ones or large ones quartered


Directions

 Preheat oven to 350 degrees F. Line two baking sheets with parchment paper.
Combine milk, ground chia seeds, oil, sugar, vanilla and almond extract in a large bowl. Blend until smooth.
Sift in flour, cocoa powder, baking powder, baking soda and salt. Mix until a thick dough forms. 
Fold in chocolate chips, almond slivers and marshmallows.
Scoop two tbsp of dough per cookie onto the baking sheets. Make sure to leave a a space of about two inches between the soon-to-be cookies.
Bake for 10-15 minutes. Let them cool on the baking sheet for five minutes. 
Transfer to a cookie rack to cool completely.