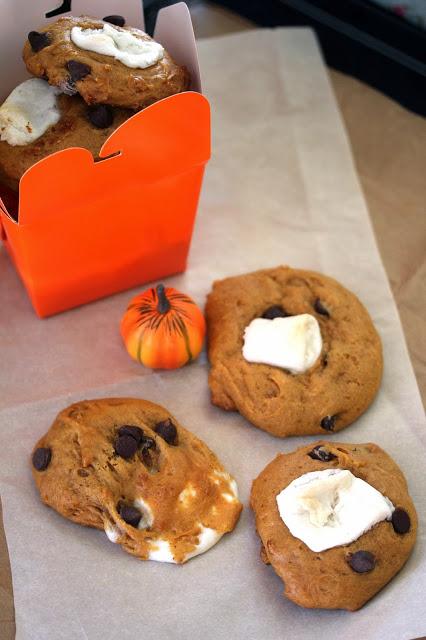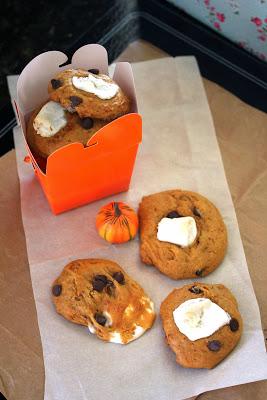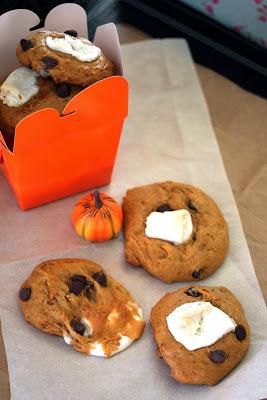 Pumpkins and Marshmallows and Chocolate... oh my! These cookies have all those things and so much more. We think of this recipe as a campfire/thanksgiving mashup party in your mouth. And yet these cookies aren't overly or sickly sweet.. they are just right :)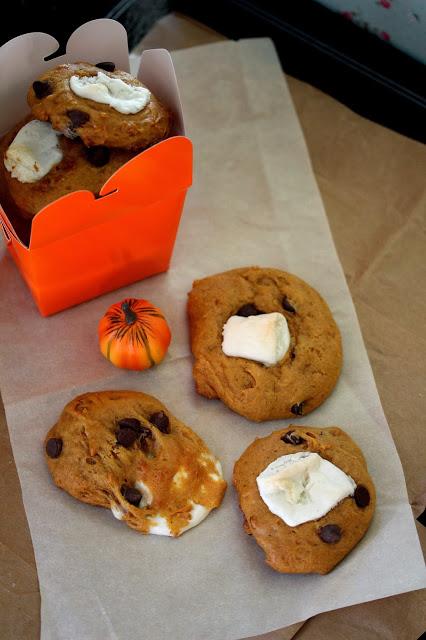 Extremely soft and fluffy, these cookies are perfect for the holidays because they make you think of warm, happy things like love and joy. The marshmallows are probably the highlight though because vegan marshmallows are literally the greatest thing ever, in our humble opinion. As we urge you in every single post, make these! You will have happy bellies and warm hearts.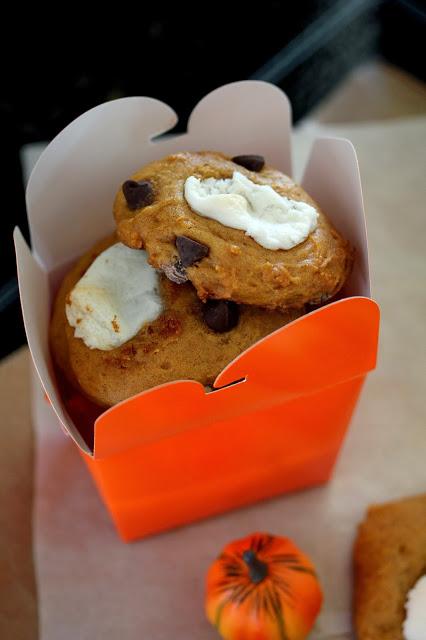 Vegan Pumpkin S'mores Cookies
Adapted from Little House on the Vegan Prairie 

Ingredients:
2 cups unbleached all purpose flour
1 tsp baking soda
1 tsp baking powder
1 tsp ground cinnamon
1 1/2 tsp pumpkin pie spice (nutmeg, allspice, ginger)
1/2 tsp salt
2 ener-g egg replacer eggs, prepared
1 cup brown sugar
1/2 cup cane sugar
1/2 cup canola oil
1 tsp pure vanilla extract
1 cup pumpkin puree
1/2 cup Vegan Marshmallows
1/2 cup vegan chocolate chips
1/4 cup crushed up graham crackers (optional but super s'more-y)
Directions:
1. Preheat the oven to 325F. Line baking sheets with parchment or a silpat.
2. In a large bowl, combine the flour, baking soda, baking powder, spices, and salt. Set aside.
3. In another large bowl, cream together the Ener-G eggs and the sugars, with an electric mixer, until light and fluffy.
4. Add in oil, vanilla extract, and pumpkin and beat until well combined.
5. Add the flour mixture, in batches, and beat until just combined.
6. Using a rubber spatula, fold in the marshmallows and chocolate chips.
7. Drop the cookies onto the parchment paper lined baking sheet, by the heaping tablespoonful spaced about two inches apart. You will want to make sure that each scoop gets at least one marshmallow in the middle of the cookie. The batter will be sticky so you may need to moisten your hands and roll the batter into golf ball sized balls before placing them on the baking sheet.
8. Bake for 15 to 18 minutes or until a toothpick inserted in the center of a cookie comes out clean. If it comes out marshmallowy, then try testing an area as close to the center away from the marshmallow.
9. Remove from oven and transfer to a wire rack to cool completely. Store cookies in an air tight container.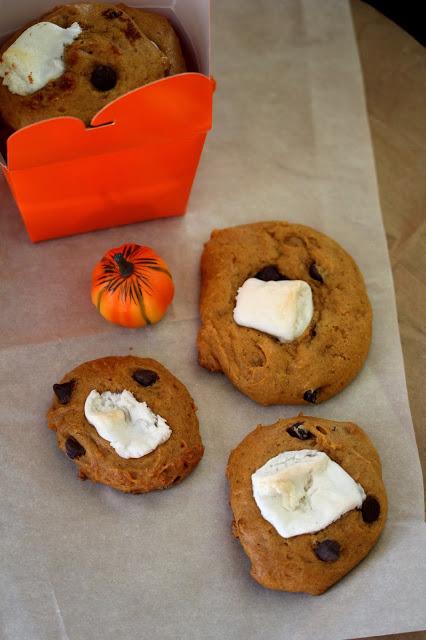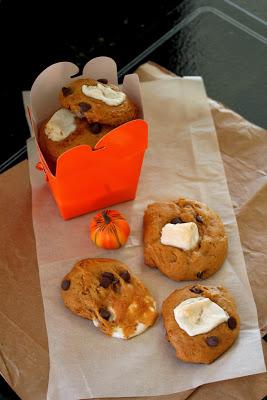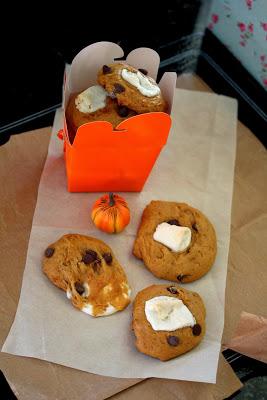 3