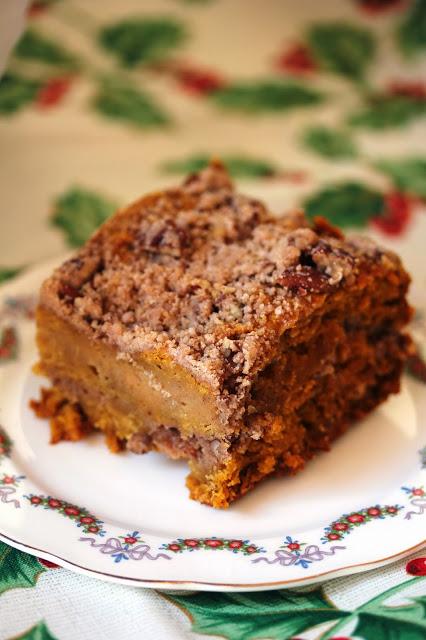 Coffee Cake seems completely necessary during the holidays. It's one of those baked goods that every baker needs in their recipe box (or browser favorites). This incredible recipe we adapted from Family Sponge is THE MOST PERFECT COFFEE CAKE RECIPE EVER. Let us explain...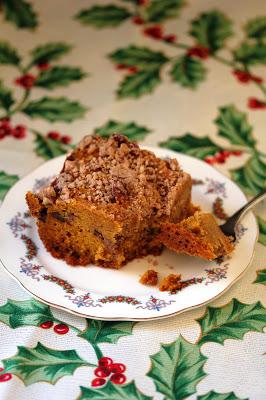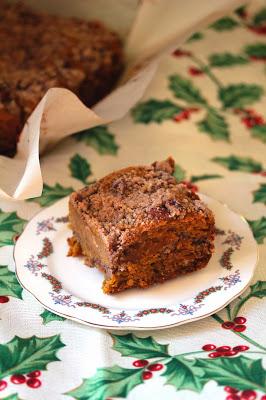 This pumpkin coffee cake is: moist, fluffy, not too sweet, nutty, pumpkin-y, and features a crumble laced throughout it and on top. What more can we say to sell you on this coffee cake? The soy yogurt really makes it so please be sure to use it. And the pumpkin puree and coconut oil just add to how moist and fluffy the cake is.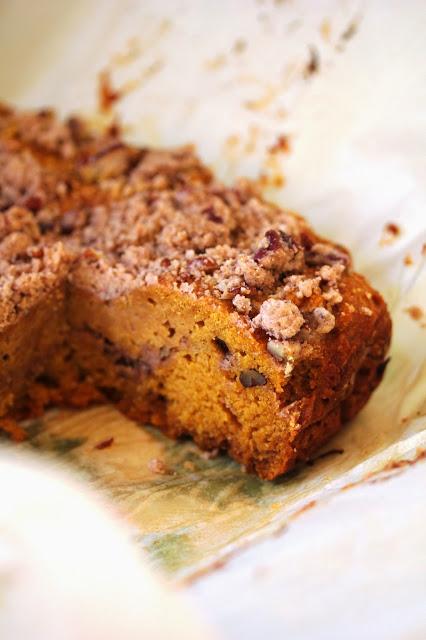 Look at the pecan crumble layer! This is a very beautiful cake so it's perfect for guests or picture-taking - very photogenic!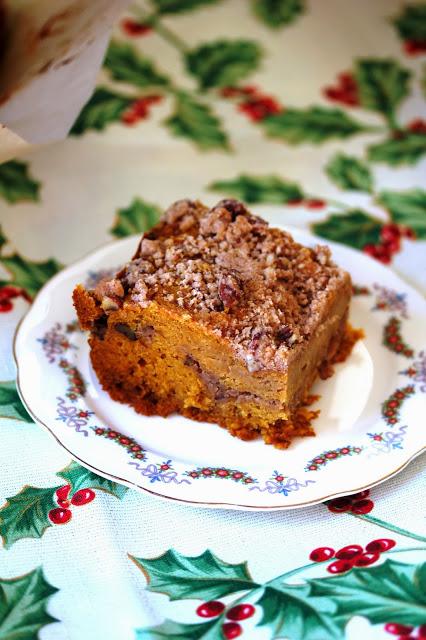 Vegan Pumpkin Coffee Cake with Pecans
Adapted from Family Sponge
Ingredients:
For the cake:
1 1/2 cups whole wheat flour or white whole wheat flour1 tsp ground cinnamon1 tsp pumpkin pie spice1/2 tsp baking powder1/2 tsp baking soda1/4 tsp salt1/2 cup agave nectar2 Tbsp  brown sugar1/2 cup pumpkin puree (canned or fresh)1/2 tsp pure vanilla extract1/3 cup coconut oil warmed to liquid form1 cup soy yogurt, we used vanilla
For the crumb filling/topping:
1/2 cup whole wheat flour
3 Tbsp packed brown sugar1/4 tsp salt1/2 cup pecan halves finely chopped3 Tbsp coconut oil (softened, not melted)
Directions:
Preheat oven to 350°F. Line an 8x8 pan with parchment paper.  In a medium bowl, whisk together the flour, 1 tsp cinnamon, pumpkin pie spice, baking powder, baking soda, and salt.
In a large bowl, whisk together agave nectar, pumpkin puree and yogurt in a large bowl until well-mixed. Whisk in vanilla extract. Whisk in coconut oil until well-combined.  Add dry ingredients to wet in 3 parts; stir until dry ingredients are wet but do not overmix.
Now make the filling/topping: In a small bowl, whisk together flour, brown sugar, salt, and nuts for the crumb topping. Add in the oil, and stir with a fork until crumbly.
Pour half of the batter into the prepared pan and smooth the top. Now take half the crumble and spread it evenly over the top of the batter. Spread remaining batter over top in an even layer.
Scatter remaining half of the crumb topping evenly over the batter in the pan.
Bake until top is golden brown and a toothpick inserted into the center of the cake comes out with a few moist crumbs, 35-40 minutes.  Allow cake to cool in pan before cutting into pieces and serving.