Sweet and spicy and chocolaty! These cookies taste exactly like a Mexican hot chocolate. Perfect for summer! Haha, well, maybe not. But, whatever floats your boat! They're definitely chocolaty, which is always a delight to me!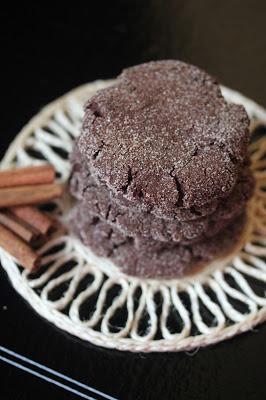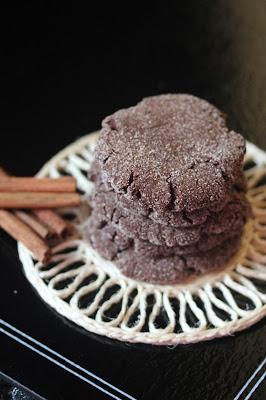 Depending on your tolerance for heat, these can be quite spicy. I made these for some co-workers once and quickly realized these may not be the best cookies to bake for people you don't thaat well. Also, the heat seems to intensify with time. I'm really not trying to deter you from making these, honest! Just forewarning. 

Mexican Hot Chocolate Snickerdoodles
Makes 2 dozen Cookies
From
Vegan Cookies Invade Your Cookie Jar
Ingredients
Topping
1/3 cup sugar
1 teaspoon ground cinnamon
Cookies
1/2 cup canola oil
1 cup sugar
1/4 cup pure maple syrup
3 tablespoons almond milk
1 teaspoon vanilla extract
1 teaspoon chocolate or vanilla extract
1 2/3 cups AP flour
1/2 cup unsweetened cocoa powder
1/4 teaspoon salt
1/2 teaspoon cinnamon
1/2 teaspoon cayenne
1 teaspoon baking soda
Directions
Preheat oven to 350 F. Line 2 large baking sheets with parchment paper.
Mix the topping ingredients together on a flat plate. Set aside.
In a medium mixing bowl, use a fork to vigorously mix together oil,  sugar, syrup, and milk. Mix in extracts.
Sift in remaining ingredients, stirring as you add them. Once all ingredients are added mix until you've got a pliable dough.
Roll dough into walnut sized balls. Pat into the sugar topping to flatten into roughly 2 inch discs. Transfer to baking sheet, sugar side up, at least 2 inches apart (they do spread). This should be easy as the the bottom of the cookies should just stick to your fingers so you can just flip them over onto the baking sheet.  Bake for 10 to 12 minutes, they should be a bit spread and crackly on top. Remove from oven and let cool for 5 minutes, then transfer to a cooling rack to cool completely.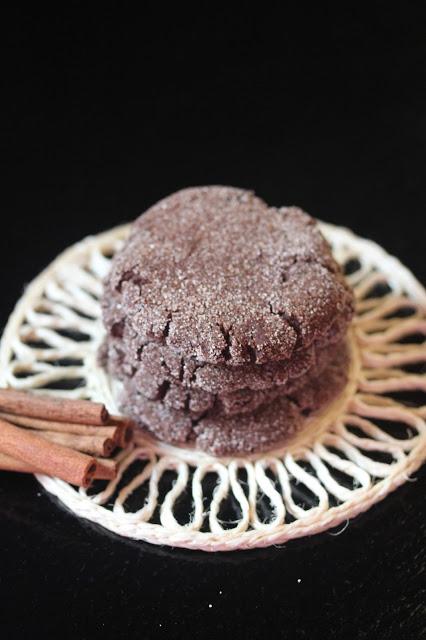 Perfect with a cold glass of almond milk!