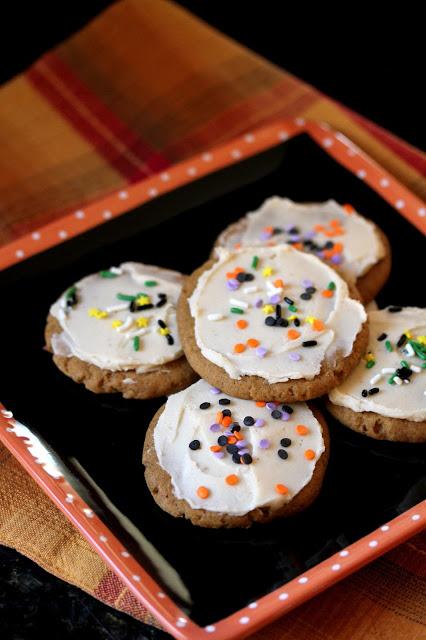 Continuing with the pumpkin theme, here's some yummy (and cute!) pumpkin cookies.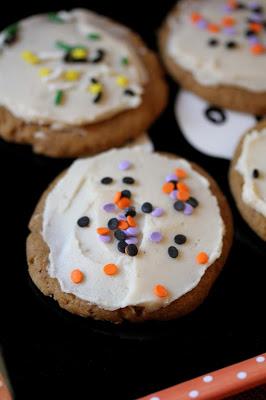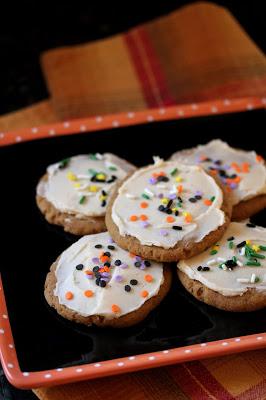 You could always go without the frosting on these cookies, but I would be lying if I told you I didn't prefer them with frosting. When you're having dessert why not go all in and really make it worth the calories, right?
Also, topping the cookies with frosting enables you to add cute festive sprinkles! I can't resist the opportunity to seasonally customize my desserts.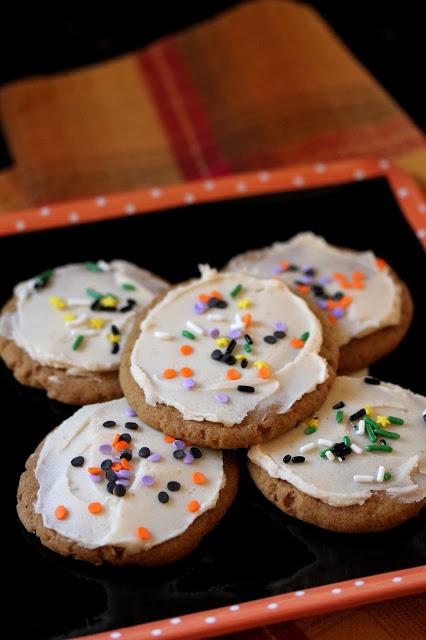 Frosted Pumpkin Sugar Cookies

adapted from Minimalist Baker


Ingredients


Cookies1/2 cup vegan butter, softened1/2 white sugar1/4 cup brown sugar1 tsp vanilla extract1/4 cup pumpkin puree1 1/2 cups + 1 tbsp AP flour1/2 tbsp cornstarch1 tsp baking powder1/2 tsp baking soda1/4 tsp salt1 tsp pumpkin pie spice3/4 tsp cinnamon1 tbsp unsweetened original almond milk
Frosting1/2 cup vegan butter, softened1 tsp pumpkin butter1/2 tsp vanilla extract2 1/2 -3 cups powdered sugar1/4 tsp each cinnamon and pumpkin pie spicedrop of unsweetened original almond milk


Directions

CookiesAdd butter to large bowl and beat for 1 minute. 
Add sugars and vanilla, cream for another minute.
Add pumpkin and mix again. Sift in dry ingredients and stir to combine. Do not overmix. 
Pour in almond milk, mix to combine once more. 
Freeze dough for 15 mins or refrigerate for 30 mins. 
Preheat oven to 350 degrees F.
Line baking sheet with parchment paper or silicone mat.
Scoop out dough with a tablespoon. Roll into balls and place two inches apart. They will spread.
Press down cookies either with your hand or the bottom of a glass.
Bake for 10-12 mins or until golden.
Once baked, take them out of the oven and let the cookies rest for a minute or so before transferring to a cooling rack.
Frosting
Place butter into bowl, Beat until fluffy. Then add vanilla, spices, pumpkin butter and mix some more. 
Add powdered sugar in 1/2 cup instalments, mixing in between. Add a dash of milk if it gets too thick. You want the frosting pretty thick though. 
Once the cookies have completely cooled, go to town frosting those babies up! 
Don't forget some festive sprinkles for added flair!