December's Vegan Cuts Beauty Box arrived right after Christmas, so it was a nice after-Christmas surprise! I have to admit that I was starting to question whether or not I wanted to continue subscribing to Vegan Cuts, but after this month, I'm definitely back on the bandwagon!

J

So, what was so wonderful about the December box? Keep reading to find out!!!

J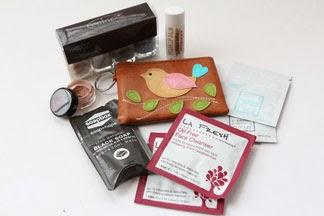 The first item in my box was quite a surprise. It's a full set of 4 mini Nail Polishes from Color Club's Harlem Lights Collection. There are two glittery shades (Apollo Star & Savoy Nights) and two fairly neutral shades (Sugar Rays & Lady Holiday). They're all beautiful and I was so pleasantly surprised to see an actual set of four complementary shades! The Color Club Harlem Lights Collection of Nail Polishes is a wonderful addition to the Vegan Cuts Beauty Box!

J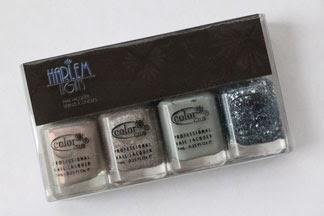 Next up is a packet…it's not foil at least, but it is a packet. It is from Soapbox Soaps and it is a sample of their 100% Natural Black Soap Body & Soul Wash. It is enriched with charcoal, which helps to remove impurities, and sea salt to exfoliate the skin. Sounds wonderful, actually. Plus, if you purchase a full-size bottle, they provide 1 year of vitamins for a child in need through Vitamin Angels, their charity partner! As I've said too many times before, I'm not a fan of packets, but at least this one is laminated paper (maybe?), it's a decent size, and it seems a bit easier to actually use.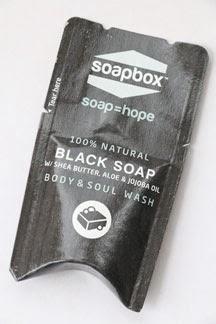 La Fresh makes another appearance in this box – they seem to rule the sample boxes! This time it's two packets of the Oil-Free Face Cleanser. There is one facial wipe per packet, so it's enough for two uses. These wipes are biodegradable and paraben-free. They promise to gently cleanse, detoxify and remove makeup. Though it removes makeup, it says to avoid contact with eyes, so don't try to remove eye makeup with them!

J

I'm neither excited or annoyed by the LA Fresh Oil-Free Face Cleanser wipes.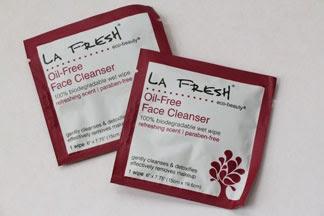 Next are some more packets from Everyday Minerals. There are two – one is a matte Blush in "All Smiles" and a Finishing Dust Finishing Powder. Each packet has a re-sealable top, which is great since they are powders. It makes the packets a little nicer, but they're still a bit difficult to use. Maybe I'll find some small containers to dump the powder in so that they are easier to use. It's not my favorite sample because of the packaging, but I'm sure they're lovely powders.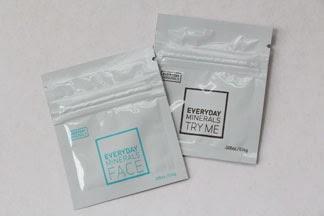 There is a pretty large Eye Candy 15 Hour Mineral Eye Shadow from Ferro Cosmetics. It is in the shade "Misty Rose," which is a beautiful shimmering light mauve-rose. Like any loose eyeshadow, it's a bit messy to use, but it's beautiful!

J

It is a mineral-based shadow that can be used wet or dry and I feel like it would add a beautiful glimmer to the eyes. A lovely sample (or maybe a full-size) from a lovely company!

J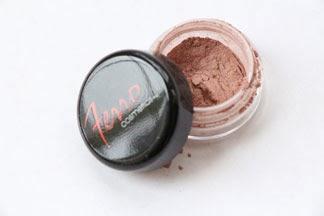 This must be an extra because it's not listed on this month's card, plus I received the exact same thing in I think it was the first box. It is the Peanut Butter flavored Vegan Lip Balm from The Fanciful Fox. These are very soft and feel beautiful on the lips. And, yes, it tastes delicious!

J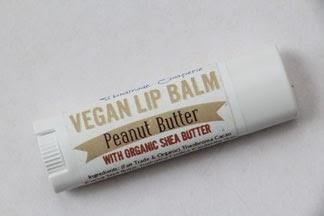 Finally, what really sold me on the awesomeness of this month's box is a Faux-Leather Zippered Pouch from Lavishy. This little pouch is soooo cute!!!

J

It has the cutest little birdie on it and I absolutely adore it! The attention to detail is quite impressive as well. The bird's wing is even slightly puffed out. So, so cute! And the faux-leather material feels divine! So buttery soft and feels even nicer than leather in my opinion…but then I don't like the feel of real leather.

J

This little Lavishy pouch totally stole the show!!!

J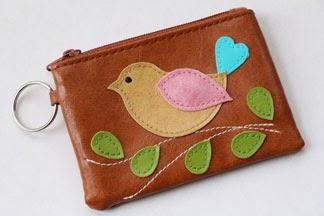 And that does it for December's Vegan Cuts Beauty Box! Like I said, I was really pleasantly surprised by this month's box. If you're interested in subscribing to the Vegan Cuts Beauty Box service, you can find more information here. I hope you enjoyed seeing what the last Vegan Cuts box contained! Let me know what your favorite item in this box is. I'd be curious to know!

J

Thanks so much for stopping by!