This month means the second installment of the new Vegan Cuts Beauty Box!!! This box should be somewhat more representative of what can be expected from future boxes, as the first box filled with extra special goodies. In case you missed last month's unwrapping, Vegan Cuts is now offering a Beauty Sampling service that is 100% Cruelty-Free and 100% Vegan!!! The cost is $19.95 a month with the contents being valued at at least $35 with a mixture of full-size and sample size products. If you're interested in joining, you can do so here. So, since I'm super excited, let's get into the box!!! :)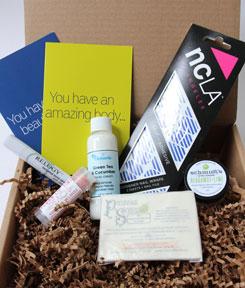 The first item is a sample size of the Lip Glosserie's Green Tea & Cucumber Body Cream. It is handmade, vegan-friendly and paraben-free. It's a nice, travel-friendly 2oz bottle and it smells very fresh and clean. The cream itself is nice and thick, but not at all greasy. I think it will be a wonderful body cream! The bottle is not the greatest for dispensing the product, but it's not impossible to get the cream out either.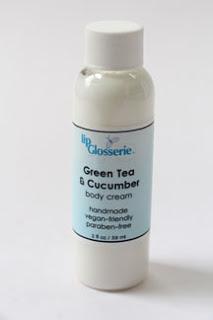 From Schmidt's, there is a Natural Deodorant in Bergamont + Lime. I've never really dabbled much with natural deodorants, so this should be interesting to try. It's in a tub, which is totally new to me as well. You just take a pea-size amount and apply it to each underarm. It smells really good, but then I prefer my armpits not smell like anything at all. I almost which this were a body lotion - or, probably even better, a shower gel. It is free of aluminum, parabens and phthalates. It's also a healthy 0.5oz size tub, so it should last a while!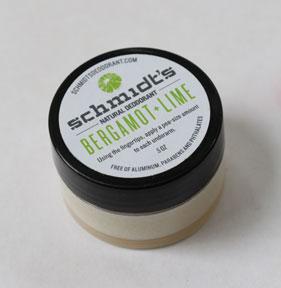 What good are all of these yummy scented samples if you're not clean to begin with? In comes a sample slice of Perennial Soaps' Mint Peppermint Tea Tree Facial Bar. Again, this smells really good! I mostly smell the mint with just a touch of tea tree that kind of calms down the mint a bit. It is both Vegan and Palm-Free. It includes bentonite and green zeolite clays, both of which are great for acne-prone and oily skins. There are also no artificial colorants or fragrances, so it should be suitable for sensitive skins as well!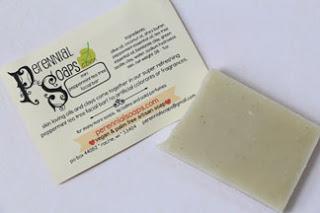 There is a full size Relogy Targeted Acne Spot Treatment. It is a salicylic acid acne treatment that also contains seaweed extract. It comes in a tube with a rollerball applicator. I'm not a huge fan of rollerball applicators for acne treatments, but they are convenient. I just worry about bacteria collecting, but then again, using your fingers might be worse! I always find it difficult to judge whether or not a spot treatment really works unless it literally clears something up overnight. I certainly could use a good spot treatment right now though, so I'll definitely give it a go! :)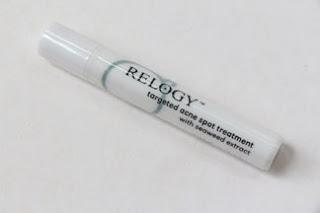 A semi-familiar item from last month returns this month. It is a full-size Vegan Lip Tint in "Peach" from The Fanciful Fox. There was a lip balm in from this company in my box last month, though I know some boxes included a Lippy Girl gloss instead. It's a pretty color in the tube, but I suspect it will not really transfer to any color on the lips. I love peach flavors though, so it should be a nice lip balm nonetheless! :)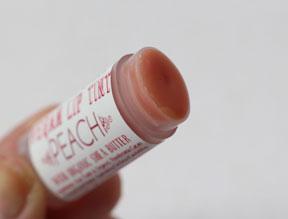 Finally, there are 2 sheets of Designer Nail Wraps from ncLA. I believe this is the standard size available for retail sale. They are in the pattern "Candy Wrap," which is a diagonally striped white and blue. Very pretty - and enough wraps that you should be able to use them at least 2 times! :) Plus, unlike the Sally Hansen-type strips, these do not appear to dry out after opening the package, so you can use them for an accent nail without wasting the rest of the package. Excited to try these out! :)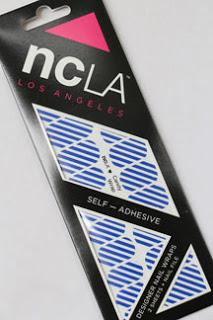 As a little bonus, at least that's how I'm viewing it, there are foil packets of Sunology Natural Sunscreen for the Body and the Face. Each has a Broad Spectrum SPF 50 sunblock and is 80 Minute Water Resistant. They are made with Zinc Oxide and Titanium Dioxide, and are fragrance free as well. I don't think the Body sample is enough to cover much, but the Face sample may be enough for two uses.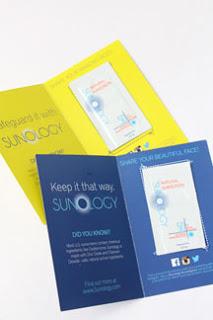 Overall, I'm quite happy with this box. I wish there were some makeup items included, but the products that were included are things I feel more inclined to try than with many of the other sample services. I love that they are partnering with smaller companies and, of course, I love that everything is not only cruelty-free, but vegan and environmentally conscious. I would have to say that I like the second Vegan Cuts Beauty Box too! Keep up the good work Vegan Cuts!!! :)