If I show you this cute picture of a baby bunny will it distract from the fact that we haven't posted anything in a looooooooooooooooooooooooong time?
Or will it at least make it acceptable?
Not just a bunny, but a bunny sitting beside a rabbit statue.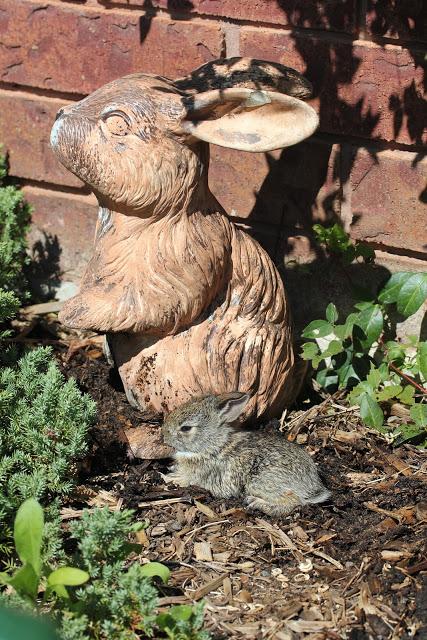 How about two bunnies?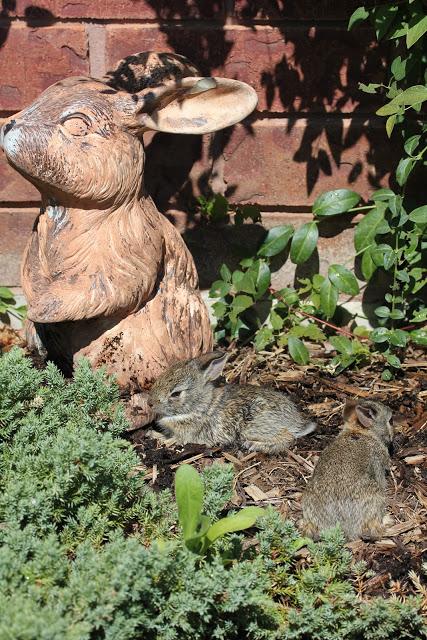 How about a bunny nestled in some foliage?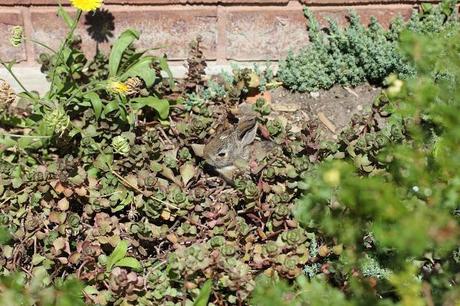 Or how about a recipe for delicious vegan cheesecake?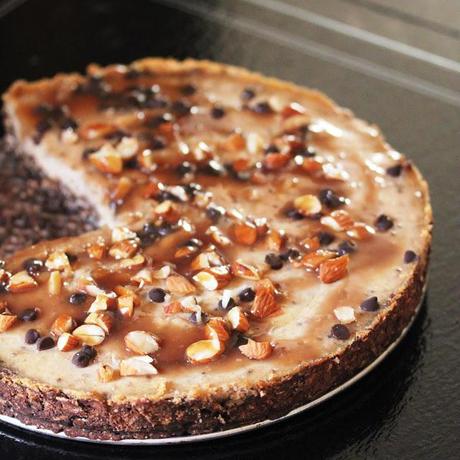 This cheesecake is scrumptious. You will notice that it isn't a true cheesecake with, like, real cream cheese but if you're serving it to non-vegans maybe call it a flan instead? haha. But it is good and it looks impressive too, no?


Vegan Cheesecake
from Including Cake


Ingredients- cheesecake base




½ cup oats*

¼ cup buckwheat flour (other flour is fine)

1 tbs ground flax/chia

Ground cinnamon and vanilla extract to taste (optional)

2 tbs cocoa powder

2 tbs agave or maple syrup (plus a pinch of stevia for optional extra sweetness)

Approx. ¼ cup vegan yoghurt (or regular yoghurt for non vegan)




Ingredients- cheesecake




1 package of silken tofu 

½ cup cashew butter (I used almond butter)

1/3 cup agave plus ¼ tsp pure stevia (add extra to taste if desired)

1 tsp vanilla

1 tbs ground chia 

Topping:

Dark chocolate chips 

Chocolate shavings

Pecan pieces

Caramel sauce (see below)




Ingredients- caramel sauce




½ cup rapadura/sucanat/coconut sugar 

½ cup soy yoghurt

½ tsp carob powder (optional for extra richness)

1 heaped tbs coconut oil


 

Directions 




For the base

, mix all ingredients together until you have a soft sticky ball of dough. Press the dough into the bottom of a lightly greased cake pan (use one with a removal bottom for ease later on).




For the caramel

, add the sugar and half of the yoghurt to a small pan over the stove and then gently melt the sugar over a low heat. Once dissolved, add the remaining yoghurt and carob if using. Whisk well whilst bringing the mixture to a simmer for approx. 3 minutes until you have a smooth rich caramel sauce. Stir through the coconut oil at the end of the cooking time. Pour into a tub and allow to cool until use.




For the cheesecake

, blitz all the ingredients together in a blender/food processor and then pour over the base layer in the cake pan(s). Add the sprinkling of choc chips acorss the top of the batter.




Bake the cheesecakes at 180C for 15-25 minutes depending on the size of the tins (two 4" tins takes just under 20 minutes) Once just golden and a skewer come away clean they are ready.




Chill for a few hours or overnight in the fridge. Once chilled add pecans, drizzle over the caramel sauce and then add chocolate shavings to complete the look. Chill prior to serving.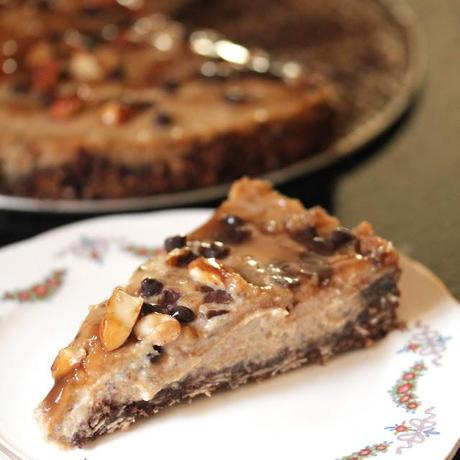 Here's a slice on me - enjoy!