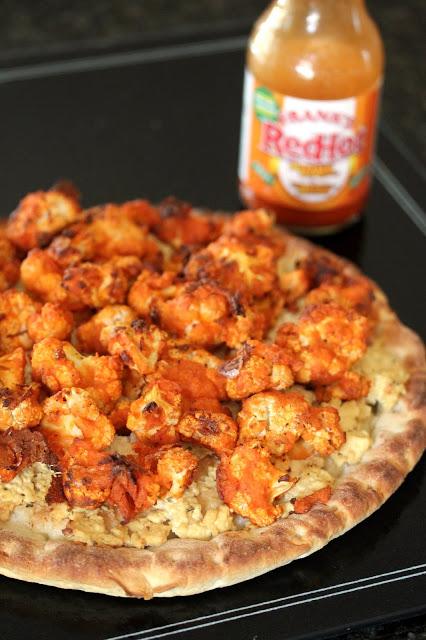 Ooooh Lawd!! This pizza is to die for. TO-DIE-FOR! Let us tell you why....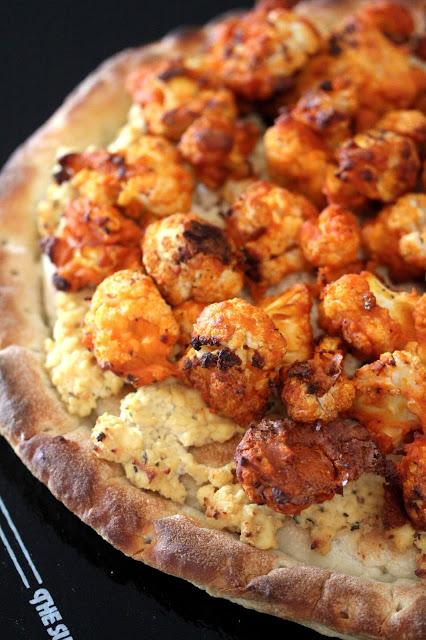 This pizza is spicy, savory, and crunchy. We love all these things together in one meal. The blue cheeze spread really makes this pizza - it tastes really close to blue cheese (most people wouldn't know, really!).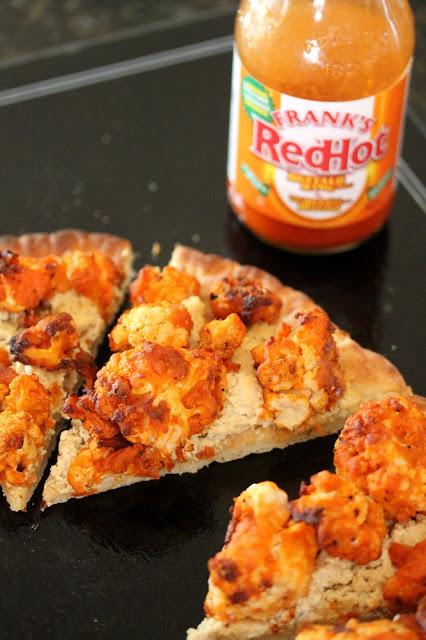 For such an impressive meal, it's not that difficult to bring together and it's really worth it. If you don't want to use Frank's, go ahead and use another type of BBQ or buffalo hot sauce. This recipe is easily adaptable to what you have in your fridge.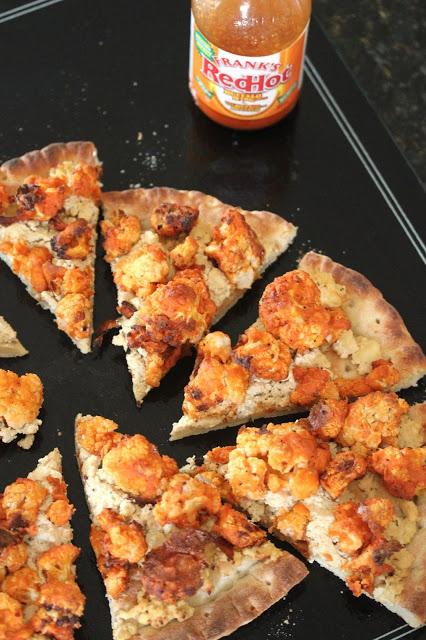 Buffalo Cauliflower Pizza with Blue Cheeze Spread Adapted from Keepin' It Kind
Ingredients:

Blue Cheeze Spread:

½ block of extra firm tofu, crumbled into small pieces with your hands

2 tbsp nutritional yeast

1 tbsp Tofutti Sour Cream

2 tbsp lemon juice

3 tsps ACV

1 tsp white miso paste

½ tsp tahini

½ tsp garlic powder

¼ tsp dried oregano

¼ tsp vegan poultry seasoning

salt to taste


Directions for Spread:

Place the tofu crumbles into a medium bowl. Add the rest of the ingredients and stir to combine. Chill until ready to use or keep out for the pizza!!


Buffalo Cauliflower Wings:

1 head cauliflower, cut into small florets

1 cup almond milk

1 cup chickpea flour

1 tsp garlic powder

2 tsp smoked paprika

¾ cup Frank's Buffalo Sauce

1/4 cup Sriracha sauce

1 tbsp arrowroot powder /cornstarch
1 tsp sea salt

1/4 tsp black pepper


Directions for the Wings:

Preheat oven to 450 degrees. Spray a glass 9 x 13 casserole dish with olive oil.

Whisk almond milk and chickpea flour together. Dredge cauliflower pieces into flour mixture and place in the sprayed dish. Bake at 450 degrees for 20 minutes.

While that's cooking, mix together the Frank's, Sriracha sauce, arrowroot, salt and pepper.

Once cooked, toss cauliflower with Frank's/Sriracha mix and bake for an additional 5 to 8 minutes.


To assemble the Pizzas:

1 Pizza Crust (ensure it's vegan, we used a thick crust frozen variety)

1 recipe of Buffalo Cauliflower Wings

1 recipe of Tofu Blue Cheeze Spread

Preheat oven to 475 Degrees. Spread a layer of tofu blue cheeze spread on the prepared crust. Spread the buffalo cauliflower wings out on top of the blue cheeze spread.

Bake for 12-15 minutes, until heated thoroughly. Remove from oven and serve hot.