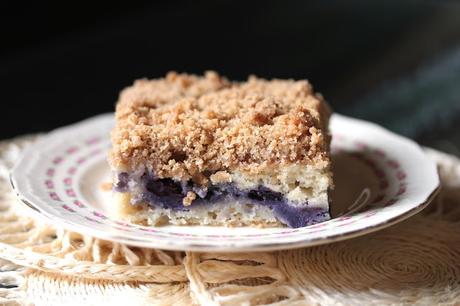 Blueberries are probably my second favorite berry after strawberries. Blueberries lend this cake such a pretty purple color. It's like a purple ribbon throughout each slice.
Coffee cake is one of those desserts I've loved for a long time. There's something about a fluffy white cake with a sweet, cinnamon-y crown that's so comforting and decadent. It really doesn't take much effort for an impressive and delicious dessert.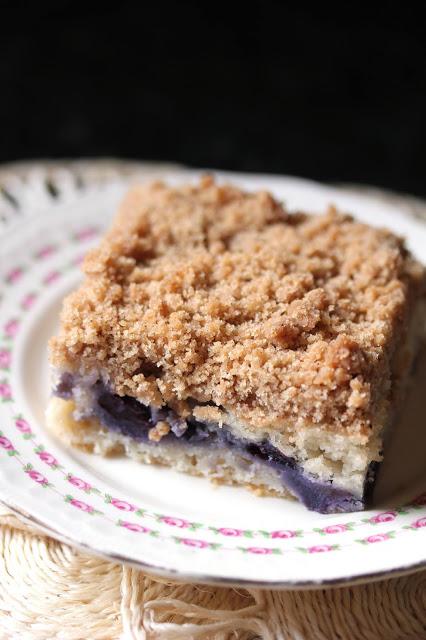 We didn't go blueberry picking this year but we did manage to pick strawberries...in a rainstorm I might add. As long as we do some berry picking in the summer, I'm a happy camper. But please don't take me camping haha.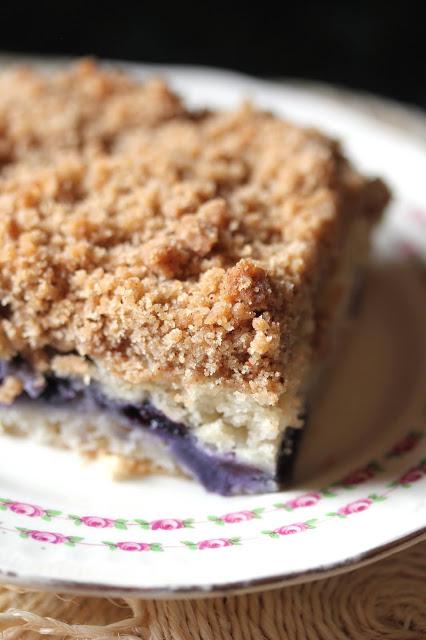 I really couldn't get enough of this cake. It was gobbled up quite quickly. I'm sure if you make it, it'll be gobbled up quickly, too!
Vegan Blueberry Coffee Cake
adapted from
Lauren's adaptation of Isa's recipe
Ingredients
Crumb topping:1/4 cup vegan butter or Earth Balance1/3 cup brown sugar1 cup all-purpose flour1 tsp cinnamon1/4 tsp nutmeg
Cake:3/4 cup vanilla oat milk* or another non-dairy milk1 tsp apple cider vinegar1/3 cup sugar1/4 cup oil1/4 cup applesauce 1 1/4 cups all-purpose flour2 tsp baking powder 1/2 salt
Berry layer:1 cup fresh berries like blueberries
Directions 
Preheat your oven to 375 degrees F. Grease an 8 inch square pan. Combine the milk and vinegar in a liquid measuring cup; let sit to curdle.
Make the crumb topping: Cream the butter and sugar together in a small mixing bowl. Add the flour, cinnamon, and nutmeg until well-combined. The mixture should have a pebbly appearance.
Make the cake: In a large mixing bowl, mix together the milk, oil, and applesauce. Sift in the flour, baking powder, and salt. Mix until smooth. 
Pour half of the batter into the prepared pan followed by the blueberries, the rest of the batter, and the crumb topping.
Bake in the oven for 35-40 minutes or until a fork or cake tester comes out clean.
*we used vanilla oat milk but if you have unsweetened original milk, add 1 tsp of vanilla extract