Before I went vegan, after any gym workout I'd grab a protein shake. It was usually a whey-based chocolate flavored product into which I'd throw some banana or peanut butter.  Once I became vegan, other than a rice protein medical shake I found, there were no vegan protein shakes I liked. Until
Vega One
.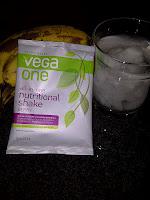 Formulated by Brendan Brazier, vegan, professional triathlete and author of the
Thrive
books, Vega One is made exclusively from plant-based whole good ingredients. There are no preservatives and no added sugar, food coloring, dairy, gluten or soy ~ I think I've finally found a solution!
Each serving of Vega One has 15g of protein, probiotics, omega 3's from white chia and whole flax seed, 6g fiber, 3 servings of greens, and tons of antioxidants ~ the equivalent of 2.7 cups of blueberries in just one drink!
I had the chocolate on Wednesday and it was sweet and velvety. I just mixed it with 1 1/2 cups of cold, filtered water. So easy! Today I blended the strawberry with one very ripe banana, a half cup of crushed ice and 1 1/2 cups of cold water.  It made so much that I froze some to save for an after dinner treat.  It was delicious! I've still got two samples at home ~ plain and a vanilla chai.  Truth be told, I'm not a chai fan, but I am so curious...
Let's see ~ under 200 calories per serving, 0 saturated fat, helps metabolize fats, protein and carbs and develop strong bones and supports a healthy immune system...and it's good!  
What are you waiting for?