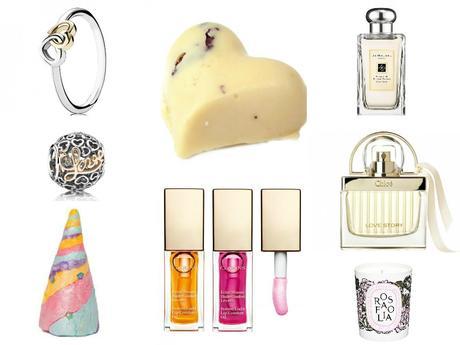 I am not a massive fan of Valentines day to be honest, mainly because it is my birthday the day after and I enjoy that day much more. ;)
I do however love some of the gifts that come out for Valentines day so thought I would share a few gift ideas with you. Whether you are someone looking for inspiration or just fancy treating yourself, these are some of my top picks for Valentines Day Gifts.
I have never been a huge jewelry girl but all the jewelry I do own is from Pandora, there is just something about the brand I love.
They bring out collections for all the holidays and their valentines collection is as beautiful as always.
Two things that have caught my eye this year is the Message Of Love Charm (£65) and the Entwined Hearts Ring (£70) which are both mixed gold and silver pieces which I think are really pretty.
Another brand that does amazing Valentines collections is Lush. Their Unicorn Horn Bubble Bath (£3.25) looks incredible, who doesn't love anything brightly coloured and completely girly? Also their Soft Coeur Massage Bar (£4.95) is perfect for those couples who like a cosy night in. This is part of their permanent range but I thought it was worth a mention. This massage bar smells good enough to eat and works well as a body moisturiser too.
I think perfume is always a popular choice as a gift and the recently launched Love Story Perfume Chloe (£47) would be perfect as a gift for someone. I am no good at describing scents but if you like original chloe I think you will like this.
Another fragrance and I to be honest I think the brand in general is perfect for valentines presents is from Jo Malone. The Peony & Blush Suede Cologne (£40) is one I have wanted I have wanted for ages and I haven't even smelt it before! The rave reviews it gets makes it sound amazing.
It wouldn't be a post about Valentines if I didn't mention a lip product and the new Clarins Instant Light Lip Oils (£18) look like the perfect thing to make your lips kissable. These look like a gloss on the lips but feel like a balm and are full of nourishing oils to keep your lips smooth.
Lastly is the Diptyque RosaFolia Candle (£44) a rose scented candle by the best candle brand out there in my opinion. I think candles make great gifts and roses go hand in hand with valentines day.
Will you be treating someone or yourself to any of these gifts?