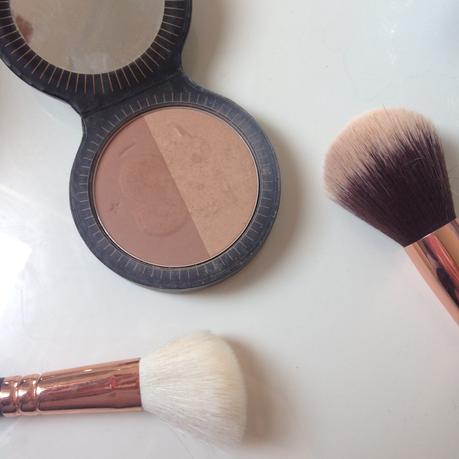 Yes another blogger talking about the Soap & Glory Solar Powder Bronzer (£11) but this is one blogger that isn't too keen on it.
That's right this isn't going to be another rave review about this infamous bronzer as for me there is just something about this that doesn't work for me.
I picked the Solar Powder Bronzer up after hearing my beloved ELF Warm Bronzer (which I first reviewed in 2012 and have loved it ever since) would no longer be available in the UK and I needed a new bronzer. As this had such rave reviews I decided to take the plunge and get this as I had been lusting after it for a while.
The Bronzer is made up of two shades a deeper matte shade and a lighter very slightly shimmery shade. You can use them individually or mixed together to add a natural glow to the skin.
Even with the lighter side this leans more towards the matte side of things without being too flat. I am quite pale and I tend to use the lighter side more with just dab of the deeper shade.
I think the mix of the two colours makes it great for a lot of skin tones as you can custom the color.
The downside for me is I find it doesn't blend into the skin easily and I think the tone of the bronzer is little out for me, I think I prefer something a little warmer.
This isn't a bad bronzer but it just doesn't wow me, I think because of the hype I was expecting too much.
I will probably use this up but I won't be repurchasing it.
The search continues to find a replacement of the ELF Warm Bronzer, if anyone has any recommendations do let me know?
Have you tried the Soap & Glory Solar Powder bronzer? What do you think of it? Have you ever tried a beauty product that is hyped up and been disappointed?