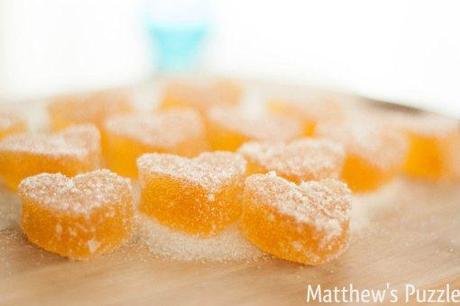 Valentines Day Peach Gelees
Since we are gluten free and casein free it can be hard to come up with great holiday treats. But I found out that making a Valentines Day Gelee Recipe is easy and delicious, and really very special. These little jeweled colored candies came to me from the Culinatry Institute of America and I turned them into Valentines Day Gelees. I adore these little gems and hope you decide to make them for your little Valentines too.
Print Valentines Day Gelee Recipe Author: Culinary Institute of America Recipe type: Candy
Ingredients
¾ cup frozen juice concentrate, thawed (sweetened or unsweetened)
1¼cups water
Two 1.75 ounce packets (8 teaspoons) powdered fruit pectin
1 teaspoon baking soda
2 cups sugar, plus extra for coating
1⅓ cups light corn syrup (organic)
¼ to ¾ teaspoon citric acid, or as needed
Instructions
Lightly coat a rectangular pan with coconut oil, then line the bottom of the pan with parchment paper and lightly oil that too.
In a large sauce pan put the fruit juice, water and baking soda.
The baking soda will make it foam, a lot.
In a second sauce pan put the sugar and corn syrup.
Heat both pans over medium high heat to boiling point, then lower the heat to medium and cook for 8 minutes.
Gradually add the sugar mixture to the fruit juice mixture, stirring constantly.
Continue to boil for one more minute.
Remove from heat and add the citric acid.
Taste a bit of the mixture that has cooled on a plate and adjust the citric acid until you find a flavor you like.
Pour into prepared, parchment lined pan.
Let cool at room temperature for about 2 hours.
Scatter sugar onto a jelly roll pan and invert the cooled gelee mixture onto the sugar.
Using small cookie cutters, cut out hearts or other shapes.
Place the gelees into a bowl with sugar and coat all sides so they do not stick.
Place sugar coated gelees onto a parchment lined drying rack and allow to cure for 8 hours.
Enjoy!
WordPress Recipe Plugin by EasyRecipe 3.1.09