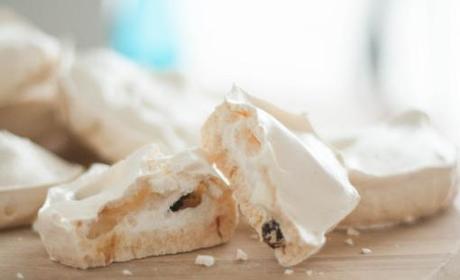 Chocolate Cherry Meringues
Chocolate Cherry Meringues Recipe
For Valentines day I wanted to make something special for the boys. One of our very favorite cookies are meringues. For Christmas I often make them peppermint flavored and mocha flavored, but for Valentines Day I wanted to make sure they were extra special. So along with the Valentines Day Gelees I made, I decided to make this Chocolate Cherry Meringues recipe. The ingredients are simple, egg whites, sugar, chocolate and cherries, but the results are heavenly. For Valentines Day I opted to make them heart shaped but you could choose to pipe them or simply allow them to be little white clouds. Whatever you do, make sure you make this Chocolate Cherry Meringues Recipe.
Print
Valentines Day Chocolate Cherry Meringues Recipe type: 
Cookie
Serves: 
14
  Ingredients
4 large egg whites
¼ teaspoon cream of tartar
½ cup granulated sugar
¾ cup powdered sugar
1 teaspoon almond extract
½ cup dried tart cherries, chopped
3 ounces bittersweet chocolate chips (if making dairy free verify the ingredients)
Instructions
Preheat oven to 200º.
Cover a large baking sheet with parchment paper.
In a large bowl, beat the egg whites and cream of tartar at medium speed until soft peaks form.
Increase speed to high, and gradually add granulated sugar.
Add the powdered sugar slowly until stiff peaks form.
Add extract and beat until blended.
Fold in cherries and chocolate.
Either pipe into the shape of hearts or using a large cookie cutter simply spoon the batter into the form.
Gently remove the cookie cutter and repeat until you have filled the baking sheet with hearts.
Bake at 200º for 2 hours.
Turn the oven off, and cool meringue in closed oven 1½ hours or until dry.
Be careful when removing from the parchment paper.
Serve immediately or store for up to a week.
WordPress Recipe Plugin by

EasyRecipe
3.1.09
What will you be giving your loved ones for Valentines Day? Will you be trying the meringues recipe? Do you have a favorite meringues recipe you love? Care to share it?