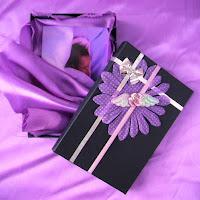 Its no secret that newborn babies are the most precious things you'll ever hold.  For those of you lucky enough to get a 'newbie' this Valentine's, congratulations, savour this wonderful loved-up time with the best new-love there is... of course, the reality is, if you've just landed a new bub, you won't be reading blogs!
Today's 'I heart crafting with buttons and bows' project tries to recreate the same sense of precious reveals.  It makes the perfect gift to give to a grown-up child, a nostalgic happy-husband, or your own mother.
I found a favorite photo of Lotti when she was a baby, all swaddled up in lilac and pink.  While playing with ideas of what to give everyone for Valentine's Day, I thought this might be a sweet present for her.  We've worked really hard over the Christmas holidays to toilet train her and improve her sleeping, and we're so proud of her being "a big girl" now, that it will be nice to remind her what a precious little thing she used to be.
I placed some purple silky material into a blue box (her favorite colour), laid the swaddling photo inside, and then popped a pretty candy treat and love letter next to that.  I laid the purple fabric over the surprises, then for the lid I added a purple fabric flower, a purple ribbon, wing and rose-button embellishment.  Lovely.
You can of course change this project to suit any holiday or party theme.  Put a picture of a newborn inside a plastic egg as an Easter present to replicate a rebirth.  Put a picture of your child pulling a horrible face in folds of black cloth as a Halloween surprise.  Turn it into a party-craft by letting your guests wrap themselves up for a Winter Wonderland party and so on... the idea has lots of potential!
Less than one more week to go til V-Day arrives - so there's still a few more craft projects to go in my I Heart Craft challenge, and there's still time to join here and facebook to win the silhouette printpapers.  Good luck.