Valentine's Day is fast approaching and I think I've got some baking to do...the problem is, I don't want anything too decadent ~ it's tough to watch the waistline in winter when you can hide under baggy clothes!
If I can find any good strawberries, I'll have to dip them in a really good dark chocolate, like a Ghirardelli or some Green & Black Organic.  I've been a sucker for this treat since I was a little girl!  If you don't want to mess with a double boiler and wax paper, put a little Tofutti sour cream in a pretty glass bowl and serve it with a side of raw brown sugar.  Dip the strawberries into the sour cream, roll them in sugar and eat.  Simple and delectable ~ with no mess ~ and it's raw too!  How much better can it get?  Pop a bottle of champagne and...you're pretty golden...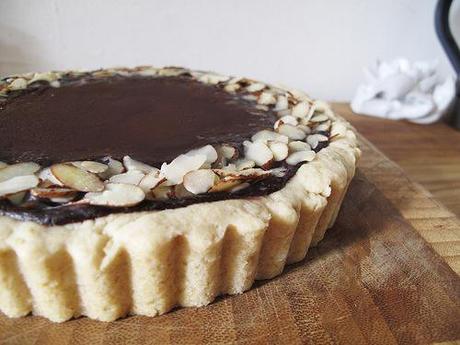 Photo & Recipe: Becky Stern
If you're looking to go the extra mile, this recipe from
Craft magazine
 sounds (and looks) pretty wonderful!
What You Need:
For the crust
:
1/2 cup non-hydrogenated margarine
1/3 cup sugar
1 teaspoon vanilla
3/4 cup walnuts, finely chopped
1-1/2 cups all-purpose flour
For the filling
:
1 cup bittersweet chocolate, chopped
1-1/4 cups coffee
1 tablespoon cornstarch
1 teaspoon vanilla
1/4 teaspoon salt
1/3 cup almonds, slivered (optional)
What You Do:
Preheat oven to 350 degrees. In a medium bowl, cream margarine and sugar with whisk until light and fluffy. Add vanilla and walnuts and mix. Add in flour 1/3 cup at a time and mix until dough sticks together and is slightly moist.
Into a tart pan, press dough with your fingertips. Bake until edges are just barely starting to brown, about 20 minutes. Allow crust to cool completely before filling.
For the filling, in a small pot, melt chocolate until it softens. In another small pot, bring coffee to a boil. Pour coffee over softened chocolate and stir mixture until smooth. Add cornstarch, vanilla, and salt to mixture. Pour filling into cooled crust. Place tart in refrigerator and chill for 6 hours. Decorate top of tart with slivered almonds along edge of crust as desired, then slice and serve.
Fudge is another decadent treat that's crazy hard to resist (and let's face it, isn't that what this holiday is all about?)  Here's a recipe I saw on VegNews by Lois Dieterly...and could it be easier?  If it were me, I'd add nuts and pieces of vegan marshmallow for a little rocky road twist (hey, relationships can get a little bumpy sometimes, so can your fudge!)
What You Need:
8 ounces soy cream cheese
4 cups powdered sugar
1 teaspoon vanilla
1 cup vegan chocolate chips
What You Do:
Line an 8-inch square pan with wax paper. Place the cream cheese in a food processor and blend until smooth. Add powdered sugar and vanilla.
Melt chocolate chips in microwave or double boiler. Pour into food processor and process until blended.
Pour into prepared pan and refrigerate until firm. Pull wax paper out of pan. Cut fudge into bite-size pieces. Store in refrigerator in an airtight container.