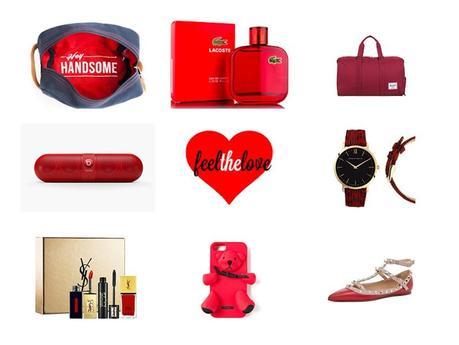 Gift ideas for that special someone. (Top row: for him, Middle row: unisex, Bottom row: for her)
Let's be honest. Theres 3 groups that categorize this love fest day: the couples, the singles who don't give a damn, and the Legally Blonde Reese Witherspoons of the world who angrily throw chocolate at the sight of romance. Whichever you are, heres a gift guide for that lucky someone. And if your in the final category, theres no shame in the game, go ahead and treat yourself.
Starting from the top, left to right.
1 – Hey Handsome Shaving Kit $60: The perfect bag for grooming essentials with a cute little message for your man.
2 – Lacoste Cologne Energetic Rouge $69: Spice up his scent with a triple blend of ginger, black pepper, and cardamon.
3 – Herschel Novel Duffle $79.99: A classic travel bag featuring the brand's signature shoe compartment.
4 – Dr. Dre Beats Pill 2.0 $199.95: Portable speakers that bring the party with you wherever you go.
5 – Larsson & Jennings Dashing Tweeds Watch $432: I absolutely love L&J's designs. This piece is no different. Unique design to style up your wrist game – guy or girl.
6 – YSL Love And Lacquer Reds Set $58: A trio of some of YSL's favorites that take a woman's beauty collection to another level.
7 – Moschino Bear Phone Case $49.05: Skip the traditional stuffed teddy bear and get one that can dress up her tech instead.
8 – Valentino Rockstud Leather Ballerinas $875: Clearly the most expensive item on this list. But hey, a girl can dream right?
xoxo!