Valentine's Crochet Pattern:  Double Strand Headband with Heart Applique
This pattern was one of the first patterns I ever posted to Tampa Bay Crochet.  With
Valentine's Day
approaching I thought it was the perfect time to share this pattern again with my readers.  
This pattern is a great last-minute Valentine's Day pattern.  It takes only ten to fifteen minutes to crochet and uses a very small amount of yarn.  
The pattern is written for an adult but can easily be customized to a child by reducing the amount of stitches on the headband.
So grab your yarn scraps and let's crochet a Valentine's Day headband.
Double Strand Headband With Heart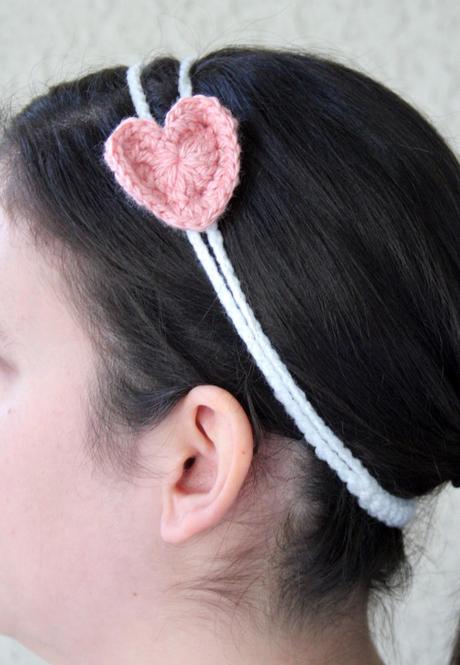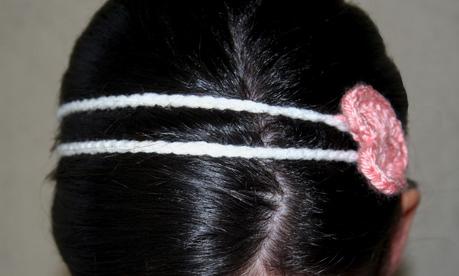 Materials:
Crochet Hook Size:  G
Large needle to sew together headband and attach the heart.
Yarn: I used white and pink Caron worsted weight yarn but anything would work.
Abbreviations:
Ch = Chain
Sc = Single Crochet
Chain 91
Row 1:  Sc in 2nd chain from hook and in next 9 chs (10 sc total), ch 80, sc in the 10th ch from the beginning of the opposite side of your initial chain and in the next 9 chs. Tie off leaving a 6 inch tail.
Finishing of the headband:
Use needle to sew the two ends of the headband together using the six inch tail.
Heart Accent:
To crochet the heart, I used the medium sized heart pattern from PlanetJune found

HERE
After you crochet your heart, just use your needle to sew it to both strands of the headband.
Enjoy!