vada pav recipe with step by step pictures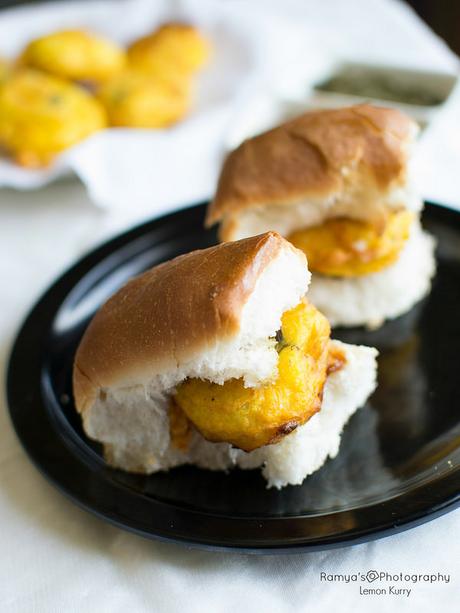 vada pav recipe - batata vada or potato fritters sandwiched between the pav bun with chutneys like garlic dry chutney,green chutney or mint coriander chutney,tamarind dates chutney.
Last month i shared how to make usal recipe which is really easy to make and it is made with green gram and dry peas.and recipes are really yummy one and i shared both the recipes here.You can make your own pav buns or serve this with store bought one like me.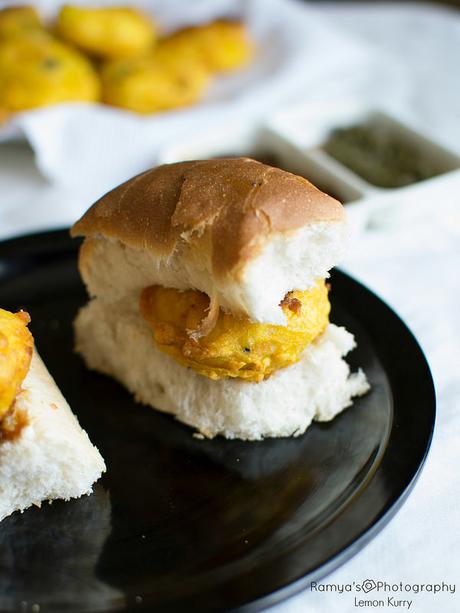 The street food recipes are served here mostly with dinner rolls or pav buns which is made with yeasted dough and i will share the recipe of pav buns soon.You need 3 chutneys and 1 vada which is made with potato and coated with gram flour and deep fried or shallow fried in hot oil.There is one dry chutney which is the most required chutney for the recipe and it is made with desiccated coconut along with red chilli powder and garlic cloves.This dry chutney enhances the flavor and this is the only chutney which makes the recipe little spicy.If you do not want to add garlic in your recipe,then simply go with usual chat chutneys like green chutney or mint coriander chutney and tamarind dates chutney which is also called khatta meeta chutney which tastes sweet and sour. This recipe makes you full as it contains bread,potato and chat chutneys,so if you are planning for this to dinner or breakfast serve it with light drinks like lassi or any refreshing juice.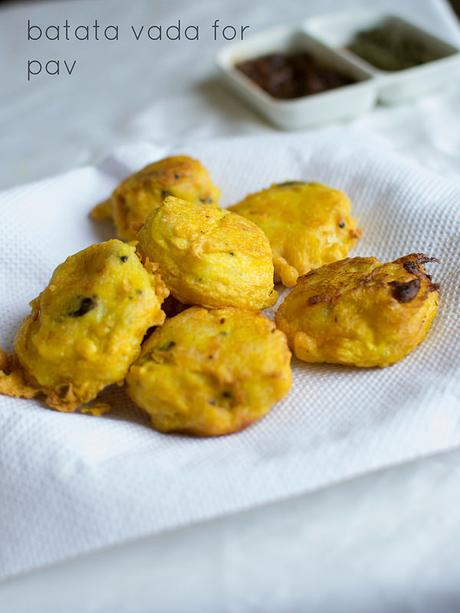 I did not pictured dry chutney but i included it in the preparation column,check that.The above picture is the batata vada which is made with potato,green chillies,hing and ginger and it is coated with a batter made with gram flour or kadalai maavu along with red chilli powder,turmeric powder,fennel seed powder and salt.
The recipe is similar to our potato bonda recipe which is tea time snack from South India.You can either make a flat shape or balls from it and gently coat it with a thick batter and then fry it.Keep the mixture and batter ready and make and serve immediately with pav buns.Otherwise it becomes soggy.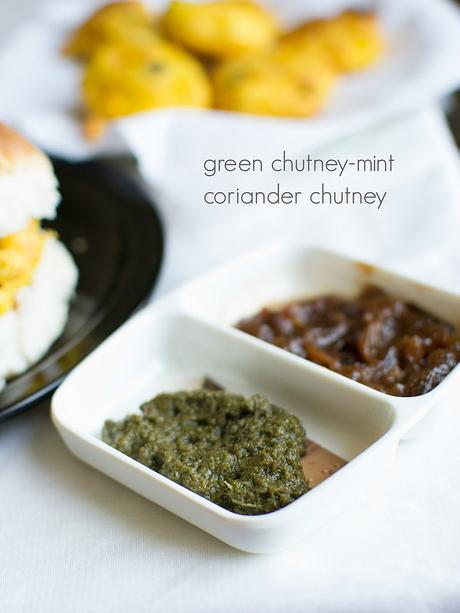 The above chutney is called hara chutney in which hara means green in Hindi.This chutney is made with mint leaves,coriander leaves,ginger ,green chilli and salt with lemon juice.Make it and store it in refrigerator.This will lasts for weeks when we use it properly.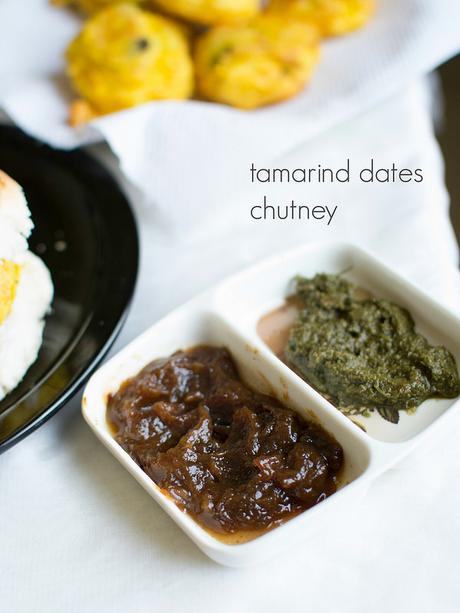 Tamarind chutney or tamarind dates chutney is made from dates and tamarind pulp which is cooked in low flame and seasoned with red chilli powder,chat masala, a teaspoon of sugar and salt.This chutney too lasts for weeks by storing it in refrigerator.Here you can avoid adding sugar and make the chutney.
The 3rd chutney is the dry garlic chutney which is made with coconut powder,garlic and red chilli powder with enough salt.I saw so many versions while browsing but i found this one in the cookbook,there they gave the essential chutneys for the preparation of chat.Some add peanuts and sesame seeds and i did not want to load much in one recipe.So i prepared the simpler version for this recipe.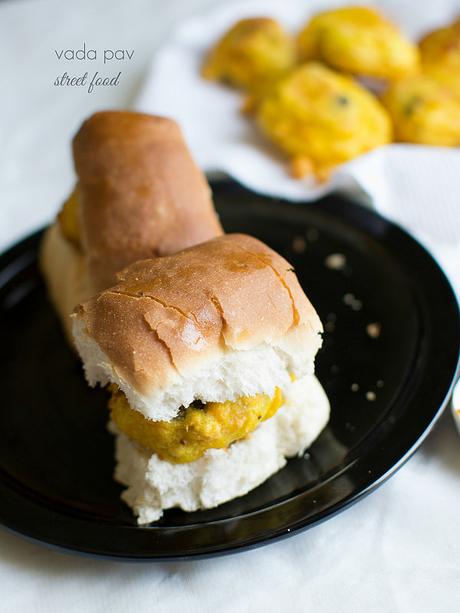 coming to photography session, i want to chose the same white background like previous pictures.So decided to shoot but the pav buns are also white and i really thought of the picture being washed out but it came out very well and the texture of buns too came out perfect.And also thought that the vada which i used in the recipe is yellow in color and that too make me to thought of choosing different background.But i reduced the exposure to zero and ISO too reduced to 200 and it came out well with the lighting and i shot this one after 02 pm.lets move on making the recipe.,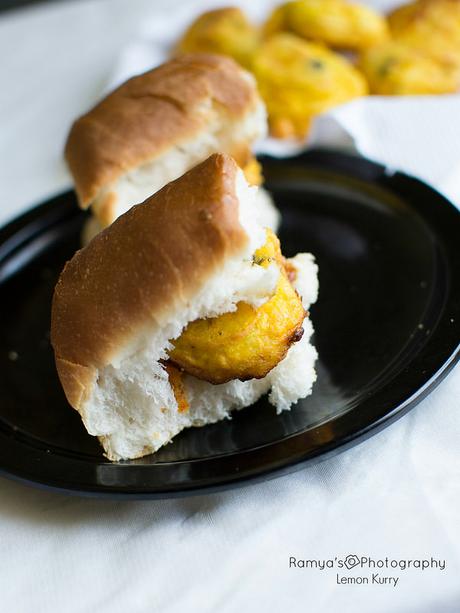 vada pav recipe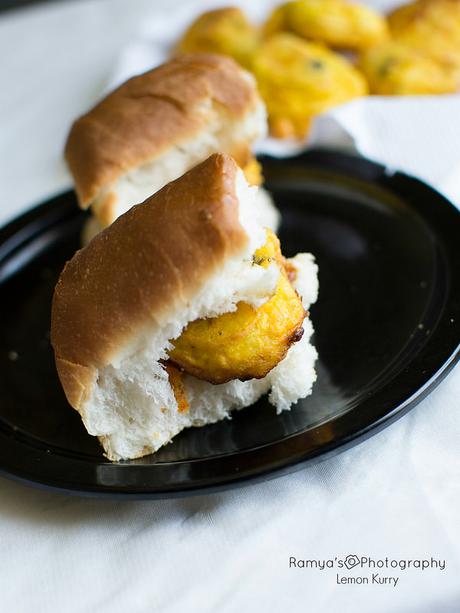 sandwich recipe using dinner rolls or pav buns loaded with potato fritters and three chutneys.

pav buns/dinner rolls - 5 nos
potato - 3 nos boiled and peeled
green chilli - 2 nos finely chopped
ginger ,finely chopped - 1 teaspoon
curry leaves - as needed
mustard seeds - 1 teaspoon
hing or asafoetida - as required
dry coconut powder - 2 tablespoons
garlic - 3 cloves
red chilli powder - 1 teaspoon and also 1/2 teaspoon
turmeric powder - 1 teaspoon
gram flour/kadalai maavu - 1 cup
rice flour - 2 teaspoon(optional)
fennel seed powder - 1 teaspoon(optional)
salt - to taste
oil - as needed
green chutney and tamarind chutney - as needed for serving
Instructions
the first step,we have to make batata vada - for which we have to boil the potatoes and peel the skin and keep it ready.


To the boiled potatoes,add finely chopped green chillies,ginger and salt and mash it well without any lumps.
in a kadai,add oil and bring it to heat.Then add mustard seeds along with curry leaves.After they splutter add it to the potato mixture and mix it well.
Add enough salt and hing or asafoetida to it and give a mix and now the mixture is ready.
Meanwhile, in a blender take the coconut powder along with garlic and red chilli powder with salt and blend it without adding water.A fine powder will be obtained and transfer it to a bowl and keep it aside.


for the batter for the vada,in a bowl take gram flour ,red chilli powder,turmeric powder,fennel seed powder,asafoetida and salt and mix it evenly.Slowly add water and make the batter ready for making vada.
Heat the enough oil in kadai for frying.now from the potato mixture,take a small amount,make a smooth ball or flatten it gently and dip that into the gram flour batter fully and tap the excess batter.
Gently slide it in hot oil and fry them in low flame.here i shallow fried them with less oil.You can deep fry them but in low flame for even cooking.


Repeat the process for remaining mixture and dry them in paper towel.
Once it get all done,Take the pav buns and gently divide that into two parts for stuffing.


Before proceeding,toast the buns in a skillet with a teaspoon of butter or skip this step and proceed.
Take the dry chutney which we prepared from above steps and place 1 teaspoon of it in the base.Then place the vada on top of it and then close the bun and serve with chutneys.
the another method of serving is- grease green chutney in one part of the bun and in another part grease tamarind chutney and then place the dry chutney above it and then place vada and close it.


I made these two versions and presented here.
Serve this with chat chutneys,lemon wedges and onion slices and green chillies.