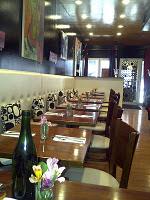 After months of waiting, I finally went to V-Note on NYC's upper east side on Sunday and boy, was it worth the wait!
I was meeting friends after an amazing morning of pampering so I was already feeling pretty blissful, and even found great street parking (a gift unto itself,) but imagine my delight as I sat down in this totally vegan restaurant, which I haven't done in months, able to order absolutely anything I wanted off the menu!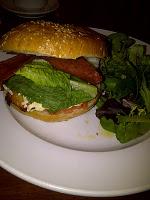 Soy bacon cheeseburger
I hadn't eaten breakfast so I did glance at the french toast, tofu scramble, and blueberry pancakes, but it was nearly 1pm and I was looking for lunch.  There were plenty of main courses, like seitan scaloppini, crispy thai tofu and pasta bolognese, and of course a number of salads, but to eat a salad here seemed like a wasted opportunity.  We all decided to go for the sandwiches.  One of my friends ordered the soy chicken cutlet tomato, lettuce, avocado (really more of an avocado spread) and chipotle aioli with sweet potato fries, and the other ordered a BLT with crispy Southern fried tofu, tempeh bacon, lettuce and tomato on multi grain with regular fries.  I broke down and ordered the soy bacon cheeseburger...I couldn't remember the last time I'd had anything remotely like that: a vegan burger topped with carmelized onions, vegan soy cheese, sauteed mushrooms, lettuce and tomato (hold the aioli as I'm allergic to chipotle.)  I cannot express to you how phenomenal it was!  Flavorful, juicy, and just the right mix of tender onions and mushrooms with the crispy bacon...if I lived closer I'd be back tonight!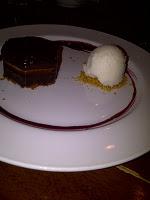 Now, I'm usually too concerned about my waistline to order dessert, but I just couldn't resist when I saw the words "chocolate ganache cake with a peanut butter center" on the menu.  Let me tell you something ~ this was the best vegan dessert I have ever eaten.  Even my friends, who are not vegan, were thrilled at how delicious this decadent dessert was, accompanied by a scoop of a vanilla flavored frozen treat.  I'll put it this way ~ we couldn't take home any leftovers!  If you should find yourself on 1st Avenue between 79th and 80th, or anywhere in Manhattan since you can always hop the subway or hail a taxi, you should make your way to V-Note.  Did I mention it's a wine bar as well?