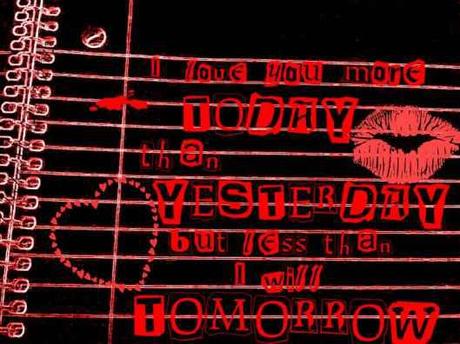 Copyrighted- InJensMind
February 14th, the universal day of love. HA! The day when all the people who are in a relationship expect to be loved more than they have already been all year-long. The day when single people curse the couples for having a love day and often times, curse the people in a relationship for being in a relationship.
It's a day of pure commercialism, stupidity, and anger. It's a day that causes people to go to bed angry after fighting with their significant other because they didn't get the biggest and best gift that even Donald Trump couldn't afford to give. By the way, Donald Trump is a rich guy and sure looks like a sourpuss, therefore I conclude that money cannot, does not, and never will buy happiness. LOL (Lighten up people, you know my sense of humor by now.)
I have to admit; I too, have occasionally fallen into the trap of Valentine's Day. I am a romantic and I am sort of an old school kind of gal. I like to be wooed and I enjoy immensely reading words of adoration from my sweet, even if his English is less than clear. Full boxes of innumerable cards adorn my room from days of yore. (Say that 3 times fast.)
On top of my obvious romantic nature, I am also a pack rat… a weepy-eyed, sentimental, clinger to all things given in the name of love… pack rat. In the 17 years I've been with my husband, I have never thrown away a single card. Not a birthday, anniversary, Valentine's Day, sympathy, congratulations, etc… card from him or to him. I have never thrown away a single card or letter from anyone I have ever known in these last 18-19 years of my life. I also have the occasional never been mailed card or letter. Like for instance, I bought a get well card for my grandmother and before I could send it we moved to Chicago and that weekend we visited her and a few days later she passed away. The card brings tears to my eyes every time I come across it. I am such an emotional sap aren't I…
When my husband and I were freshly engaged in 1994, he chose the day of lovers to be our wedding day. Not our first Valentine's Day as a couple in 1995 but, the one afterwards in 1996. Of course, I said yes. Who could say no to a man who wants to make you his bride for life on the most passionate day of the year? My mother warned against it. She told me of the doom and gloom and the death of all things happy and sunshiney if I were to get married on that day. She wished I would reconsider before we got married and ended up divorcing, consequently ruining the day for me forever in the future. Why? Because she had married my father on that day and look what happened to their love. Honestly, who could argue with that? But, did I listen? Hell no I didn't. Why on Earth would I listen to my mother when I was a grown ass 19-year-old?!
A week or two before Valentine's Day of 1996 was upon us, I dug in the local phone book and started calling chapels to get married in. I don't know what possessed me to do that or to think that money was of no object. I was the mother of a 3 month old daughter, my husband was barely working, and we lived with my mother, my brother, and my great-uncle. We were pulling our weight of course with bills but, still. We were a young couple with no bank account or vehicle, needless to say we were broke. But, there I was 20 years old fully expecting the fairytale wedding I had been promised. (click on fairytale to read more about my fairytale love) I finally found a chapel in Las Vegas that wasn't completely booked and expecting thousands of dollars and I yelled out, "SOLD!!!" I didn't ask my husband. I didn't consult anyone in my family, just booked it and awaited the glorious day.
St. Valentine's Day; February 14th, 1996: I got up bright and early with my husband who was getting ready for work. "AHEM. Do you know what today is?" I asked beaming from ear to ear. "No." he replied. "No? Umm, well…it's Valentine's Day silly." I replied. "Oh…" he whispered. So I pushed further. "Well, I booked a chapel for us to get married today at –:– pm in _____ chapel." (Clearly the insanity of it all back then made me forget the details today.) I stated, still smiling big. I must have checked out mentally because I don't remember what he said to me. All I know is I spent the day dressing up my baby girl and myself and waiting for him to come home and keep his promise.
As the day dragged on I decided to make a cake. A heart-shaped cake, of course. I mixed it, baked it, cut it into a heart, frosted it, and waited. And waited… and waited. It was nearly midnight when my husband to be came home. I stood there in tears and didn't say a word. He put an unsigned card on the countertop in front of me and walked into the kitchen and proceeded to eat the cake I had made for us. He was drunk! Finally he got the balls to look up at me, while I was still crying, and said quietly, "I'm sorry." I was traumatized!!! I should have slept the entire day away instead.
It came down to embarrassment, guilt, and a few words that obviously were screwing with his head. At some point in the year and 5 months we had been together, my father had quoted words straight out of the 'Handbook of Shit a Person Should Never Say!' He said: "He's ONLY marrying you to get his papers!" Excuse me, WHAT?!?! That same man who uttered those demonic words, Hell bent to hurt me and my partner, was the same man who a couple of years before was telling me to hurry up and set a date to marry a man who asked me to marry him (and I might add we found out shortly afterwards that he was already married with two children, one born while we were dating.), because time was running short between my father being able to pay for my wedding and paying for my sister's graduation the following year. He is also the same man who ruined his own first marriage by committing adultery over and over and over and over. Yet, my sweet… my love… my daughter's father… the man who has taken care of me since January of 1995… was using me to get papers?! Even though the man already had a legal green card 7 years before we met. Talk about an asshole move by someone who is supposed to love you unconditionally. Thanks again daddy dearest!
My husband and I finally did get married though and not on Valentine's Day. And the father of the bride didn't pay a damn red-cent of it neither! My husband chose to pick another day that could potentially ruin all of my future happiness if we ever divorced, and that day is my birthday. Sheesh!
So there you have it, my crappy Valentine's Day story. And ever since then; Valentine's Day has been just another day for my family. Just another day for my husband and I to end up in an argument caused by just another day of pressure, stress, and lack of money. And it's just another day for my children and I to express our love for one another; by making cards, cooking, eating together, and doing what we three do every day… spend the day together and love one another unconditionally for all that we are, all that we can be, and all that we will be!
And you my loves? Who will you be loving on this day?
And because it's also YouTube Tuesday… Here you go,
mis amores! ❤
Elvis Presley – Ku-Ui-Po
Ku-u-i-po I love you more today
More today than yesterday
But I love you less today
Less than I will tomorrow
See the sweet Hawaiian rose
See it blossom see it grow
That's the story of our love
Ever since we said hello
As the years go passing by
We'll recall our wedding day
I will be there by your side
You will always hear me say
Ku-u-i-po, you're my Hawaiian sweetheart