It's my fourth post today..... Well, I think I've been caught by a 'Cant Stop Posting' Virus already.I'll review my new eyeshadow pallette that I've used on the previous post, Urban Decay Ammo Pallette!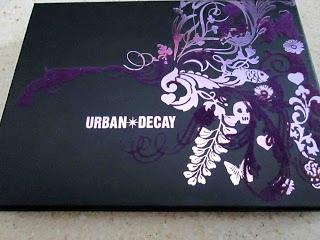 Let's talk about the packaging first. I just loveee the design so much, since it's built by black, purple and silver, it looks sooo flirty yet classy. And did you notice? The purple swirl are made from velvet! HEART the packaging design so much, but unluckily the board material is too fragile, in my opinion, it's kinda not worth it, since you know Urban Decay sell their products with high prices but well, it offers us a very pretty and pigmented eyeshadow so it will always be a reason to buy them.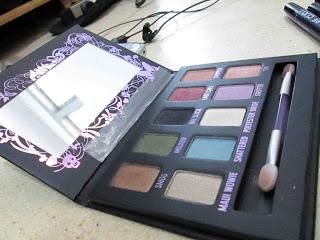 Comes with 10 pretty shimmery yet pigmented colours.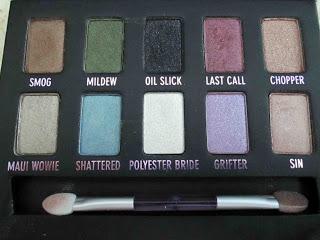 Smog : shimmery cooperMildew : warm oliveOil Slick : sparkly blackLast Call : browney magentaChopper : earthly beigeMaui Wowie : greenish beigeShattered : catchy cyan bluePolyster Bride : glittery whiteGrifter : soft purpleSin : skin toned beige (also available on NAKED2) 
And here are some swatches.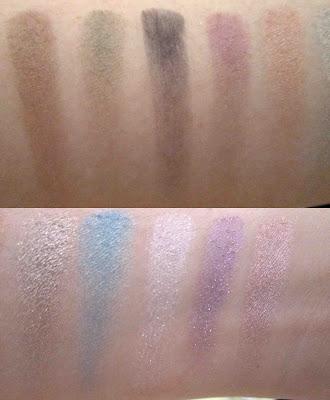 upper: Smog - Mildew - Oil Slick - Last Call - Chopperlower: Maui Wowie - Shattered - Polyster Bride - Grifter - Sin
No doubt about the pigmentation. The colours are also soo pretty. It costs me around IDR 285.000, I bought it while UD was helding 50% SALE. Quite worth for a cute little (yes, it's kinda small) pallette with a beautiful design and high quality eyeshadows. OMG, it's already lunch time! I haven't do any of my works yetttt! Maybe it's my last post today. See you on the next post ladies!Lotta Love,Yessy