Have you ever heard of UPTIME Energy products? I hadn't until recently and I wanted to know more about their tablets and drinks so I could share what I learned with all of you! When the box arrived from UPTIME, I was kind of surprised - it was more of a "presentation" than a box of supplements, that's for sure!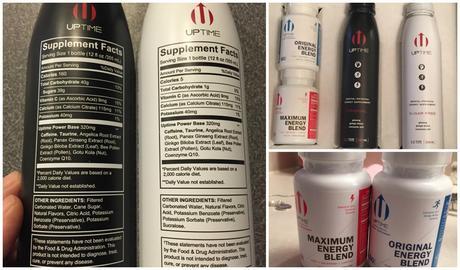 I began to read the literature included and right off the bat I noticed a very kind letter from "Team UPTIME" thanking me for my interest. They shared that UPTIME is an advanced blend of select ingredients developed to deliver mental awareness and physical stamina. They warned me to "Be prepared to get things done and get them done smarter, faster, better" and I'll admit that I was really looking forward to reaping the benefits of this product!
Once I received the product, I then started doing some homework by learning a little more about the company. Apparently, despite the new and improved appearance, these are the same UPTIME Energy tablets that have been sold at gas stations across America since 1985. I learned that the company recently underwent a rebranding campaign and released a new energy beverage along with its classic lineup of energy tablets.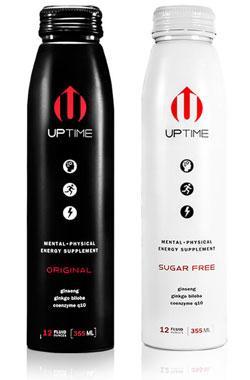 So I'll start with the new beverage:
The UPTIME Energy beverages come in distinctive 12 ounce black and white bottles - the black bottle is the original version, while the white bottle contains the sugar free version of the beverage. The original recipe is flavored with natural, cane sugar, while the sugar free recipe has 0 sugar. Both beverages contain about the same caffeine as a "cup of premium, brewed coffee" according to the official website, at UPTIME Energy.
The flavor of this beverage is best described as being a blend of orange, lemon, and lime flavors - kind of like 7-Up or Sprite with a bit of an orange twist. Each beverage comes in the distinctive bottle with a resealable cap. I have to admit I was very happy that I could put the lid on and save the drink for later, since I'm not one of those people who chug 12 ounces in one sitting. I also have to say that the sugar free recipe tasted just as good as the original recipe, which is not usually what I think about products. I'm the one who steers clear of anything "sugar free" because I'm afraid the flavor will be dull. That is definitely not the case with this product - both versions taste great!
Unlike many energy drinks and coffee beverages, UPTIME Energy also contains additional nootropic-like ingredients designed to promote healthy brain activity and boost your cognitive energy. The original blend of UPTIME Energy drinks have been intentionally designed to provide a balanced, energy boost with only a fraction of the supplements found in other energy drinks. Each drink contains about as much caffeine as a cup of premium, brewed coffee and is sweetened with natural, cane sugar. The sugar free blend of UPTIME Energy drinks have been intentionally designed to provide a balanced, energy boost with only a fraction of the supplements found in other energy drinks. Each drink contains about as much caffeine as a cup of premium, brewed coffee and without the sugar and I felt very focused and energized after drinking this beverage.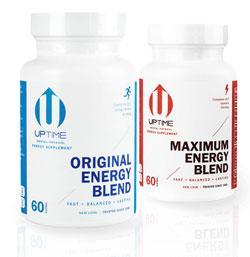 .....now on to the UPTIME Energy Tablets:
The UPTIME Energy company also sells the same energy-boosting formula in tablet form. The tablets come with "premium vitamins, herbs and minerals" and are designed for those who want to boost their energy while on-the-go. There are two blends of the UPTIME Energy tablets - the original energy blend and the maximum energy blend.
UPTIME Maximum Energy Blend is a unique superfood designed to help increase energy and provide nutrition. The tablets are formulated with ginseng, guarana and coenzyme Q10, herbs, minerals and nutrients to help give you a heightened boost during intense work, exercise or play. Developed with premium ingredients including coenzyme Q10, ginkgo biloba and ginseng. UPTIME recommends taking one tablet per every 50 pounds of body weight. While the tablets are kind of big, they go down pretty easy and they don't have any kind of aftertaste, so taking 3 wasn't a task. I can honestly tell you that these tablets do exactly what they are made to do - I could feel much more energetic and I seemed to be more focused as well.
UPTIME Energy ingredients vary slightly between the energy drink and the tablets. However, the same top 10 most active ingredients remain the same:
So overall, I liked both the beverage and the tablets. Realistically, I couldn't afford to fall in love with the beverage - when I went to UPTIME's online store, I saw that it was $59.95 for 24 bottles! YIKES! Too steep for my blood, but maybe not yours! The tablets, on the other hand, were a bit more within my budget.
You can catch UPTIME on Facebook, Twitter and Instagram too! (As a former Clevelander with TONS of hometown pride, I'll try really hard not to hold it against UPTIME that they cheer or the Warriors though!)
A big "thank you" to Asylum PR and UPTIME Energy for affording me this opportunity to try out the UPTIME Energy drinks and tablets without cost in exchange for my honest review and unbiased opinions.
Please make sure to visit my homepage and subscribe to my blog for more great posts on running, fitness and lifestyle topics as well as food, product, music and book reviews, and more!