Do you guys remember last week when I did a post on how I won a giveaway from the beauty site Daily Glow? Well if you didn't you can check it out real quick here Review: Elemis Fresh Skin Products. I promised I would come back to give you a full honest review on each product. Here's a quick recap about Elemis:
This is a new skincare line formulated for woman in their teens and twenties. All products are made with raw ingredients, specially chosen for their ability to help cleanse, exfoliate, prevent damage, moisturize and boost skins elasticity to keep it youthful for longer.
They sent me a variety of their products and I finally was able to use all of them. Here's my opinion on each: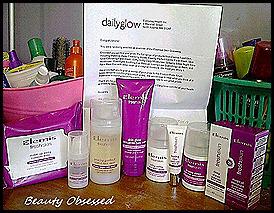 Peach Perfect Gentle Face Wash:

This has a pleasant sent and I felt like a little went along way. It also was light but had lots of suds which made it easier and quick to thoroughly wash your face.

Skin Glow Exfoliating Scrub:

I would say this was a decent exfoliator, the beads were a little too big but overall my skin did feel softer and fresh.

Dreamy Sleep Night Time Moisturizer:

The first night I used this I was expecting it to be a thick lotion but it wasn't which I liked. I woke up and my skin felt super soft but a little on the shiny side and my skin hardly ever gets oily. I used it again the next night, then I noticed that I had 2 pimples the following day. So I put two and two together realizing that it made my skin oily which caused me to breakout. So I haven't used that again.

Tired Eyes Soothing Eye Rescue:

I used this on a morning where my eyes seemed really tired and puffy for some reason. I noticed a slight difference with this, but not enough to make me not go get cucumbers to put on my eyes.

Softly Softly Daily Moisturizer:

Overall I was pleased with this, it was very light and had a pleasant smell. The only thing I don't like about it is that it doesn't contain any SPF which I was a little surprised about. I only use moisturizers that have SPF in them for added protection. It's still a good moisturizer though.

Loving Lips Quenching Lip Balm:

They weren't kidding when they called this "quenching" lip balm. Although it does make your lips smooth and conditions them, it's almost too much. I have to use my fingers instead of the tube to apply this because so much comes out at once. Then I usually end up getting it in my mouth, yuk. lol

Deep Clean & Magical Face Mask Duo:

Now these I love! The package comes with two different masks; a clay purifying mask and a moisturizing mask. The clay mask really makes your skin feel so clean while soft and smooth. The moisturizing mask is like an instant boost for dry skin, my skin felt as soft as a baby's bottom. lol. I would definitely recommend these two products.

Make-Up Away Cleansing Wipes:

One product I always have to have are facial wipes, I use them everyday and night before washing my face. These did a good job at taking off my face and eye makeup. I've been using them everyday since I got them and really like them.
I'm not 100% satisfied with all the products, I feel like they might make my skin a little oily, especially the night time moisturizer and I don't breakout on a regular basis so that makes me a little nervous. So far, the other products I've used haven't so I will still use them. I'm very happy with the face masks and would love to purchase more when I run out. I think the results of these products depends on your skin type. If you have oily skin, I probably wouldn't recommend these. Even though there are a few products I don't love I'm still happy to have received this skin line.